Campaigns & Elections
Voters head to the polls to fill two empty Assembly seats
A vacant seat in Brooklyn promises to be the latest in a series of proxy wars that have characterized the borough.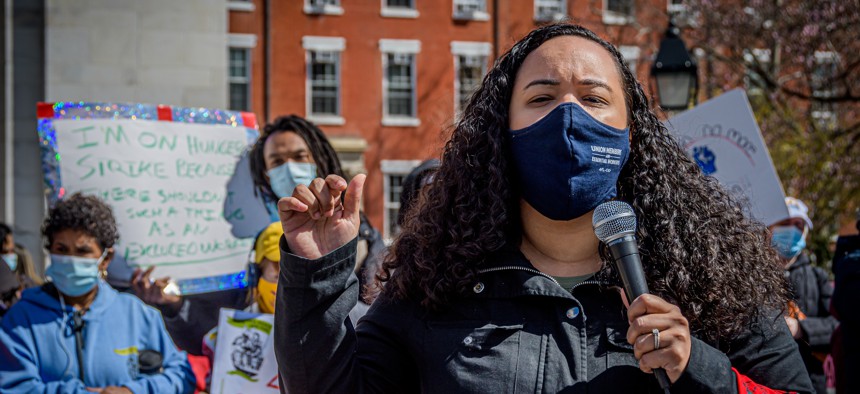 It's Election Day in two New York City Assembly districts as voters weigh in on who will fill vacant seats in Brooklyn and Manhattan. They became empty when Council Members Carmen De La Rosa and Charles Barron were officially sworn into office at the beginning of the year, just two of a number of different Assembly members who left mid-term for greener pastures. In both special elections, Democrats are expected to win in the low turnout races – but they're not running unopposed. While unlikely that anyone other than the party pick will end up in office, voters have a few options to choose from in both districts. 
Perhaps the more interesting of the two is the contest taking place for the 60th Assembly District in Brooklyn. For over a decade, the seat has stayed in the hands of a Barron – either Charles Barron, who just left, or his wife Inez Barron. The pair have also swapped in and out of a City Council seat for over two decades. So his exit and her retirement amounts to an end of an era of sorts for the district that encompasses East New York, Canarsie, New Lots and Starrett City.
The Democratic establishment has coalesced around Nikki Lucas, a community advocate and former district leader who unsuccessfully ran against Barron for City Council last year, as well as against Inez in 2013. Lucas has the official backing of the Brooklyn Democratic Party, which allows her to run on the party line, and recently gained support from state Attorney General Letitia James, Mayor Eric Adams and Rep. Hakeem Jeffries.
However, the Working Families Party is running their own candidate, Keron Alleyne, a former Barron staffer who has the couple's support to win their seat. Alleyne previously challenged state Sen. Roxanne Persaud in a 2020 primary he lost in a landslide, but is attempting to make a comeback in the lower chamber. The odds are against him as third party candidates rarely win special elections, but his winning the seat isn't completely out of the question. In fact, the only two times a candidate has won on just the WFP line – James when she first ran for City Council and Assembly Member Diana Richardson in her first election – those races took place in Brooklyn. 
Brooklyn is no stranger to turf wars and power struggles among competing power brokers, nor to proxy battles to determine influence. The competition between the Barrons, akin to East New York royalty, and the Brooklyn Democratic establishment led by Rodneyse Bichotte Hermelyn now plays out in the race for the 60th Assembly District seat as Lucas attempts to finally conquer the Barrons and the Barrons attempt to continue their political dynasty.
The race for the 72nd Assembly District in Washington Heights to replace De La Rosa is comparatively less exciting. The local Democratic Party backed Manny De Los Santos, a district leader who ran Rep. Adriano Espaillat's reelection campaign in 2018. He previously ran for the seat when it was open in 2014 but came up short. Luck seems to be on De Los Santos' side this time around after getting the party's blessing to fill the open seat. His main competition in the overwhelmingly Democratic district would likely come from Nayma Silver-Matos, another district leader who is running as an independent on the Uptown Rising line. But without even an established third party as part of the election, it would seem the race is De Los Santos' to lose. 
Early voting in both races wrapped up on Sunday, with an underwhelming 329 votes cast in the 60th District and 428 cast in the 72nd District. Polls are open tonight until 9 p.m.