Campaigns & Elections
Exclusive: Inez won't run, as Barrons back young ally to succeed them in the Assembly
Keron Alleyne is running for District 60 covering East New York and Starrett City in Brooklyn with the political power couple's support.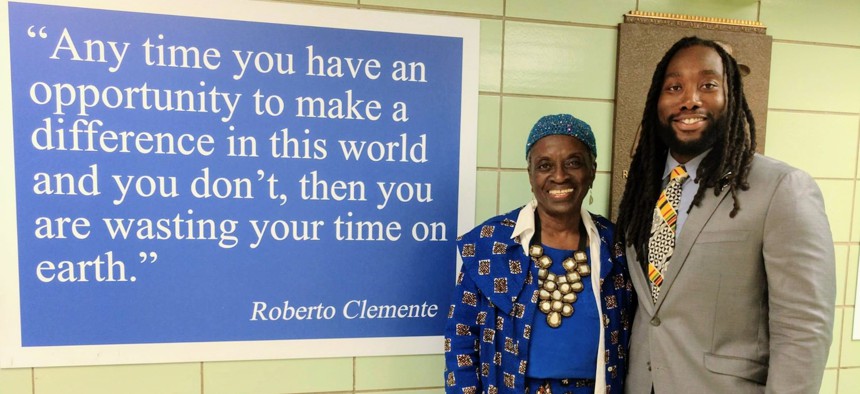 When Assembly Member Charles Barron won the Council District 42 primary in June, many political observers expected his wife, Council Member Inez Barron, to succeed him in the Assembly. After all, the pair have seat swapped before – then-Assembly Member Inez Barron won Charles' Council seat after he was term-limited out at the end of 2013. 
But it's all in the family no longer. The Barrons, the biggest political power players in East New York, Brooklyn, are endorsing Keron Alleyne for Charles' soon-to-be-vacated seat in Assembly District 60. Inez Barron, now 75 years old, won't be running, and is heading into semi-retirement. 
"Everybody thought that (Inez would run)," Charles told City & State Friday. "But all along we've been developing young, dynamic, hard working leaders like Keron Alleyne."
Alleyne, 31, is a former staffer in Charles' Assembly office in the district, which covers East New York and Starrett City. He's now deputy district manager for Brooklyn Community Board 5, and challenged state Sen. Roxanne Persaud in the 2020 Democratic primary, where he lost 75% to 25%. 
Despite his high profile support, Alleyne could face similarly long odds in the Assembly race. Barron is unopposed in his Council race, and will presumably resign from his current role to start his new job on Jan. 1, 2022. Gov. Kathy Hochul will be expected to call a special election sometime between mid-February and early March. (There will also likely be a special election for Assembly District 72 in Upper Manhattan, soon to be vacated by Carmen De La Rosa, another Democratic primary winner who is expected to win the District 10 Council seat.) But the Democratic nominee for that special election will be chosen by members of the Democratic county committee. And the party establishment isn't likely to agree with the Black socialist Barrons, who have battled with the Brooklyn Dems for years.
Assembly Member Rodneyse Bichotte Hermelyn, who leads the party, said as much to City & State, noting that Nikki Lucas controls the most votes on the committee in the area. "She will be able to determine who gets the Democratic nomination," Bichotte Hermelyn said, "whether she runs herself or she chooses somebody to run." Lucas is a longtime political foe of the Barrons, and recently came in second to Charles in the 2021 Council primary, with 46% of the final round vote to his 54%. 
Alleyne said he'll run, even without the Democratic Party line. "This isn't a pump fake. This is an absolute commitment that was planted many, many years ago," he said. "East New York is family, and the cause is radically changing the conditions of the people of East New York." Even if there is a special election, there will be a Democratic primary held for the seat just months later, in June 2022. 
Like the Barrons, Alleyne identifies as a Black radical. "Everything that comes from capitalism is essentially oppressing us," he said. He plans to formally launch his Assembly campaign with the Barrons on Saturday at the Prince Joshua Avitto Community Center East New York.