Campaigns & Elections
Brooklyn could decide the 2022 Democratic primary for governor
The borough is even more important than usual as Jumaane Williams gets ready to take on Kathy Hochul again.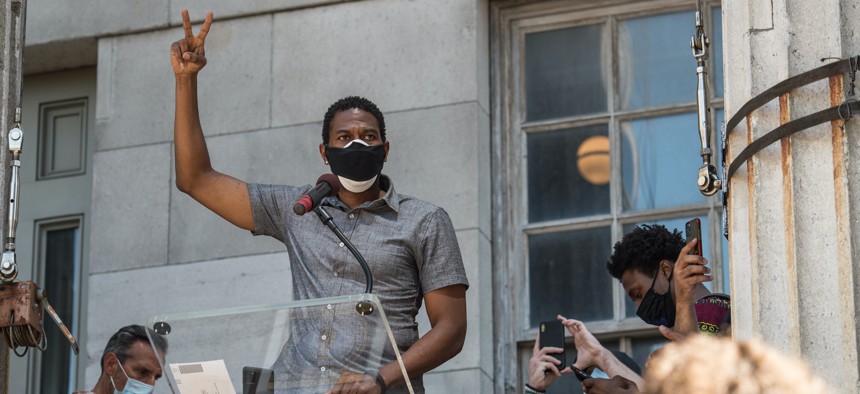 New York City Public Advocate Jumaane Williams is officially exploring a run for governor, but he will not have to look far to see how his path to victory begins in his home borough of Brooklyn. The borough has more people than any other county in the state, and it's where nearly 1 in 5 registered Democrats live in New York. His more than 70,000-vote victory in Brooklyn in the 2018 Democratic primary for lieutenant governor is largely what made him competitive against Kathy Hochul – despite losing 58 out of 62 counties to her. A repeat performance in Brooklyn in next year's gubernatorial primary would be essential if he is to have any chance of winning. "Brooklyn will be the most important county bottom line," Brooklyn Democratic Party Chair Rodneyse Bichotte Hermelyn, who represents parts of Central Brooklyn in the Assembly, said in a text message.
Williams' popularity with the political left, New York City connections and increased political profile since being elected to citywide office in 2019 could help him win a primary against Hochul next year, but he faces some formidable challenges to win Brooklyn by as big of a margin as he did three years ago. Hochul has leaned on the powers of incumbency in recent weeks to expand her presence in the borough. Fellow Brooklynites like state Attorney General Letitia James might enter the race and draw away the voters Williams would need to offset likely losses to Hochul in other areas of the state. So the more votes he gets in Brooklyn, the fewer votes he would need in places where his progressive politics might not fare as well.
Some activists said his cache with the political left has only grown in recent years because of his outspoken positions on issues like defunding the police and eviction rules as public advocate. "He's been doing the work in terms of extending his name not just in the city but outside as PA," said Boris Santos, a Brooklyn-based activist who was previously endorsed for the Assembly by the city chapter of the Democratic Socialists of America. "I think Jumaane would excite folks right off the bat on the ideological end of things." 
For the second time around though, it remains unclear whether the Working Families Party will endorse Williams next year. Party Chair Sochie Nnaemeka and a spokesperson for Williams did not respond to a request for comment by publication time.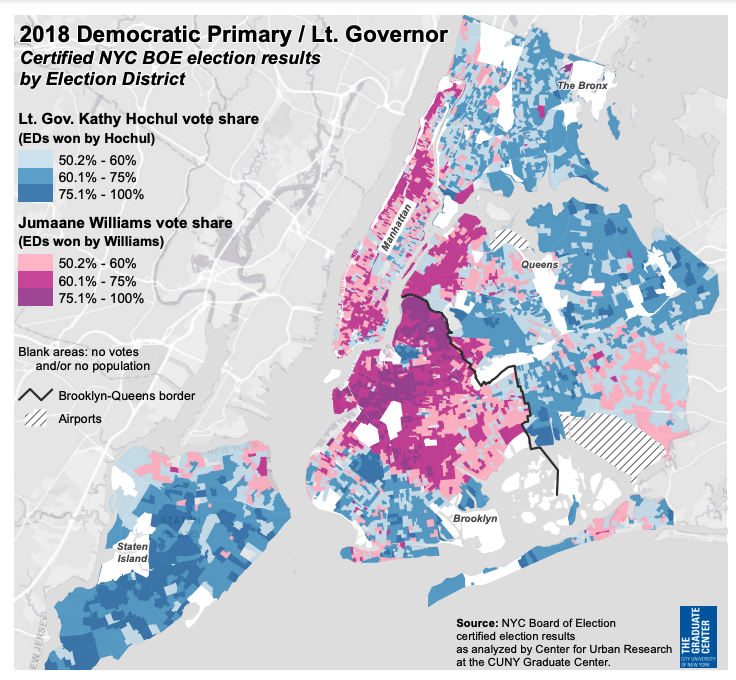 This map of the 2018 results for the lieutenant governor race highlights how Williams and Hochul appealed to different constituencies. Williams won big in relatively wealthy and white neighborhoods like Park Slope, Brooklyn, as well as places like Flatbush that have much larger populations of Black and Latino voters, while beating Hochul by more narrow margins in working-class neighborhoods in the southeastern part of the borough. Hochul meanwhile won by significant margins in Jewish neighborhoods like Borough Park and among the Eastern European immigrant communities in southern Brooklyn. The only other place where Williams made a significant dent was in Manhattan, which Williams won by about 25,000 votes. His victories in Columbia County in the Hudson Valley and Tompkins County, which has Ithaca at its core, helped him gain on Hochul by an additional 2,644 votes in a primary where more than 1.4 million people cast ballots. Hochul carried every other county in the state.
Williams has talked about running a campaign that could appeal to voters across the state, especially those who live in upstate cities like Buffalo, Rochester and Syracuse where problems like increasing rents and police brutality have energized grassroots activists in recent years. "There's this false upstate-downstate thing," Williams told New York magazine in an interview earlier this week. "That's not real. The issues of transportation, the issues of education, the issue of gun violence, the issue of housing is remarkably the same in these municipalities." The Democratic primary victory by democratic socialist India Walton for Buffalo mayor and a recent vote by the Albany Common Council to implement so-called good cause eviction protections highlight how progressive politics have gained ground upstate. A recent Siena College poll found that 4 in 10 registered voters still do not know enough about Hochul to form an opinion.
Yet, Hochul is not the same opponent he faced in 2018. She is now a sitting governor who can wield the powers of incumbency to her advantage in the upcoming primary, especially with supporters like state Democratic Party Chair Jay Jacobs urging potential primary rivals to wait on declaring their candidacies. The new governor has made several trips to Brooklyn as governor, including an early September trip to join activists in support of abortion rights, a mid-September appearance at a Central Brooklyn church to discuss gun violence and a Flatbush event to highlight vaccination efforts for children. Her spokespeople meanwhile have churned out press releases on Brooklyn-centric developments like two new pop-up vaccination sites. This past weekend, she even got to praise Rep. Hakeem Jeffries, Assembly Member Jaime Williams and New York City Council Member Farah Louis at the same Flatlands megachurch where former Mayor Michael Bloomberg delivered a key 2019 speech before launching his ill-fated run for president. These are all places where she performed relatively poorly in 2018. "It's almost like she's running for a local race in the city," Josue Pierre, a Democratic district leader from Central Brooklyn, said in an interview. "That translates into basically taking away a lot of pieces that might have fallen into Jumaane's support column." And Hochul is not the only rival who Williams might have to deal with.
A big X-factor in the electoral equation next year is whether James enters the race for governor. "I think it's a whole new game if Tish jumps in," political consultant Camille Rivera said in an interview. "If you look at the numbers of what she won in her AG race, you know where she actually won big and that was in Brooklyn – Black women voted heavily and brought her the race." Her profile in state politics has grown enormously since she was elected attorney general in 2018, especially because of her various investigations into former President Donald Trump and Cuomo, who stepped down just weeks after James released a damning report on sexual harassment allegations against him. Her political base of support also appears overlaps with Williams to a significant degree, in part because they have both represented areas of Central Brooklyn in the City Council. Add New York City Mayor Bill de Blasio into the mix (who continues to hint that he will run for governor in 2022) and you have three people who have represented Brooklyn. "If anything, what you're going to see is that they're kind of slicing each other," Lupé Todd-Medina, a political consultant who also sits on City & State's advisory board, said in an interview. Williams, James and de Blasio would all likely have to do well in Brooklyn to have a chance in the race while Hochul only needs to keep one of them from winning the borough by such a large margin that it would undermine her gains elsewhere in the state.
Additional candidates in the race could cut both ways for Hochul though. Her Buffalo roots give her an advantage upstate, but she still has to get a lot of votes in New York City and its suburbs to win the Democratic nomination next year. James, Williams or even de Blasio could woo voters away from her, though not because of a lack of attention from Hochul. Her nomination of former state Sen. Brian Benjamin of Harlem to replace her as lieutenant governor was an early signal of how she would focus on New York City during her campaign for a full term. His stated focus on issues like improving conditions at the New York City Housing Authority could reap her big rewards in places like Brooklyn, but she lost the borough three years ago and still won. She could do so again as long as she repeats her 2018 performance with voters in the rest of the state. The same cannot likely be said for Williams, who would have to lean on Brooklyn voters like never before to continue his remarkable rise in New York politics. "If he can't win in Brooklyn, I don't see him winning anywhere else," Democratic political consultant Jake Dilemani said in an interview.
– Rebecca C. Lewis contributed reporting