Politics
Why New York Attorney General Letitia James is getting so many endorsements in an uncontested primary
Organized labor is backing her for reelection as rumors continue about a possible primary challenge from ex-Gov. Andrew Cuomo.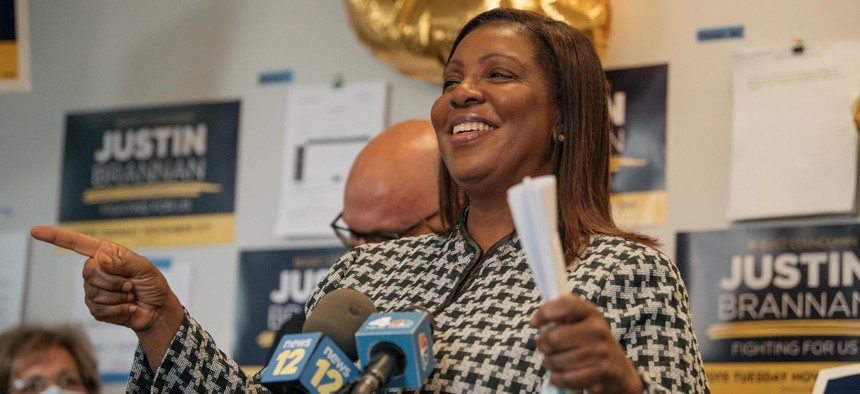 State Attorney General Letitia James faces no major opponent in the June primary, but that has not stopped her from accruing a growing list of political powerbrokers getting behind her bid for a second term in office.
City & State has exclusively learned that several major labor groups representing retail workers, nurses, carpenters, equipment operators, construction workers and others are throwing their support behind James this week. New York City Mayor Eric Adams and U.S. Sen. Kirsten Gillibrand have announced their support of her reelection in recent days along with 1199 SEIU and 32BJ SEIU. "As Attorney General, I have taken on companies that steal from workers and protected workers from abuses in the workplace," James said in a statement. "I am running for re-election to continue to use the power of the law to support working people in every industry in every corner of the state."
The endorsements represent a vote of confidence in James, who is the first Black woman elected as state attorney general in New York history. Their timing is also raising eyebrows about how the Democratic Party establishment might receive an attempted political comeback by former Gov. Andrew Cuomo, who is reportedly considering a run for attorney general after attacking James for months over her damning report into alleged sexual misconduct that accelerated his political downfall last year.
Ongoing rumors about a challenge by Cuomo make it especially necessary for James to demonstrate support from powerful unions and influential Democrats like Adams, who recently dined with Cuomo. "She has to run a strong campaign no matter what, and she cannot sleep on people who are going to be jumping in on the race," political consultant Camille Rivera said. "The worst thing would be for her to just assume that everything is fine when there's all these crazy rumors swirling ... It would be crazy." A strong performance in the Democratic primary would also give James momentum in the general election. Commercial litigator Michael Henry has declared his candidacy for the Republican nomination while Joseph Holland, a former aide to former GOP Gov. George Pataki registered a campaign account as he considers a campaign.
The groups endorsing James Monday are the Retail, Wholesale and Department Store Union, the New York State Nurses Association, the Building & Construction Trades Council of Greater New York. "Attorney General Letitia James continues to prove that she's truly the 'People's Lawyer," Gary LaBarbera, president of the Building Trades Council, said in a press release. "Letitia has been relentless in her pursuit of justice in every form from worker rights, to underpaid wages, to safer worksites." LaBarbera, a Cuomo ally, was among the influential people who appeared alongside the ex-governor last spring as he fought for his political survival while James oversaw the probe into alleged sexual misconduct. 
James won her position in 2018 after prevailing in a competitive Democratic primary to replace Barbara Underwood, who served in temporary capacity following the resignation of Eric Schneiderman following revelations of alleged sexual abuse. Her legal targets in office have included former President Donald Trump, the National Rifle Association and opioid manufacturers. The most politically contentious probes in her tenure, at least at the state level, have led to conclusions that Cuomo sexually harassed multiple women and while overseeing an administration that dramatically underreported the number of COVID-19 deaths in nursing homes. A third investigation overseen by James into his controversial multimillion dollar book deal remains ongoing. 
Cuomo has denied wrongdoing by claiming that bias within James' office tainted her investigation while his attorney has also claimed that lawmakers would have never pushed for his impeachment on other types of alleged wrongdoing. What is beyond dispute is that Cuomo has made James a political target after playing a key role in helping her get elected in the first place. Some of the same labor unions that helped Cuomo win multiple terms in office are now siding with James as he ponders his political future. 
Backing someone currently in power versus someone who will likely be in the political wilderness for some time simply makes political sense for powerbrokers backing James' reelection, according to consultant Hank Sheinkopf. "Endorsements nowadays help the endorsers more than they do that candidate," Sheinkopf said.  "Letitia James doesn't need endorsements. What it does is it makes other people feel powerful being next to her – and increases their influence."