New York State
Over audible protests, Hochul calls for Democratic Party unity
The New York governor sought a common enemy at the state party convention.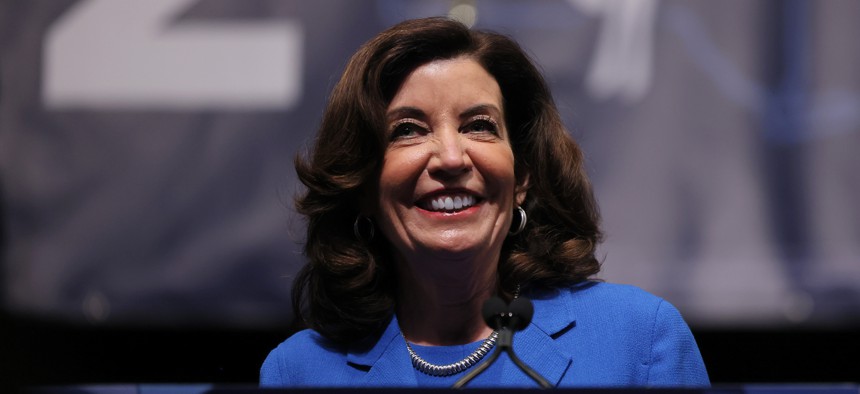 The June Democratic primary is still months away, but Gov. Kathy Hochul seemed to have already shifted into general election mode when she addressed Democrats from across the state at the party's nominating convention. Upon officially accepting her party's designation to appear on the ballot, Hochul made the case for a united Democratic Party to combat attacks by Republicans. But a protest that broke out during her speech undermined the message, and so did the fact that she still faces two primary challengers.
Hochul received about 85% of the committee vote. New York City Public Advocate Jumaane Williams came in a distant second with just about 12% of the vote, and Rep. Tom Suozzi didn't officially put his name forward for consideration. It cemented Hochul's place as the leader of the party in New York ahead of the November election, a massive change from four years earlier when Andrew Cuomo spoke from the same stage in the same position. "I am very, very optimistic about the future of the New York state Democratic Party," Hochul said to applause. "And I believe to my core that this party can and should be a powerhouse … to serve all."
The convention speaking program was a who's-who of Democratic powerbrokers, from state Senate Majority Leader Andrea Stewart-Cousins to Rep. Carolyn Maloney projected strength and unity as the party prepares for what is expected to be a tough election cycle for the left with Democrats fighting for control of Congress, and President Biden's approval ratings underwater. "There are those who actually believe that Democrats are vulnerable this November," Hochul said. "I flatly reject that notion, right here and now." Her message was clear: All attention was on the general election and uniting Democrats to fend off attempts by Republicans to unseat them.
But as Hochul espoused unity to a mostly receptive crowd, divisions within the party remained on full display as protesters interrupted the governor's speech, demanding that she support new rental protections called Good Cause Eviction and dedicate more money to the Excluded Workers Fund for unemployed undocumented workers. "Will you fight for us?" yelled one protester as they were escorted out of the ballroom by security. "Excluded workers kept this city running!" Hochul paused momentarily, smiling out to the crowd, but did not acknowledge the protesters. Supporters began chanting "Kathy Hochul" to drown out the demands for Good Cause and more excluded worker funding. And a convention staffer promptly picked up informational flyers on Good Cause one protester attempted to leave on seats.
Hochul represents a more moderate wing of the party in a state where progressives have increasingly been winning elections in recent cycles. While the message of Democratic unity makes sense as a nationwide message in far less reliably blue parts of the country, it rang somewhat hollow from Hochul given Democrat's solid control of every level of state government. The fights in New York at the state level largely occur between factions of Democrats, not with the Republican Party, despite the GOP playing the role of villain in her speech. "We'll draw the lines of separation between us and the far-right extremism," Hochul declared. "We'll take on the Trump Republicans working overtime to destroy what makes New York – well, what makes New York, New York!"
Certainly, Democrats have some cause for concern in New York, if not of Republicans gaining control of the state Legislature, then of the GOP gaining ground in different parts of the state like Long Island, where they wiped out Democrats at the local level from shore to shore last year. With three open congressional seats there as well, the right could have the opportunity to pick up seats they wouldn't have had a chance to with an incumbent Democrat to challenge. Earlier in the convention, state Democratic Party Chair Jay Jacobs expressed confidence that those seats would remain blue. "We're going to find the right candidates, and we're going to make sure that we have rigorous and robust campaigns," Jacobs said. But recent history certainly suggests there's reason for worry. 
Hence Hochul's early shift to begin preparations for the November elections, when she will likely lead the Democratic ticket against likely GOP nominee Rep. Lee Zeldin – who certainly could be one of Hochul's "Trump Republicans." Although general elections are more formality that anything else in many parts of the state with strong Democratic electorates, Hochul nonetheless made it clear that she intends to bring the party together not just for more vulnerable parts of the state, but to emerge once more as a blue beacon for the rest of the country. "What is the greatest threat to the Republican Party? What is their biggest nightmare?" Hochul asked. "A united Democratic Party."