New York State
At the state Democratic convention, Hochul's coalition is loud and proud
Party insiders lined up to praise the governor and endorse her for reelection, while those outside her orbit were few and struggled to be heard.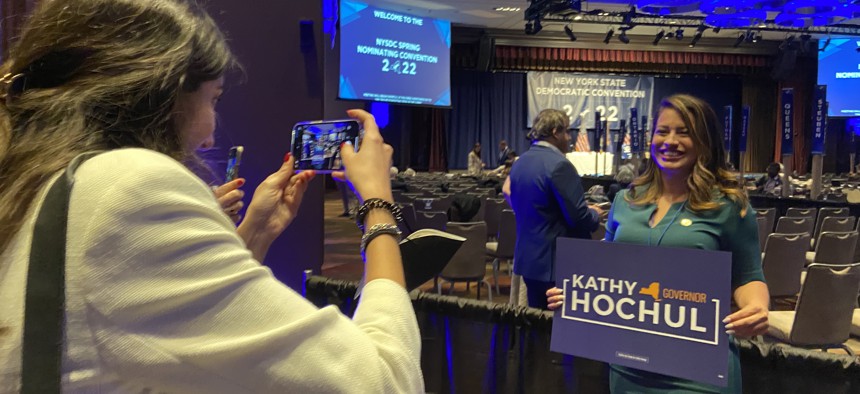 Gov. Kathy Hochul has gone from an unexpected governor to the formidable front-runner to win the June primary for governor in about six months. That process has required her to travel the state with her trademark energy to win over many of the political powerbrokers who helped her predecessor win three terms in office: labor leaders, local officials and deep-pocketed donors. The vast majority of Democrats at their party's 2022 state nominating convention are expected to vote in favor of her nomination Thursday afternoon.
The convention highlights the broad coalition of Democratic constituencies who might help the first female governor in state history win a full term in office, but not everyone feels like they're fully part of the party. A last-minute controversy with speaking slots magnified ongoing issues with Latino representation in the state party, as no Latino speakers were originally included in the lineup. Primary challengers Rep. Tom Suozzi and New York City Public Advocate Jumaane Williams also appeared at the convention, reminders of the  voters on the political right and left that Hochul has yet to win over. Such a backlash is hardly enough to cost Hochul the nomination, but it does show how her hold on the party is not absolute. 
"Hochul is very different from Cuomo," Émilia Decaudin, a member of the Democratic state committee and the New York City Chapter of the Democratic Socialists of America, said on the convention floor Thursday. "She's made a lot of decisions that are culturally distinct from his administration, as well as politically and policy distinct, but she is fundamentally still a moderate Democrat."
But Hochul's hold over the party establishment, most of whom are backing her campaign, was evidenced by the kind words she is receiving from other elected officials. "The first female governor in the state of New York (is) doing an amazing job," Hochul's former primary rival Letitia James, the state attorney general, said at a Wednesday night reception attended by party insiders. Former U.S. Secretary of State Hillary Clinton and Sen. Chuck Schumer are among the dozens of people scheduled to speak Thursday in support of Hochul, who will address the crowd last. "(She) took the reins of our state in the middle of one of the toughest crises we have ever seen and immediately invested in the dignity of our neighbors," Assembly Member Catalina Cruz of Queens told the crowd at one point. "We need bold leaders like Kathy Hochul."
Cruz was among the speakers whose names were announced after the originally announced line-up was criticized, which follows past controversies surrounding whether the state party was doing enough to appeal to Latino voters, who have voted increasingly for Republicans in recent election cycles. "We sent out a tentative list," state Party Chair Jay Jacobs said in an interview. "And we said it's a tentative list and these other speakers were planning to speak. We just hadn't got confirmation." Cruz said in an interview that she was contacted by the governor's office weeks ago about speaking at the convention. 
Democrats to the left and right of Hochul, however, say that the governor is ignoring important constituencies that might make or break the party's chances in 2022, when control of the U.S. House, state Legislature and statewide offices hang in the balance. "They've ignored pockets of New York for a very long time," Williams told reporters Thursday after making his pitch to Democratic insiders at a Thursday morning breakfast held at the same hotel as the convention. Left-leaning activists have increasingly gotten behind his longshot bid for the nomination because of his support for progressive proposals like stronger eviction protections at the state level and a quicker transition away from fossil fuels compared to Hochul. Rep. Tom Suozzi, who unsuccessfully sought a formal speaking slot at the convention, told party insiders at the breakfast event that he declined a request by Clinton to talk him out of running for governor. His record as a "common sense" Democrat on issues like setting stricter bail laws could help the party win over the types of voters who helped Republicans pull off several upset victories in local elections on Long Island in November.
A variety of activists meanwhile were congregating outside the convention held in a Midtown hotel. Some of them want Hochul to move quicker with outlawing the use of fossil fuels in new buildings while others want her to back that Good Cause Eviction bill. Others were upset about her stance on issues like masks. The protesters were not invited speakers, but Williams, Suozzi and others reflect their views to varying degrees. They collectively show which parts of the Democratic Party have yet to join Hochul's coalition. Williams has staked out a lane much further to her left on climate action, for example. "You worthless Democrats," one protestor said Wednesday night at a protest outside the convention highlighting efforts to secure more state funding for undocumented immigrants ineligible for COVID-19 relief programs. "If you don't take care of us, we won't vote for you."