New York State
What Hillary Clinton has to say about New York Democrats
A keynote speech at the state Democratic convention shows how the former secretary of state remains politically relevant – and potentially a liability – more than five years after her presidential campaign.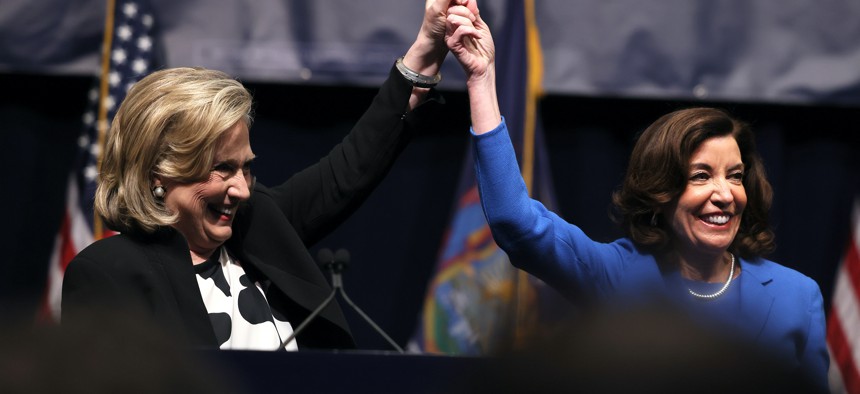 The two major parties are distinguishing themselves from each other through the people they are honoring at their respective party conventions. Republicans are presenting themselves as the champions of individual liberty by inviting South Dakota Gov. Kristi Noem, a conservative culture warrior and vocal opponent of public health measures against COVID-19, to keynote their Feb. 28 party convention on Long Island. Democrats meanwhile are projecting something very different by featuring former Secretary of State Hillary Clinton at their party convention this week.
Clinton – a former U.S. senator from New York whose political future remains a matter of speculation – made a rare public appearance Thursday while speaking at the Democratic state convention in Manhattan. Her approximately 12-minute address highlighted how the party is crafting its political messaging in 2022 elections in New York and beyond as Republicans near and far refocus on the former first lady as their ultimate political bogeywoman. "They've been coming after me again lately," Clinton told the Democratic convention. "We can't get distracted. Whether by the latest culture war nonsense or some new rightwing lie on Fox or Facebook."
Her speech recited many of Democrats' longtime talking points. Support for abortion rights, gun control, action against climate change and increasing spending on education and child care are a few examples. Clinton also laid claim to political ground once shared by the two parties.  "Democrats are fighting for ... common sense that tells us vaccines work," Clinton said at one point before alluding to the Jan. 6 insurrection at the U.S. Capitol. "Democrats are fighting for the rule of law." Democrats ought to present themselves as the sober party of governance, according to Clinton. "We need smart, effective, principled leadership now more than ever," she told party insiders after they officially voted to support Gov. Kathy Hochul as their 2022 candidate for governor, which will place her on the ballot for the June primary. 
Clinton's appearance at the Democratic convention in Manhattan gave New York Republicans a chance to revive the "Crooked Hillary" nickname used by Trump in the 2016 campaign. "Instead of being outraged by her crimes and corruption, New York Democrats are hoisting her back up on a pedestal," state party Chair Nick Langworthy, who has made victory in the 2022 gubernatorial election a top goal of his tenure, said in a fundraising email this week. Gubernatorial hopefuls have also gotten into the action following a legal filing by special counsel John Durham – who is investigating the origins of the Russia investigation overseen by former special counsel Robert Mueller III – that conservatives say shows evidence of wrongdoing by the Clinton presidential campaign. "I think it's perfectly symbolic of the corruption that we've seen in New York state over the previous couple of decades," GOP gubernatorial candidate Andrew Giuliani told City & State Thursday after a press conference outside the convention.
The selections of Noem and Clinton reflect an important fact about elections at a time of increasing polarization in politics from the local to federal levels. Appealing to people of the opposing party is not easy compared to making sure that as many loyally partisan voters as possible cast their ballots. Republicans remain hopeful that they can pull off a big upset this November by winning a statewide election for the first time since former Gov. George Pataki was in power from 1995 through 2006. Attacking Hillary Clinton might help New York Republicans in 2022 like it did Trump in 2016, but the hearty reception she received by Democrats shows that she remains a powerful and inspiring figure among Democrats – a fact that Hochul is looking to use to her full electoral advantage in the months ahead. "This is a celebration of our values," Hochul said after taking the stage Thursday. "Welcome back, Hillary Clinton. It's great to see you."