This Week's Headline
The Biden of Brooklyn and redistricting races
Rounding up the week's political news.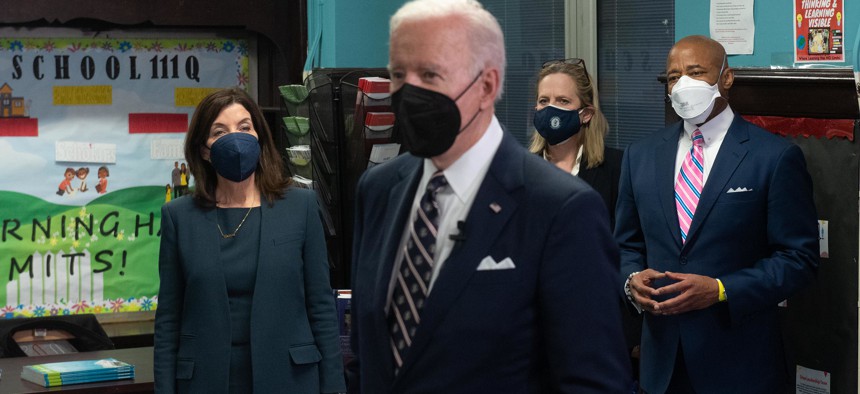 Six more weeks of winter? How about one more week of mask mandates? As groundhogs around the state and the country offered differing opinions when spring will begin, a state judge ruled that Gov. Kathy Hochul's mask or vax mandate can stay in place while the state appeals a lower court's decision that it was unlawful. For the time being, that means it continues unimpeded until Feb. 10, but if history is any indication, Hochul will likely extend the expiration date again. Who knows, the groundhogs' predictions may actually be for mask mandates. Keep reading for the rest of this week's news.
The Biden of Brooklyn
New York City Mayor Eric Adams welcomed President Joe Biden to the Big Apple to talk about crime and gun violence. The visit came in the wake of several high-profile, deadly shootings, including one that left two police officers dead. With the president's visit, Adams called for a "9/11-type response" to gun violence in the city. This comes after the mayor's reintroduction of the controversial anti-crime unit disbanded under his predecessor, given the task of targeting gun crime. Biden, meanwhile, used the opportunity to praise Adams' response to crime in New York so far and to announce a new initiative from the federal government to investigate and prosecute crimes involving so-called ghost guns.
Redistricting and races
The state Legislature has approved new district lines for congressional seats as well as for the state Senate and Assembly. With the maps getting the thumbs up, candidates and incumbents are beginning to evaluate where they should run – and if they even should – given the new district boundaries. State Sen. Alessandra Biaggi has floated the idea of running for the new 3rd Congressional District, which now includes parts of the Bronx and Westchester along with Long Island and Queens. Upstate, Rep. Claudia Tenney has been redistricted out of her seat, so rather than face off in a primary against Dutchess County Executive Marc Molinaro for the 19th Congressional District, she has opted to run for the seat neighboring her own. She technically lives outside the mostly Southern Tier district, but that's not stopping her. Meanwhile, Rep. Chris Jacobs is reportedly planning to run for a district that stretches from Western New York to the North Country – which he also technically doesn't live in. Plus, former New York CIty Mayor Bill de Blasio is reportedly eyeing a run for Congress against Rep. Nicole Malliotakis, whose Staten Island district now includes Park Slope in Brooklyn.
Cuomo fallout expands
The sexual harassment allegations against former Gov. Andrew Cuomo have led to yet another casualty. This time, it's now former CNN President Jeff Zucker, who resigned from his position after his failure to disclose a romantic relationship with a top executive came to light. How did this happen? The details arose as part of an investigation into Chris Cuomo, recently fired from the news network, and his role in counseling his brother on how to handle the allegations. But Andrew Cuomo is still trying to maintain his influence outside of indirectly leading to others' downfalls. The disgraced ex-gov – whom most have seen hide nor hair of for months – met with Adams to offer some "creative advice" for the new mayor. And the Oswego district attorney has dropped the last potential criminal case against Cuomo related to the alleged harassment, so he might be feeling like a comeback is in the cards as those around him continue to fall.