New York City
Eric Adams faces growing controversy over appointees with anti-gay pasts
New York City Public Advocate Jumaane Williams and Comptroller Brad Lander were the latest officials to publicly criticize the new hires.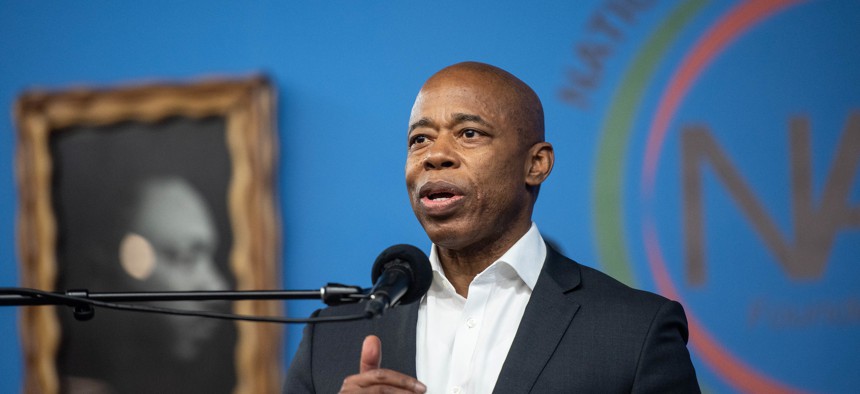 Criticism of Mayor Eric Adams' appointments of three pastors who have a history of anti-gay views grew louder on Wednesday as additional elected leaders spoke out against the hires and a coalition of advocates and lawmakers planned a rally in protest.
New York City Public Advocate Jumaane Williams and Comptroller Brad Lander were the latest officials to voice their concerns about the decision in a statement urging Adams to address the backlash from the LGBTQ community. 
"We are deeply concerned about the message that the mayor is sending by appointing leaders who have histories of disparaging the rights, and even the humanity, of LGBTQ New Yorkers and of working to criminalize abortion," they said in a joint statement issued Wednesday that did not mention the appointees by name and stopped short of calling for them to be removed.
Erick Salgado, a pastor at Iglesia Jovenes Cristianos in Brooklyn, was tapped as assistant commissioner in the office of immigrant affairs earlier this month. During his 2013 mayoral campaign, he was endorsed by the National Organization of Marriage, a group that opposes same-sex marraige, and he frequently spoke against marraige equality and abortion on the campaign trail. He apologized in a statement announcing his appointment, claiming his views have "evolved as society has evolved."
Fernando Cabrera, now a special adviser in the faith-based and community partnerships office, made headlines as councilman in 2014 when he visited Uganda and praised its government for refusing to legalize gay marraige. LGBTQ advocates have been raising alarms about Cabrera for weeks, after it was initially reported that Adams was eyeing him for a post in the city's rebranded ThriveNYC mental health office. Cabrera apologized for the "undue pain and suffering" he caused the LGBTQ community in a Facebook post on Monday night, shortly before Adams announced his new role.
Cabrera will work under Gil Monrose, a Brooklyn pastor who spoke against gay marraige on Facebook in 2011 and in a newspaper interview in 2015, according to Gay City News. Adams announced Monrose as executive director of the newly created office earlier this month.
Following Cabrera's appointment, the City Council's LBGTQ Caucus called on Adams to offer "alternatives" to Cabrera and Salgado in a letter that did not mention Monrose and called Cabrera's hiring "perhaps most egregious." 
"The man is a bigot; his use of his platform to promote his views has been dangerous," the seven members wrote Monday.
Adams on Tuesday defended his decisions and said he consulted with members of the LGBTQ community, including openly gay former Council Speaker Corey Johnson. 
"I respect your thoughts, but I'm going to do what's best for the city of New York," Adams told reporters at an unrelated press conference.
Advocates said they felt dismissed by the response and warned the decision could have long-term consequences for the LGBTQ community and its future support of the mayor. 
"I'm really surprised that any mayor of the city of New York would be so willing to have the beginning of their administration defined by creating discord and disgust in the LGBT community. If this was happening (in) Boise, Idaho, it would be par for the course, but this is New York. You can't disrespect the home of Stonewall, " Allen Roskoff, LGBTQ activist and president of the Jim Owles Liberal Democratic Club, told City & State, adding that Adams could be iced out of the city's annual Pride parade over the controversy. 
"I don't know what he owes these three individuals … but it's coming at a very huge cost. And I hope he doesn't think he's going to be welcome at the Gay Pride march in June," Roskoff said.
The statewide advocacy organization Equality NY is leading a rally at City Hall on Thursday where lawmakers and other groups will urge Adams to rescind all three appointments and at the very least, explain his decision-making. They are also seeking details from Adams about his general plans for the LGBTQ community, according to a list of demands.
"I can see people definitely taking a really strong stance and not supporting him in the future if he's continuing to … exhibit these behaviors," Equality NY executive director Amanda Babine told City & State, adding that the group feels Adams has not been responsive to their concerns about the appointments.
Babine noted that Adams has enjoyed support of the LGBTQ community previously, including a fundraiser where its board chair Cathy Marino-Thomas spoke on Adams' behalf.
"The mayor has taken time in the past to voice that he is an ally, and now clearly some of his actions are not matching up with that," Babine said.
Powered By
NEXT STORY: Republicans are backing a Brooklyn cop for lieutenant governor