Politics
How redistricting litigation could mess with the June primaries in New York
The process to get candidates on the ballot depends on the courts, the state Legislature and Republican-inspired irony.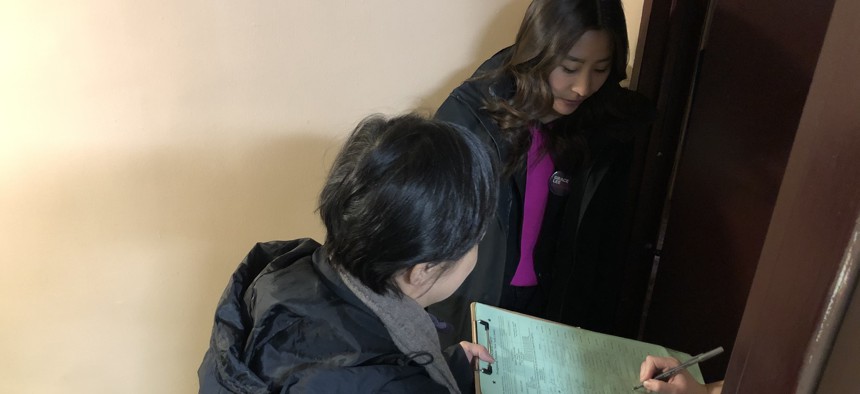 There is less than a month to go before political candidates begin the formal process to get on the ballot for the June primaries and plenty of ongoing uncertainty about where exactly they might run. Republicans have filed a lawsuit challenging new Democrat-friendly congressional lines approved by state lawmakers this week and lawsuits are expected regarding the state Senate and Assembly as well. Experts say New York courts will likely move quickly to resolve outstanding legal challenges, but delays are possible in the state calendar for upcoming elections. 
Prospective candidates can begin gathering signatures on March 1 and have until April 7 to submit them, according to the state Board of Elections, though the state legislature could change those dates if litigation drags on. "So worst case scenario, that petitioning schedule will be modified on the front end," election attorney Jerry Goldfeder said. "But I will assume that the courts will take this schedule into account and render their decisions pretty expeditiously." He added that he could not recall any instances in his 40-year career when New York courts acted so slowly that election deadlines got delayed though that has happened this year in other states like North Carolina.
The lawsuit filed Thursday in upstate Steuben County Supreme Court on Thursday alleges that Albany Democrats illegally gerrymandered congressional lines in a way that violated the 2014 amendment to the state constitution. The amendment established the Independent Redistricting Commission originally charged with drawing new maps following a series of public hearings. State lawmakers were able to take control of the redistricting process after Republican and Democratic members of the commission deadlocked. "The congressional map is so obviously biased that it favors Democratic partisan interests more than any of 5,000 computer-generated maps, drawn without partisan considerations," reads the suit, which aims to make the state Legislature approve a new map. 
Democratic leaders like state Senate Deputy Majority Leader Michael Gianaris, who co-chairs the legislative task force that drew the new maps, have claimed there is nothing legally wrong with the maps. "We're very confident this adheres to the current requirements," Gianaris told City & State earlier this week. Legal experts say that current state law leaves significant wiggle room for Democrats to make their case despite the concrete evidence showing how their party benefits from the new line. "I think Democrats are going to take advantage of some of the ambiguities in the way the criteria are written to argue that they were not trying to do political things," Michael Li, senior counsel for the Democracy Program at the Brennan Center for Justice, told City & State earlier this week. The New York Post reported Thursday that a lawsuit targeting specific congressional districts is also under consideration.
However the court rules, there is one peculiarity of New York law that helps speed along the wheels of justice in cases involving redistricting that get appeals, according to election lawyer Sarah Steiner. Cases in state court typically begin in the Supreme Court. Their decisions can usually be challenged in the Appellate Division with the Court of Appeals having ultimate authority on matters that do not fall under the federal jurisdiction. Redistricting cases, however, skip over the Appellate Divisions on their way to the state's highest court. "It's just some kind of quirk in the statute," Steiner told City & State Friday, which could ensure that litigation ultimately does not delay the primary election process. The Court of Appeals is generally left-leaning with most of its members appointed by former Gov. Andrew Cuomo. 
If Republicans do win a challenge, then Goldfeder said the courts would likely direct the state Legislature to redraw the maps. Albany Democrats would be unlikely to delay in doing this considering the risk that the courts could once again intervene and draw a map that might not be as advantageous to them as one that could pass legal muster after getting approved by the Democratic supermajorities in the state Senate. "The reason the courts have drawn the lines when the legislature has not been able to do it ... it was Republicans and Democrats and they weren't able to agree," added Goldfeder, referring to the current congressional map created by a panel of federal judges ten years ago. 
There are a few touches of irony in the situation New York Republicans are experiencing in New York this redistricting cycle. A U.S. Supreme Court dominated by GOP nominees struck down in 2013 provisions of the federal Voting Rights Act of 1965 that limited potential gerrymandering in places like Manhattan, Brooklyn, the Bronx as well as a litany of southern states with records of discrimination. The redistricting plan approved by Albany Democrats would have been illegal under the John R. Lewis Voting Rights Advancement Act of 2021 opposed by congressional Republicans, according to Li and other legal experts. Now GOP electoral hopes depend on how well their attorneys (which include Misha Tseytlin, a member of the conservative Federalist Society who once argued in favor of partisan gerrymandering as solicitor general of Wisconsin) can argue that Democrats drew their maps illegally in New York even though Republicans appear to have no problems with such practices elsewhere. It is the latest twist in a redistricting process that the courts are expected to straighten out sometime in the coming weeks.