New York State
It's official: One-party rule by New York Democrats is not going anywhere
New lines for the state Senate and Assembly allow the legislative supermajorities to protect themselves for the next decade.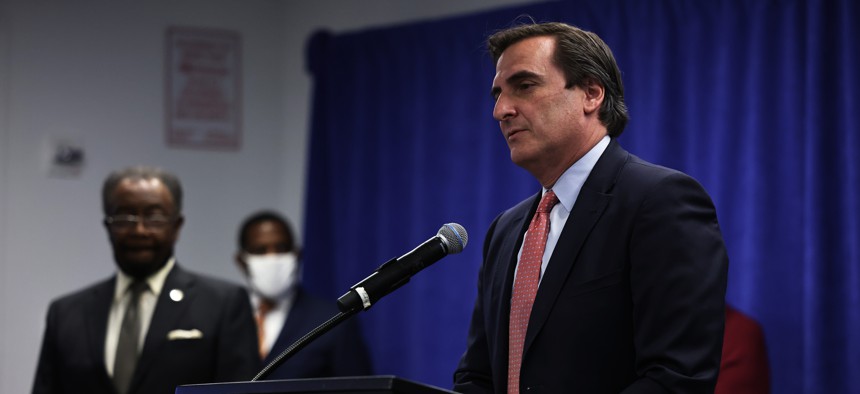 Democratic dominance in state politics is about to reach a whole new level as the decennial redistricting process approaches its conclusion.
Albany Democrats are expected to approve new legislative lines for the state Senate and Assembly that benefit their incumbents while making it harder than ever for Republicans to regain any of the electoral ground they have lost in recent years. Call redistricting the latest step in a multi-year process that is now making one-party rule by Democrats a permanent fact of political life three years after the party won control of the state Senate for the first time in a decade. "It's a generational shift," said Basil Smikle, a political consultant and former executive director of the New York State Democratic Party.
Many of the changes included in the proposed map for the 63-seat state Senate appear aimed at helping Democrats keep more than a dozen seats that Republicans have historically controlled. Rochester and Syracuse are being split to help Democratic incumbents. The district gerrymandered a decade ago to help former GOP state Sen. Marty Golden win reelection in southern Brooklyn has been replaced by lines that now stretch into more Democratic areas like Brooklyn Heights. The addition of blue areas to the southern side of the Long Island district held by James Gaughran, one of eight Democrats who flipped GOP state Senate seats in 2018, is another example of changes aimed at helping Democrats avoid tough reelection fights in the future.
The proposed state Senate map could help Democrats expand their 44-seat supermajority in the upper chamber. Republican state Sen. Sue Serino might have to run in a redrawn district whose voters favor President Joe Biden in the 2020 cycle. It also remains unclear which Republican might run in a new district that includes upstate Democratic bastions like Saratoga Springs and Troy. Other proposed districts that went big for Biden over Donald Trump in 2020 include a seat based in the Southern Tier and another in Suffolk County. The 2021 election results include some big wins for Republicans, but none of them made any difference in a state Senate where they will have to defend more historical turf later this year. 
There are not quite enough Democrats from New York City and its suburbs to maintain Democrats' longtime supermajority in the Assembly, so they will once again have to defend upstate seats to keep at least 100 seats in the 150-member lower chamber. Freshman Jen Lunsford could run for reelection in a district that went overwhelmingly for Biden in 2020 while she narrowly beat a Republican incumbent. Democrat Monica Wallace is losing some Republican areas in the outskirts of Buffalo while Democrat Al Stirpe of the Finger Lakes is getting a few more Democratic enclaves. The Democrats, however, are not making life more difficult for every Republican. The only Republican to beat an incumbent Democrat in the Assembly in 2020 – Michael Lawler of the Hudson Valley – for example, gets to run for reelection in a district that appears more favorable two years later.
Democrats have been accused of using redistricting to strengthen their position in the state Legislature despite criticizing gerrymandering in the past. "As we unravel the gerrymanders of the past, it doesn't make it a gerrymander of today," state Senate Deputy Majority Leader Michael Gianaris, who chaired the legislative task force that oversaw redistricting along with Assembly Member Kenneth Zewbrowski from the Hudson Valley, said on The Brian Lehrer Show Tuesday. "These are districts that are drawn fairly," Gianaris added. Whether or not Gianaris' rationale rings true despite the proposed Democrat-friendly lines, Republicans did use methods other than line-drawing to help them maintain their state Senate majority in the past. Packing more people in Democratic districts versus GOP areas was one strategy.
Republicans could defy expectations and somehow win back control of the state Senate despite all the ways that Democrats are making that more difficult through redistricting. The GOP could better mobilize their base or figure out ways to appeal more to voters. The Democrats, after all, won control of a gerrymandered state Senate in 2018, but it won't be easy for the Republicans to do this time. One-party rule is here to stay in New York thanks to a redistricting process that comes down to which party holds power at just the right time despite highly publicized reforms. "It's pretty much what the Republicans would have done if they had the pencil," political consultant Hank Sheinkopf said in an interview of the proposed maps. "But Democrats have the majority, so they have the pencil."
Correction: This post has been updated to reflect the correct number of years since Democrats took control of the state Senate. A previous version of this article also misidentified the proposed state Senate district that would include Hempstead.
Powered By
NEXT STORY: Takeaways from the new redistricting proposals for New York state Senate and Assembly