New York State
Kathleen Rice's retirement opens up another Long Island congressional seat
Potential Democratic candidates are already emerging, but there could be a competitive general election in the 4th District.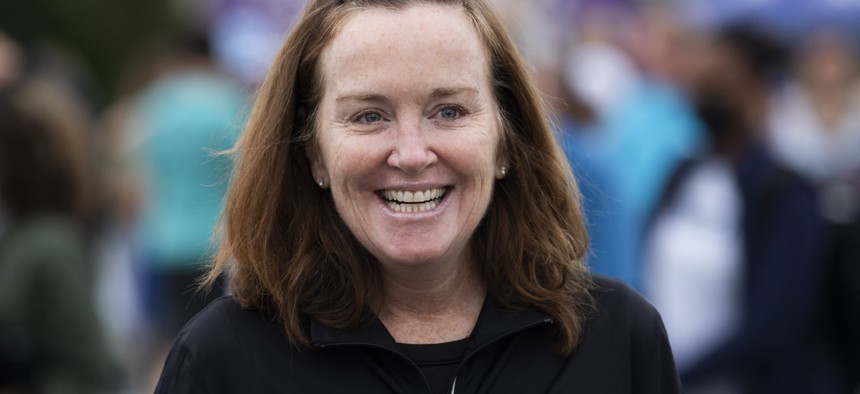 Long Island now has another open congressional seat after Rep. Kathleen Rice made a surprise announcement on Tuesday that she would not seek reelection, making her the third member of Congress from the island to give up their seat. That leaves just Rep. Andrew Garbarino (and technically Rep. Gregory Meeks) as the lone Long Island incumbent as lawmakers adjust to the new district lines.
Rice, who has represented the 4th Congressional District in Nassau County for seven years, had not given any indication that she would leave office, and privately more than one political observer told City & State they did not see the move coming. It now sets off a scramble to replace her in a year expected to be tough for Democrats, even with more favorable congressional lines in New York.
As of Tuesday afternoon, no candidate had publicly announced their intention to run for the seat, but speculation was already swirling. Nassau County Democratic Party boss Jay Jacobs – who only got a heads-up earlier on Tuesday – offered several possible contenders, leading with former Nassau County Executive Laura Curran, who lost her reelection bid last year to Republican Bruce Blakeman. A source familiar with Curran's thinking said she's interested in running but has not made a decision.
Despite last year's election result, Curran had been popular among both parties during her four years as county executive, so a run for Congress could allow her to make a political comeback. "She's extremely well liked (and) I would be surprised if her poll numbers were anything other than through the roof," Jacobs told City & State. But Curran has also spent the months following her loss attacking the Democratic Party during appearances on Fox News, and she lost the confidence of marginalized communities in Nassau prior to last year's election over her police reform positions.
Jacobs also floated former Hempstead Supervisor Laura Gillen and Nassau County Legislator Carrié Solages – brother of Assembly Member Michaelle Solages – as others who have expressed potential interest in the post. But he added that should Curran decide to run, she would likely "clear the field."
State Sen. Todd Kaminsky could be another possible candidate. He also lost an election last year for Nassau County district attorney in a landslide against Republican Anne Donnelly in a race widely viewed as a referendum on bail reform. Kaminsky didn't lose his seat in the state Legislature, so the defeat left him wounded, but not ejected from politics. But Jacobs said his recent conversations with Kaminsky led him to believe he "would not be inclined to run." A spokesperson for Kaminsky did not immediately return a request for comment.
But the open seat on Long Island will likely draw serious Republican challengers as well. Although the redrawn district still supported President Joe Biden in 2020 by 12 percentage points, recent victories for the GOP in Nassau County combined with a midterm election expected to be favorable for the party could lead to a close race. "Certainly becomes competitive as an open seat," said Republican Nassau County Assembly Member Ed Ra in a text message, adding that "GOP tailwinds are strong this year." As of Tuesday afternoon, though, he had not heard any chatter about potential candidates.
With two other congressional openings, including one currently held by Republican Rep. Lee Zeldin, the GOP will have several chances to win House seats, even if it's slimmer thanks to redistricting. "The three open seats in the same area give the underdogs a chance to create some synergies through joint thematic advertising against Democrats in general, like Republicans did with bail reform," Lawrence Levy, executive dean of the National Center for Suburban Studies at Hofstra University, said in a text. Republicans almost took complete control of Long Island last year, winning all but one countywide seat in both Nassau and Suffolk as well as both county legislatures, largely thanks to joint messaging against the 2019 state bail reform law that they linked, without evidence, to rising crime rates. Levy speculated that Republicans could take advantage of the lack of incumbents to once again gain victories on Long Island despite increasing favorability for Democrats.
– With reporting by Zach Williams
Powered By
NEXT STORY: Voters head to the polls to fill two empty Assembly seats