Campaigns & Elections
Max Rose has a Fall-ing out
Assembly Member Charles Fall rescinded his congressional endorsement after Rose wouldn't support his girlfriend for state Senate.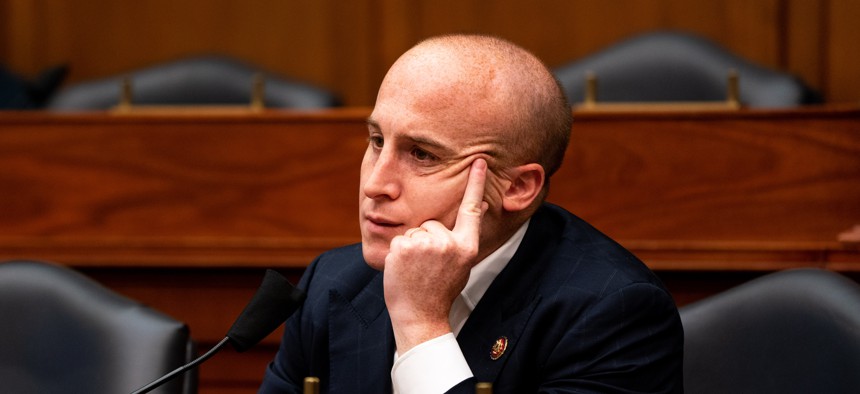 Internal debates poured out into public Wednesday as Assembly Member Charles Fall rescinded his endorsement of former Rep. Max Rose's congressional campaign – because Rose's team had declined to immediately support the state Senate campaign of Fall's girlfriend, Bianca Rajpersaud.
"As the first African-American male to hold office in Staten Island, I will not bow out nor kiss the ring, or succumb to threats to satisfy the desire of those looking to strengthen their agenda that will only keep our communities voiceless," Fall wrote in a statement released Wednesday morning. "I am rescinding my endorsement of Max Rose."
Rose responded in a statement shared with City & State. "I love Charles like a brother, and am obviously disappointed, deeply confused, and blindsided by his decision," he wrote. "I won't turn my back on Charles, irrespective of his false comments about me today."
Rose announced Fall's endorsement less than two weeks ago, on Feb. 4. But Staten Island was in the midst of political upheaval. The congressional district covering Staten Island was redrawn in a way that made it more hostile to Republican incumbent Rep. Nicole Malliotakis, and made a Democratic flip more likely. Fall, who has represented a district on the North Shore of Staten Island since 2019, had his district redrawn to include parts of Lower Manhattan, including Battery Park City. And longtime state Sen. Diane Savino was spreading the word that she wouldn't be seeking reelection, leading to an open seat on the North Shore of Staten Island, as well as parts of Brooklyn. 
As the Assembly member representing much of Savino's district, Fall was encouraged by many Staten Island Democrats to consider running – and he told City & State that he considered it. But then, he says his romantic partner, Rajpersaud, expressed interest in running for Senate District 23 herself. So he's endorsing her for Senate, while he runs for reelection in the Assembly. Rajpersaud is a lobbyist with Davidoff Hutcher & Citron and president of the North Shore Democratic Club. Fall said the two had been friends for a long time before they started dating. "She's someone I love with all my heart and an incredible person. Me supporting her isn't just because of that, it's because of her involvement with her community," Fall said, citing her work on Rose's previous campaigns as an example, and that "she knows how to get things done in Albany."
However, when Fall asked Rose to support his partner for state Senate, Rose declined to immediately endorse Rajpersaud, who is of Dominican and Guyanese descent. Tensions apparently grew from there. Rose said he has not endorsed any candidate yet, but Fall speculated that Rose would be inclined to support Jessica Scarcella-Spanton, who is white, for the seat instead. Scarcella-Spanton is a former aide to Savino who served as her deputy chief of operations, and the Senator publicly endorsed her to succeed her this week. Former Brooklyn City Council Member David Yassky is also expected to run. Jasmine Robinson, who previously ran against Savino, has also been mentioned as a possible Senate candidate. 
"The Rose team is trying to say that I only rescinded from them not supporting Bianca, and that's not true," Fall said. "The reason I rescinded is because they started getting nasty and threatening … once you start going down that road of playing nasty, that's not going to fly."
What did he mean by that? Fall said Rose's team threatened to run a candidate for Assembly against him and run TV ads disparaging him during the primary. Rose's campaign manager said that was wrong. "No one on our campaign threatened Charles in any way," Carl Sanford told City & State. "That is false." And in a statement, Rose denied that he'd support a challenge to Fall. "In case this entire episode hasn't already made it clear," he said, "I don't do quid-pro-quo."
Asked if he'd endorse a candidate running against Rose, such as military veteran and activist Brittany Ramos DeBarros, who is running as a progressive alternative to Rose, Fall said he's planning to stay out of the race, after rescinding his endorsement. But there's a caveat: "In the event they primary me – if they actually do follow through with that – then I will get involved in the race," Fall said. 
Fall's tension with Rose may have had another reason for bubbling over too. Before winning his Assembly seat, Fall worked for former New York City Mayor Bill de Blasio, and still has kind words to say about his former boss. De Blasio was considering a run for Congress, so Rose has been relentlessly criticizing his would-be primary opponent over the last couple of weeks. The former mayor announced on Tuesday that he wouldn't be running after all, but Fall didn't seem on board with the de Blasio bashing. "Any time there's been an attack towards my former employer, I stay out of it," Fall said.
Powered By
NEXT STORY: With Diana Reyna, Suozzi makes a downstate ticket