Politics
Rep. Nicole Malliotakis is (probably) screwed
The new congressional district maps could have a Democrat representing Staten Island again.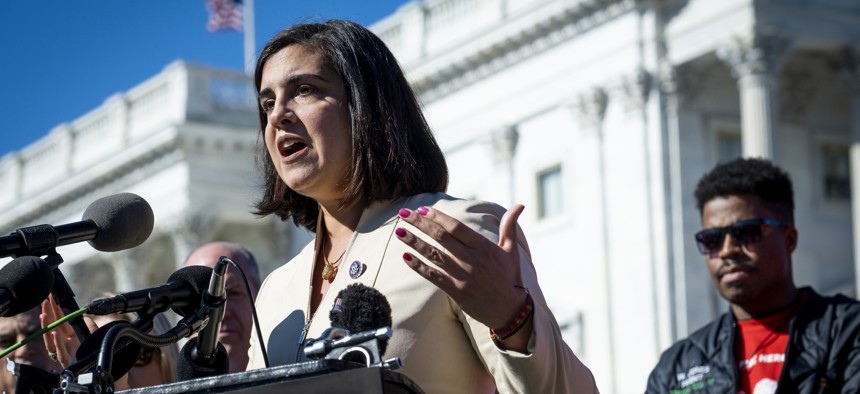 Rep. Nicole Malliotakis is looking likely to be a one-term representative after New York's redistricting task force revealed redrawn congressional district lines that make it much harder for a Republican candidate to win the seat. 
For the past 30 years, Staten Island's congressional district has included the whole borough, plus portions of southern Brooklyn with more conservative leanings, such as Bay Ridge, Bensonhurst and Gravesend. The new map, which is expected to pass the legislature and take effect this week, heads north from an increasingly blue Bay Ridge and connects Staten Island with the Democratic bastions of Sunset Park, Park Slope and Gowanus. When Malliotakis defeated Rep. Max Rose in Nov. 2020, Donald Trump topped President Joe Biden in the district by more than 41,000 votes – about 55% to 45%. In the new district lines, Biden got about 31,000 more votes than Trump – about 55% to 45% in the other direction, according to data compiled by the Center for Urban Research and The Graduate Center at the City University of New York.  
Team Malliotakis is crying foul, with her spokesperson Rob Ryan calling it "a blatant attempt by the Democrat leadership in Albany to steal this seat" in what was originally supposed to be a bipartisan process. The "steal" is loaded language from somebody who perpetrated the lie that Trump won the 2020 presidential election by joining most House Republicans in voting against certifying that election, but there's little doubt that Democratic state legislators drew these maps with the intention of flipping the seat back into the hands of their party. "They know Congresswoman Malliotakis is popular and they can't beat her on the merits or public policy, so they are changing the boundaries to tilt the scale," Ryan said, adding that she will win anyway. 
That thought isn't delusional. "She's an incumbent. It has the potential to be a wave year if you look at the national polling. I don't think it is necessarily true that she has no chance," said John DeSio, a Democratic communications consultant and Staten Island native. The odds are against her in a district where so many voters supported Biden, and split-ticket voting is on the decline but a win wouldn't be unprecedented in the state. Retiring Rep. John Katko, a Central New York Republican, won reelection in 2016, 2018 and 2020 in a district carried by Hillary Clinton in 2016, then Biden. Observers also expect Malliotakis to have a smoother process this election than two years ago. Staten Island Republicans have been known for in-fighting, but it'll be easy to line up behind an incumbent facing a difficult reelection battle. "Nicole will ring up a better GOTV performance this time," Steve Kramer, ​​president of the political consulting group Get Out the Vote, told City & State. "And the Staten Island GOP factions will reunite to defend her." A whispered-about Republican primary challenge from newly elected Staten Island Borough President Vito Fossella seems highly unlikely with the new district lines. 
But Staten Island's congressional seat has been the most volatile in New York City, represented by six different members, both Republican and Democrats, since 2008. And the inclusion of new neighborhoods substantially changes the types of voters who will be casting ballots. Areas like Gravesend are full of registered Democrats who have crossed party lines to vote for Trump or Republican mayoral candidate Curtis Sliwa. Now Malliotakis "is going into parts of Brooklyn where she's going to be encountered with Democrats who are national party Democrats," DeSio said. "What's important to them is going to be a Democratic majority in the House… She's not going to be able to stand in front of the Park Slope Food Co-op and make the pitch."
And some of the Democrats drawn into the new 11th district won't be eager listeners. City Council Member Alexa Avilés said that Rep. Nydia Velázquez had longstanding relationships in Latino and Asian populations in her Sunset Park district. "While this doesn't fare well for Malliotakis, I do have deep concerns around having representation that is not deeply connected to the interest of our community," she said. 
That goes for both the Republican, and whatever Democrat may be on the ballot in November. Rose, who represented the district in Congress in 2019 and 2020, said in December he would be running, and immediately became the heavy favorite in the primary en route to a rematch with Malliotakis. But the new district lines have created buzz around other candidates. Park Slope Assembly Member Robert Carroll didn't respond to a request for comment, but the New York Post reported last week he was considering a run. And progressive activist and military veteran Brittany Ramos DeBarros has a spring in her step after seeing the map. She is an Afro-Latina democratic socialist, and voters in Sunset Park and Park Slope and Gowanus just elected democratic socialist women of color to the City Council, with Avilés and Council Member Shahana Hanif. Ramos DeBarros would present a progressive alternative to the more moderate Rose, which could appeal to a district where democratic socialist Jumaane Williams received more votes than Kathy Hochul in the 2018 primary for lieutenant governor, according to a map created by Election Twitter's Armin Thomas. "The question is not left versus right, it's right versus wrong and the 1% versus the rest of us," Ramos DeBarros said. However, Rose – who was raised in Park Slope – might be cracking open a celebratory Bud Light too.  He has a serious cash advantage, better name recognition and may be seen as a safer choice for the general election against an incumbent. So Rose has already set his sights on the general. "Whatever the lines end up being doesn't matter to me. I'm in this race because House Republicans like Nicole Malliotakis would rather tear America apart than help tame inflation, defeat the pandemic, and protect our democracy," he said in a statement provided to City & State. "Staten Island and Brooklyn deserve so much more and that's why I'm running."
For now, Malliotakis has $1.8 million on hand to Rose's $734,000, but Rose is raising at a rapid pace, and that gap could disappear quickly – just like New York City's last Republican-held Congressional seat. So members of the New York GOP are praying a Hail Mary that former Mayor Bill de Blasio, who is incredibly unpopular on Staten Island, enters the fold. De Blasio hasn't signaled any interest in running for Congress, but he recently declined to run for governor after raising hundreds of thousands of dollars, and his two homes in Park Slope are within the new district. Asked if the former mayor was interested in running, de Blasio's political consultant Peter Ragone responded by Twitter direct message with a contemplative emoji, stroking its chin. 
But Ryan, Malliotakis' spokesperson, was eager to note that Malliotakis appeared to have defeated de Blasio within the new district lines when the two faced off in the 2017 mayoral election. City Council Minority Leader Joe Borelli, a Staten Island Republican, was also relishing the match-up.  "Nothing will bring joy to my heart more than Bill de Blasio knocking on doors on the South Shore," he said. "He would be welcome to stop by for a glass of wine."