Politics
How Democrats could benefit from getting more Republican voters through redistricting
Albany mapmakers are moving GOP voters into some solid blue districts to boost their chances of holding their slim majority in Congress.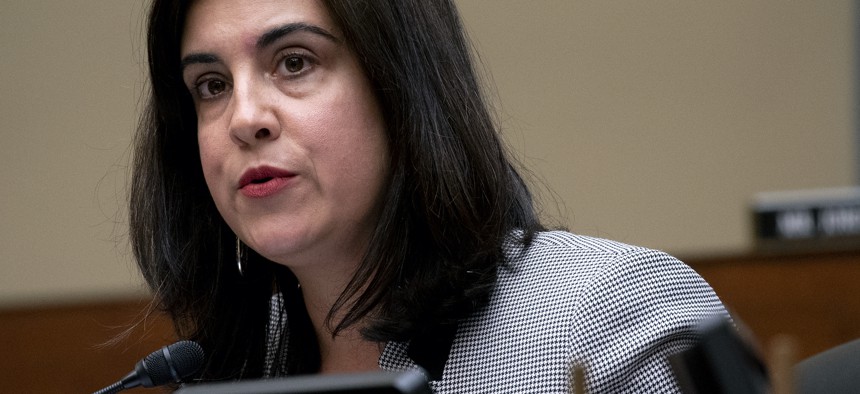 Albany Democrats are striking a balance between keeping incumbent members of Congress happy while maximizing their gains in the U.S. House.
Proposed congressional lines unveiled by state lawmakers include changes that appear to benefit incumbent Democrats while also potentially helping their party flip several seats currently held by Republicans. A key part of this approach involves placing GOP strongholds into solid blue districts when they cannot be included in the handful of safe Republican districts expected to remain after state lawmakers vote on redistricting this week. "If the goal was to protect democratic incumbents then I think that goal was met," Democratic consultant Camille Rivera said in a text.
A good example of the Democratic plan in action is the Staten Island-based seat currently held by Republican Rep. Nicole Malliotakis. The redistricting plan will add Democrat-heavy areas like Park Slope and Sunset Park in Brooklyn to the district while Republican-leaning areas in Southern Brooklyn are being moved into the district represented by Democratic Rep. Hakeem Jeffries. This influx of GOP voters will not endanger Jeffries – who won 84.9% of the vote in 2020 – but it could deprive Malliotakis of thousands of votes in November.
Other Democrats are getting new Republican constituencies as the state congressional delegation gets reduced, following the U.S. Census, by one seat from its currently 27 members. 
Rep. Jamaal Bowman is getting a new pocket of Republican voters straddling the border between Westchester and Putnam counties. Another freshman incumbent, Rep. Mondaire Jones, is getting Republican-dominated rural areas west of the Hudson. The Hudson Valley-based seat held by Democratic Rep. Anthony Delgado is absorbing GOP rural areas and far flung Democratic enclaves in Binghamton and Utica alike. 
Some incumbent Democrats meanwhile are getting some favorable tweaks to the district lines in the new map that might help them in future primaries. Rep. Alexandria Ocasio-Cortez is gaining more voters in ultra-progressive Western Queens from Rep. Carolyn Maloney, who has faced primary challenges from the political left. Parts of progressive Greenpoint and Williamsburg are being added to the Brooklyn district represented by longtime Rep. Nydia Velázquez, who represented those areas before a previous round of redistricting, though she is losing some Latino areas of Sunset Park. A Central Brooklyn seat held by Rep. Yvette Clarke appears more centered than ever on her Caribbean voter base though her district retains some Republican-heavy areas in southern Brooklyn. "The congressman is pleased," a spokesperson for Rep. Ritchie Torres, whose South Bronx district will now include parts of the northwest Bronx, said in an email. 
The redistricting strategy adopted by Albany Democrats is similar to what Republican legislators are doing in other states in terms of how they both aim to solidify their respective party positions in Congress – but with an important difference. "In Texas, Republicans chose to shore up last decade's gerrymander rather than try to flip additional Democratic seats," Michael Li of the left-leaning Brennan Center for Justice tweeted Monday. "In New York, by contrast, Democrats chose to grab an increased seat share over having ultra safe seats. Doing so, however, involved spreading Democratic voters out a bit more (as well as packing R voters)." The risk for New York Democrats will thus be whether Republicans might do better in these new districts than Albany mapmakers are currently predicting.
One challenge for Democrats is making sure their new maps – new lines for the state Legislature were still released by publication time – do not provoke any backlash from members of their own party who might pressure state lawmakers to reject them. A few state lawmakers could theoretically disrupt plans to get redistricting done this week because legislative leaders will need two-thirds of their members to approve the new maps. That appears unlikely considering the balance that Albany Democrats are striking on redistricting despite ongoing criticism of how the new lines fall short of protecting the public interest. "It's a major disservice to the voters," reads a Monday statement from the good government group Common Cause New York. "(They) deserve legislative public hearings now – at the very least – to have the final say."
Powered By
NEXT STORY: Gianaris denies gerrymandering in New York congressional map