New York State
Gianaris denies gerrymandering in New York congressional map
Despite new congressional lines that clearly benefit Democrats, the state Senate's No. 2 stands by the map.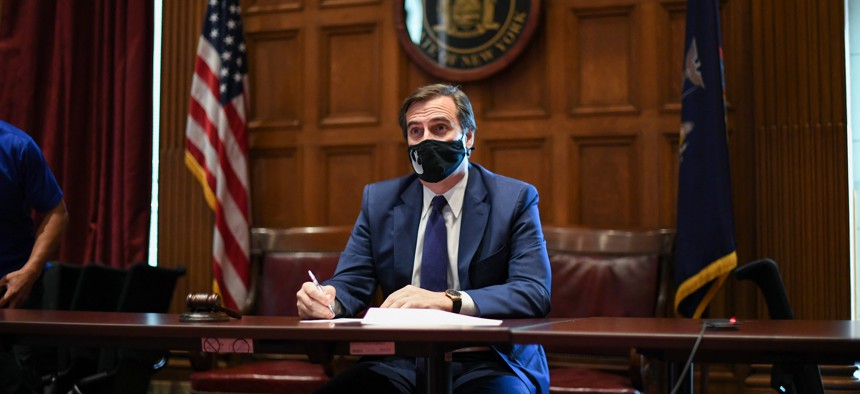 Democrats are getting a lot of heat for partisanship in the redistricting process after they gained control from an independent commission meant to end such party squabbles. But a key lawmaker is standing his ground in the face of criticism from both sides of the aisle.
State Senate Deputy Majority Leader Michael Gianaris, who has led his chamber's redistricting efforts, asserted that his party did not engage in gerrymandering despite proposing a new congressional map that clearly benefits Democrats. In an interview with City & State, Gianaris stood by the controversial proposal that could cut the number of Republicans in the New York delegation in half.
The maps clearly disadvantage Republicans, who will likely lose four seats in the next election cycle if the proposal stands. The GOP was quick to denounce the new lines and promised to take the matter to court. But they weren't the only ones crying foul. The left-leaning think tank Brennan Center for Justice, which focuses on voting rights, said Democrats took a heavy hand to district drawing. Michael Li, the organization's redistricting expert, called the New York maps an "aggressive gerrymander," and even asserted they would be struck down under the John Lewis Voting Rights Act that Democrats are championing in Congress. 
Still, Gianaris defended the maps against claims that they were overly partisan, especially in some of the most unusually shaped districts. "We're very confident this adheres to the current requirements," Gianaris said, adding that he fully expects the issue to end up in court. "Other people make those decisions, we'll make our case why we believe it does."
Given specific examples of districts that have drawn scrutiny, Gianaris offered a legal claim for each. For District 11, currently held by GOP Rep. Nicole Malliotakis, he claimed the new lines "conform to some historical norms for that district" – which apparently just happen to turn the right-leaning swing district into a fairly safe Democratic seat. Expanding District 3, being vacated by Democratic Rep. Tom Suozzi, from Long Island into the Bronx and Westchester unites communities of interest along the Long Island Sound, according to Gianaris. He added that this particular decision came from public input from a coalition representing communities of color that presented a "unity" plan, but the move seemed to baffle many. 
As for the new upstate district that stretches from Western New York, snakes its way around the southern outskirts of Rochester and its suburbs through a portion of the Finger Lakes and continues into the North Country, Gianaris defended the creative puzzle piece as necessary to keep urban centers in a single district. "Once you build a district around Buffalo and you build a district around Rochester, the remaining districts have to go somewhere," Gianaris said. He declined to say what Western New York and the North Country share in terms of common interests other than apparently being the unfortunate leftovers from creating other seats.
At this point, many leftwing observers won't yet say whether the maps will hold up to legal challenges, denying Democrats early signs of approval. Democratic strategist L. Joy Williams, who is also the head of the NAACP in Brooklyn, said it's too soon to say either way what might happen before a judge with the lines in a text to City & State. Democratic consultant Camille Rivera used even stronger language. "I think it totally leaves open court challenges," she said in a text. "There were other options that didn't require this configuration."