Interviews & Profiles
When the past is prologue, what becomes of Vito Fossella's future?
The Staten Island Republican starts anew 13 years after a scandal ended his promising congressional career.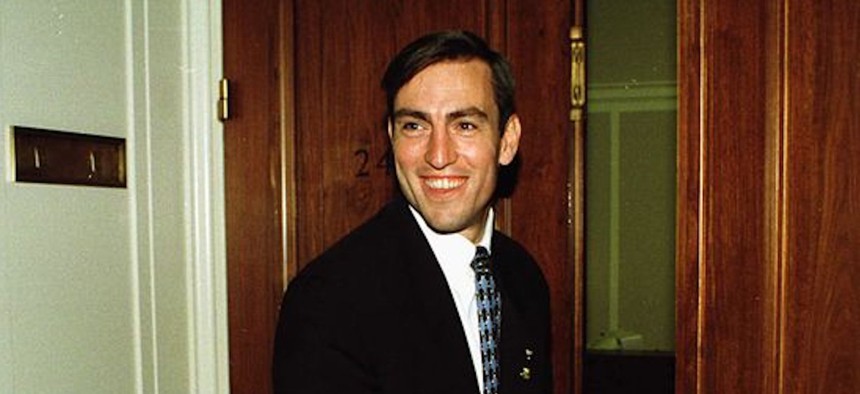 Election night and an old face takes the stage. "Vi-to! Vi-to! Vi-to!" The crowd in the tent for the Staten Island GOP victory party cheers for Vito Fossella, who was just elected as borough president by an overwhelming margin – 62% to 30%, according to preliminary in-person results. "Thank you, thank you, thank you," he says, calming the crowd. "It's good to be back!"
And it was quite the comeback – a return to public office 13 years after a drunken driving arrest and an affair kept the former member of Congress from running for reelection. Fossella, a big name who left the public eye, couldn't help but be remembered for his history – so he leaned into it, talking about how problems of today reminded him of the problems he faced 27 years ago when he first ran for New York City Council. "Crime was through the roof. Welfare rolls were skyrocketing. We had the largest landfill in the world," and no schools had been built in the borough in 20 years, he said in a Republican primary debate in May on NY1. Now? "Unfortunately, we see the same thing happening today in this city. It's out of control. Crime is out of control. Taxes are through the roof. The last year, small-business owners were punished," he said. "So I think I want to be the real voice for Staten Island once again."
Staten Islanders ate up the message, and elected him – with an assist from former President Donald Trump's "Complete and Total Endorsement." But as might be expected from a man so defined by his past, it hasn't been entirely clear where Fossella is going next. Will he stick to Borough Hall, picking up the infrastructure-heavy agenda of his term-limited predecessor, Staten Island Borough President Jimmy Oddo? Or will Fossella find himself a citywide, or even national, profile representing not just Staten Island, but the city's Republican minority, emboldened by an opponent in the White House and recent Republican electoral wins in the city and region?
New York City's only Republican member of Congress, Rep. Nicole Malliotakis, is in Washington, explained Leticia Remauro, a Republican consultant who just ran against Fossella in the general election on the Conservative Party line, but Fossella is in the city, with "a ringside seat to what's going on. Either he gets in the ring and dukes it out with the Marxists, or he's going to let down his supporters."
I think I want to be the real voice for Staten Island again.
– Staten Island Borough President-elect Vito Fossella
If you followed politics at the time you couldn't forget the story. And if you read any coverage of this year's borough president race you probably know the story too – it's hard not to mention. On his way home from a 2008 event at the White House celebrating the Super Bowl champion New York Giants, Fossella was arrested for drunken driving in Virginia. His excuse was that he was rushing home to his sick daughter – who, it was soon revealed, was his child with a retired Air Force colonel with whom he was having an affair, unbeknownst to his wife and kids on Staten Island. A rising star now fallen, Fossella said he wouldn't run for reelection, and served out the last seven months of his term – before serving four days in jail on the drunken driving charge.
Fossella kept a low profile after that, but he never totally left the world of politics. He worked as a lobbyist for former U.S. Sen. Al D'Amato's Park Strategies, briefly hosted a pro-Trump TV show on right-wing outlet Newsmax and was later employed for a financial firm with state and city government contracts (including one collecting debts for unpaid speed camera tickets while railing against cameras as a "money grab" on the campaign trail). It took former Rep. Anthony Weiner less than two years to attempt a political comeback after his sexting scandal. It took former Gov. Eliot Spitzer a little more than five years after his prostitution scandal. Fossella was offered chances to mount an electoral comeback. He kept turning them down, saying he wasn't interested. "He left politics," said New York City Council Member Joe Borelli, a Staten Island Republican. "This is over a decade. It's not like he left and was showing up at veterans barbecues."
Then earlier this year, Fossella did start showing up at barbecues. That was about it. He joined the borough president race relatively late, in March, and barely reported spending any money. He never had much of a campaign team, held few events and never created a campaign website. He ignored many media outlets looking for information on his candidacy. (Fossella's campaign did not respond to multiple requests for comment for this story.)
"This race was, frankly, not a traditional race in the true sense of planning it out and spending months or years plotting it out," Fossella told NY1 in July. "We decided in a few days."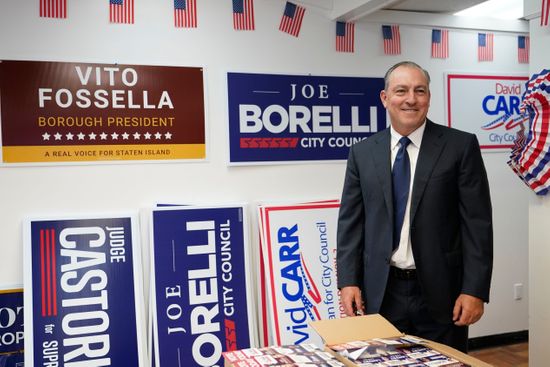 The odds seemed long as he faced off against New York City Council Member Steven Matteo, a party favorite who had been planning a run for years, and Remauro, the former chair of the Republican county organization. But Fossella had a well-known name and – crucially – the support of Trump and allies like former New York City Mayor Rudy Giuliani. Trump endorsed Fossella just days before the primary, too late to even send out a mailer to voters. But word spread quickly, thanks to a robocall recorded by Trump, and – as The City first reported – Fossella's former employer Newsmax, which spent $25,000 on Facebook ads announcing the endorsement.
Fossella didn't change much for the general election. He was repeatedly barred from receiving public matching funds because he didn't disclose certain information on forms from the Conflicts of Interest Board, then denied again because the campaign's reported contributions and spending varied too much from its receipts, as the Staten Island Advance reported. Fossella corrected the issues and got about $640,000 just days before the general election. Fossella still lacked a campaign website and, apparently, any official platform, but he spoke in media appearances about his past – securing new school seats for Staten Island and helping close the Fresh Kills landfill as a council member – and what he would do in the future: reduce crime, help small businesses and get rid of vaccine mandates and speed cameras. What made Fossella stand out seemed to be the "R" next to his name, and a promise that voters believed: He would be "the real voice for Staten Island." Fossella proved it by once again by getting Trump's endorsement in the general election. On election night, Fossella bragged to the crowd that the former president had called to congratulate him. They'd been chanting "Vi-to" a minute before, so a new call broke out: "Trump! Trump! Trump!"
His brand, his name, his connection to the Trump World count for a lot.
– New York Young Republican Club President Gavin Wax
Staten Island is the smallest borough by far, but that's like saying it's the smallest whale in a sea of fish. Its population of 496,000 people makes it more populous than Rochester, Syracuse and Albany combined. A total of 123,320 Staten Islanders voted for Trump in 2020, good enough for 56.9% of the borough's vote. Yet the one borough that Trump won – New York City's conservative outpost – is home to less than one-fifth of the city's Trump voters. The city as a whole gave Trump 691,682 votes, which is more than he got in the entire state of West Virginia. Sure, they were outnumbered by voters for President Joe Biden 3-to-1 in New York City, but there are a lot of them.
That is to say that the Staten Island borough presidency, which has been held by Republicans since 1990, comes with a loud megaphone. And if one wanted to use it to speak across the harbor to the other four boroughs, a lot of people might listen. The current borough president, Oddo, has mostly stuck to the island, and mostly stayed out of party politics. He didn't endorse anyone in either the recent Republican mayoral primary or the general election. Rather than cast a vote for Trump, Oddo said he wrote-in Ronald Reagan in 2016 and George Washington in 2020.
Oddo will be replaced by a man who fields phone calls from the former president, so some Republicans aren't just hoping that Fossella will be sharing his conservative views; they hope he'll be sharing them citywide.
"I think he has an obligation to," Remauro told City & State. "Now he has an obligation not only to the people of Staten Island, but also the conservative-minded individuals of New York City to create balance in a government that has gone far left."
Others in the Trump wing of the New York GOP, like New York Young Republican Club President Gavin Wax, are eager to have "the comeback kid," Fossella, in a high-profile role where he could function as a GOP standard-bearer. "His name, his brand, his connections to the Trump world count for a lot," he said. "It shows that he could be a serious political force, in the island, in the city, and maybe even the country." Borough president might not even be enough. "(This win) reestablished him, and he can leverage this in a million different ways," Wax said.
Rumors that Fossella might challenge Malliotakis in the Republican congressional primary in 2022 spread even before he won the Republican primary. Publicly the pair are at peace – she endorsed him for borough president in July. Privately, there's thought to be tension about who will become top dog on Staten Island, with the threat of a messy primary hanging over them.
Malliotakis, who did not respond to a request for comment, took a turn toward Trump for her 2020 congressional run, but she's relatively moderate for a House Republican. Her recent vote with Democrats to pass the infrastructure bill personally angered Trump and was a step too far for some hardline Republicans like Wax, who wrote that Malliotakis is "working deviously to undermine the strength of the GOP from within." Joe Caldarera, a lawyer who challenged Malliotakis in the 2020 Republican primary, is now saying he may run again. Meanwhile, Democrats are hoping that redistricting could pair heavily Democratic areas of Brooklyn or lower Manhattan with the Staten Island congressional district, all but dooming Republicans' chances. Fossella, with his seat secured for at least four years, could end up as the city's top Republican whether he wants to be or not.
Of course, some people prefer that he would stay focused on Staten Island. "Vito Fossella has been around for a very long time. He's been around before Trump. So it'll be interesting to see if he actually cares about Staten Island as a whole," said Amoy Barnes, a Democratic operative and former City Council candidate on the North Shore. Fossella skipped a forum she helped organize in her heavily Democratic neighborhood, she said, but she has no choice but to give him another chance now that he has been elected. "Is he going to show up for the North Shore? And is he going to stand up for Staten Island in general? We all have needs on Staten Island. But I want to see if he's going to show up," Barnes said.
I want to see if he is going to show up.
– Former New York City Council candidate Amoy Barnes
Even in this highly partisan political atmosphere, some Democratic officials are willing to give Fossella a chance too – as long as he takes a page from Oddo. "Jimmy is an amazing person. … He never took stuff personal. He looked out for the best interests of Staten Island," Brooklyn Borough President-elect Antonio Reynoso told City & State. "If Vito wants to do the same thing, I think that he would get a warm welcome and we would be working together." One potential partnership? The "low-hanging fruit" of a ferry between Staten Island and Bay Ridge, Brooklyn. "I'm here to build, not destroy," Reynoso said. "So if there's an opportunity to work with him, we'll figure it out."
Fossella has a lot to figure out. He's back in the spotlight after years behind the scenes. And he's now in an executive role leading the borough, instead of just one of 435 members of Congress. He's taking office at a time when Republicans are once again expanding their modest foothold in the city and suburbs. In the 2022 elections, they'll be eager to prove that 2021 wasn't a fluke, even as they face long odds in statewide races.
The Staten Island borough president could try to be in the middle of it, a voice for Trump voters citywide, now that the former president has moved to Florida. Or Fossella could focus on the government side of things, securing wins from a Mayor-elect Eric Adams, who's eager to make inroads with conservatives in the outer boroughs. A third option: He could try to do both. Fossella is happy to be back – but it isn't clear what path he'll take.
Powered By
NEXT STORY: This week's biggest Winners & Losers