Campaigns & Elections
Nikki Lucas, Manny De Los Santos win special Assembly elections
Both candidates will have to run again in the June 2022 Democratic primary.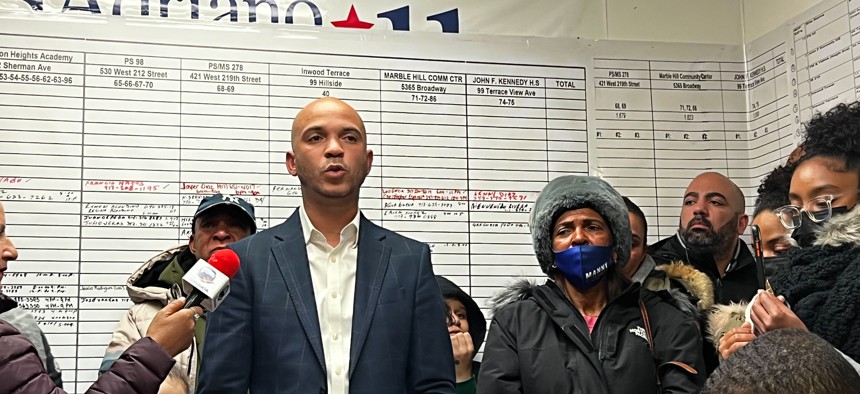 Voters selected new Assembly members in Manhattan and Brooklyn Tuesday to replace vacancies left by two former members who won seats on the New York City Council in November. Nikki Lucas, a former City Council candidate and community advocate, won the special election to represent Brooklyn's 60th District, a seat previously held by Council member Charles Barron. In the 72nd Assembly District in Washington Heights, Manny De Los Santos was elected to replace Carmen De La Rosa, who also left when he was elected to the City Council. Both will have to run again in the June primary to hold on to their seats.
Lucas beat out the Working Families Party candidate, Keron Alleyne, who was also backed by Barron and his wife Inez. The couple has swapped seats for the past 10 years in the 42nd Council and 60th Assembly Districts. Barron defeated Lucas in the Democratic primary election for City Council last year and went on to win the seat previously held by Inez.
Lucas, who was endorsed by the Brooklyn Democratic Party and New York Attorney General Letitia James, secured 78% of the 2,648 votes, while 20% cast ballots for Alleyne, according to unofficial results from the New York City Board of Elections. 
Assemblymember and Brooklyn Democratic Party Chair Rodneyse Bichotte Hermelyn called Lucas' win an "astounding victory" achieved through "grassroots activism and engagement" in a statement.
Lucas said in a statement she is "humbled" to represent the district, which encompasses East New York, Starrett City, Brownsville and Canarsie. She thanked supporters, including "NYCHA and tenant leaders, laborers and working-class New Yorkers, my political club and staff."
In the 72nd District, De Los Santos won 61% of the 2,347 votes counted to beat Nayma Silver-Matos, who ran on her own Uptown Rises Party line and received 31% of votes. About 7% of ballots were for Republican Edwin De La Cruz.
De Los Santos, who lost a race for the seat in 2014, was also endorsed by the local Democratic Party.
De La Rosa said in a statement he is "honored to pass the baton" to De Los Santos, calling him "a thoughtful leader who understands the impact of the legislative process to our neighborhoods."
U.S. Rep. Adriano Espaillat, whose 2018 reelection campaign was run by De Los Santos, also issued a statement congratulating De Los Santos, calling him a "lifelong resident of Upper Manhattan" who has "dedicated his life to serving our community."
Powered By
NEXT STORY: Max Rose has a Fall-ing out