Politics
Asian American advocacy group wants $30 million in mental health services after attacks in NYC
A fatal stabbing in Chinatown was the latest violent crime driving a call for action.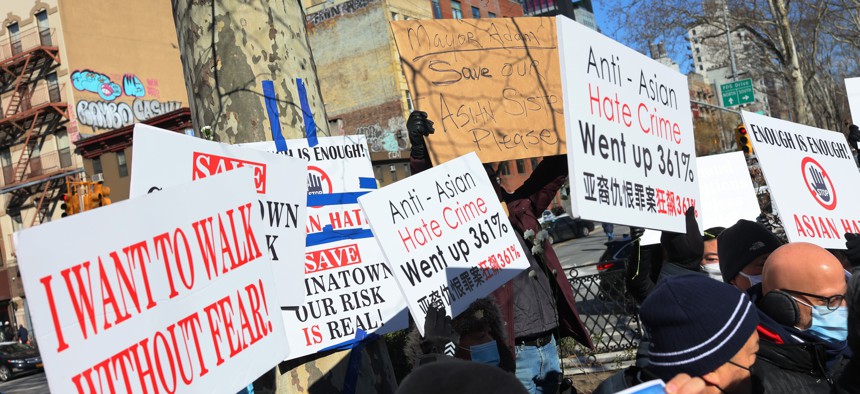 The advocacy group Asian American Federation called on New York City to make a $30 million emergency commitment toward mental health resources after another violent attack on an Asian community member occurred this past weekend. The NYPD said 35-year-old Christina Yuna Lee was followed and fatally stabbed inside of her apartment in Chinatown about 4:30 a.m. on Saturday. It was the latest in a string of heinous crimes against Asian Americans that sparked outrage from elected officials and advocacy groups.
"We're heartbroken to hear about the death from this past weekend. And for us it brings to the surface what we've been talking about for the past several years," said Joo Han, deputy director of the Asian American Federation. "Unfortunately, we know that the minority of individuals who are unhoused or have mental illnesses are violent. The latest profiles of aggressors who have targeted Asian New Yorkers have been folks who are unhoused and have mental health issues or a mental illness. So it seems now more important than ever as an organization to push for an investment in mental health services for the Asian community as well as all communities of color."
Gov. Kathy Hochul also spoke out against the attacks. "We have seen far too many acts of violence against AAPI New Yorkers in recent months. We must make sure every community is safe in our state. I join New Yorkers standing together in support of our AAPI friends & neighbors," Hochul said in a statement.
Just last month, 40-year-old Michelle Alyssa Go was fatally pushed onto the tracks in front of an oncoming train in Times Square. The NYPD reported in December that such attacks on Asian Americans increased 361% compared to 2020. A different report from March 2020 showed Asian American women were three times more likely to report racist discrimination than men.
While elected officials and community members condemned the attacks, organizations were still awaiting funding from legislators to respond to anti-Asian violence.
In April 2021, then-Gov. Andrew Cuomo and state legislators created a $10 million fund to combat crimes against Asian Americans. The fund was created to provide grants to nonprofit organizations working to curb bias against Asian Americans, including funding bystander training.
Once Hochul took office, advocacy groups inquired about the status of the money, but have not yet been given an official answer. The City Council also promised $4 million in grants to organizations that serve Asian Americans in July 2021, but then-Speaker Corey Johnson did not respond to a request on a timeline as to when the funds would be distributed. Nonprofit organizations said the funds, once distributed, would give them the resources and tools needed to address the spike in anti-Asian violence.
The leaders of Asian American organizations complained they have been historically underfunded for years. According to the Coalition for Asian American Children and Families in a 2021 story, Asian American organizations received 4.37% of the City Council's discretionary dollars and less than 1.5% of social service contract dollars.
Advocates said the latest attack on the Asian American community brought to light the need for a deep investment in culturally competent mental health services for all communities of color.
"We want to make sure that when we talk about mental health services, we're not criminalizing individuals who need support and mental health services themselves," Han said.
"We want to make sure that the city, the mayor and the City Council really prioritize not with talk, but with real investment, what community safety looks like for all communities of color, so that those who are being targeted for violence, like those in our community, have options," she added. "But also aggressors who are potentially targeted due to mental illnesses have options themselves for social services and mental health services so they're not out in public spaces where they could do harm to other people."