New York State
Is Republican gubernatorial candidate Harry Wilson the Mike Bloomberg of 2022?
The deep-pocketed businessman's past association with Democrats could prove that money can't buy partisan love.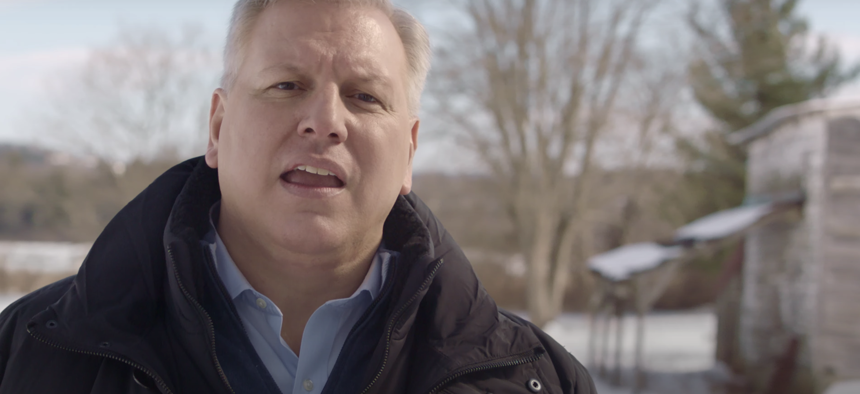 The former New York City Mayor Mike Bloomberg blew a billion dollars on his unsuccessful bid for the 2020 nomination for president at a time when his moderate brand of politics was out of step with the progressive zeitgeist of the Democratic Party. Republican Harry Wilson now appears eager to prove something similar on the other side of the aisle through his newly announced campaign for the Republican nomination for governor after weeks of speculation.
His campaign appears to face long odds considering his past support for former President Barack Obama and Manhattan District Attorney Alvin Bragg, whose 2021 campaign received hundreds of dollars from Wilson. But Wilson, who knew Bragg as an undergraduate at Harvard, according to Bragg's spokesperson, is entering the GOP field a week ahead of the party convention on Long Island as new polling highlights how open the race remains with months to go until the June primary. His personal wealth could make him competitive, especially considering the obscurity of rival candidates like putative front-runner Rep. Lee Zeldin. "They're not entirely convinced Lee can win, and they're open to an alternative," one prominent Republican, who requested anonymity to speak candidly, told City & State Tuesday of some party leaders. "Harry may be less likely to spend like Bloomberg did – and will likely do better. How much better? Who knows."
Wilson is leaning on his compelling life story to define his candidacy early on. He was raised in the small upstate city of Johnstown by a father who tended bar and a mother who worked in a sewing factory, according to a campaign video posted Tuesday morning. He earned a Harvard degree after working through college, according to his campaign website. Wilson says a career that includes stints at elite firms like Blacksone Group and Goldman Sachs has prepared him to help ordinary New Yorkers. "I'm running for governor because I cannot sit by while New York is devastated by career politicians," he said in the announcement video. His past role on Obama's auto industry task force helped him win the 2010 GOP nomination for state comptroller before he lost in the general election by single digits after loaning his campaign millions, records show. He could not be reached for comment by publication time. 
There is an argument to make that Wilson would be more competitive in a general election than rival candidates like Andrew Giuliani son of former New York City Mayor Rudy Giuliani, former Westchester Executive Rob Astorino, who has lost three consecutive elections, or Zeldin, who has received the endorsement of a litany of GOP power brokers. He lacks the long public record of the others when it comes to supporting former President Donald Trump, who remains deeply unpopular in the state. While the other candidates have been running for governor for months, a new Siena College poll shows the majority of GOP voters remain unfamiliar with them. The $12 million Wilson is reportedly spending on his campaign means he has twice as much money to spend as any of his rivals on introducing himself to voters. 
His bipartisan bonafides, however, appear to be a big liability in winning support among the types of voters he will need to win the GOP nomination. His corporate experience is arguably a depreciating asset in a Republican Party (as evidenced by criticism by prominent party leaders including Trump) that has grown more populist under Trump's leadership – but Wilson faces a much more straightforward attack from his primary rivals."The Bragg thing may hurt him the most," GOP consultant Bill O'Reilly, who has worked with Wilson in the past and is currently advising Astorino, said in an email. "Crime is a top issue in the state, and Wilson is already on the wrong side of it." 
Wilson – like Bloomberg with his 2020 presidential campaign – is finally putting his money where his mouth is after flirting with a gubernatorial run four years ago. Money can buy staff, consultants and a ton of airtime, but Bloomberg's campaign ultimately won nothing except American Samoa. One reason for this was the disconnect between his record as mayor and the progressive zeitgeist of the 2020 Democratic primary campaign. His November 2019 (sort of) apology for stop-and-frisk did not prevent rivals from attacking him for months. A video-recorded promise by Wilson to fire "DAs who do not enforce the law" as governor appears unlikely to get a mulligan from the party rank-and-file on the other side of the political spectrum. The newly announced candidate for the Republican nomination is promising to hit the campaign trail in the coming days where he will likely face questions about how competitive he really is.
The GOP primary race, to be sure, remains very much up in the air despite the advantages in endorsements that Zeldin has accumulated in recent months. An endorsement by Trump could make or break the candidacies of Zeldin, who voted against certifying the 2020 presidential results in some states, and Giuliani, who told City & State he recently met with Trump. Personal wealth will be a big asset for Wilson against them, but early reactions to his campaign launch underscore how money is as unlikely to buy him partisan love as it was for Bloomberg. "It's kind of a unique strategy to just go out there and create this image on TV without really doing a real lead up," said Gerard Kassar, chair of the New York State Conservative Party that has outsized influence on the political right. "He's kind of disqualified by the simple fact that he was a contributor to Alvin Bragg as the Manhattan DA."
Powered By
NEXT STORY: New York's new unionization movement