Labor
Staten Island Amazon workers to cast union vote in March
The company has resumed its controversial 'captive audience' meetings and what workers described as 'anti-union behavior.'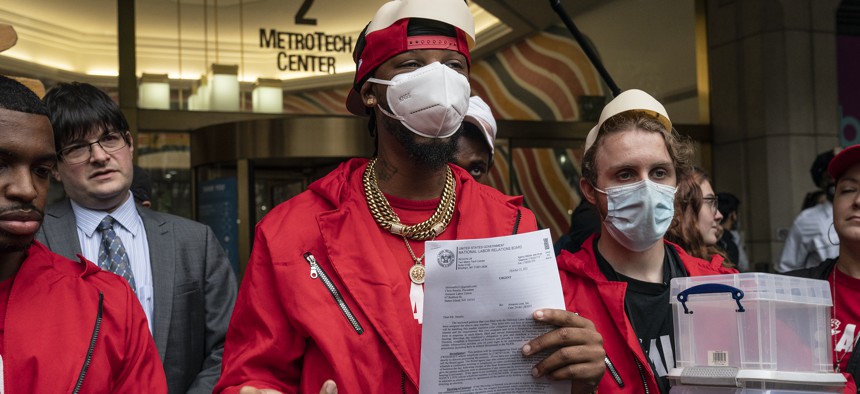 Amazon workers on Staten Island will vote on March 25 whether to form a union, the National Labor Relations Board decided on Feb. 16, according to organizers, inching employees one step further in their yearslong battle with the e-commerce giant. The terms of the election have not been determined yet, the workers said.
It was a procedural but significant step after the board in January confirmed that organizers had collected enough signatures to move forward with a vote at the JFK8 Amazon warehouse, one of four on Staten Island's West Shore.
Organizers expressed relief that the election date was set, but said they were disappointed that it will happen before their proposed date of April 4, which would have given them more time to recruit new members. Employees will vote in person at the facility between March 25 and March 30.
"We're happy with it. It is a little rushed," Connor Spence, a JFK8 employee and vice president of membership for the Amazon Labor Union told City & State, adding that the group has multiple active NLRB complaints against Amazon alleging anti-union behavior that it was also hoping to resolve before the election.
If the majority of the approximately 5,000 employees there vote in favor of forming a union, it could inspire unionization efforts underway at other Amazon facilities at a time when workers' rights have become a pressing issue during the COVID-19 pandemic. A favorable vote would also serve as a victory for the movements against income inequality and the billionaire class, including Amazon founder Jeff Bezos.
Amazon has fought the unionization efforts on Staten Island and at other facilities for years. In the lead up to the JFK8 election, employees said the company rebooted its counter campaign there.
Amazon's strategy has included spreading skepticism among employees about bargaining units. On. Feb. 7, the company resumed its controversial "captive audience" meetings, in which management warned workers about joining a union. "Every Organization Needs Money to Operate … Including Unions," read a slide shown to workers at JFK8 during the meeting, according to a video shared with City & State. Union organizers were seen protesting when asked to leave the meeting. "This is legally protected collective action … you know that," an attendee can be heard saying. "We'll file board charges. Get ready for them," a second employee wearing a union T-shirt said.
The exchange highlighted what the Staten Island organizers called an emboldened approach to battling Amazon since their first election attempt failed last year. Employees became familiar with Amazon's "union-busting" tactics during the initial union drive and know what to expect from the company this time around, according to Chris Smalls, the president of the Amazon Labor Union. When the company gave out popcorn a day after the union distributed free pizza, workers took note. "Everything they do is like a reaction to what we're doing, and I think the workers know that," Smalls told City & State.
In recent weeks, Amazon-branded flyers that warned employees about "a union and the reality of dues" were posted in warehouse common areas, employees said. "The ALU may make a lot of 'promises' but it's important to ask how they plan to achieve them," according to a photo of the literature.
An Amazon spokesperson described the meetings as "informational sessions" in a statement that also said the company would not stop employees from unionizing.
"It's our employees' choice whether or not to join a union. It always has been. If the union vote passes, it will impact everyone at the site, which is why we host regular informational sessions and provide employees the opportunity to ask questions and learn about what this could mean for them and their day-to-day life working at Amazon," spokesperson Kelly Nantel said in a statement to City & State.
Smalls launched the union drive after he was terminated in March 2020, which he said was a discriminatory firing because he is Black and raised concerns about discriminatory COVID-19 protocols. The effort gained traction among employees who were worried about a lack of COVID-19 safety precautions and quickly attracted national attention.
Despite the high visibility, securing support hasn't been an easy battle. Smalls said organizers were forced to pull their first petition to the National Labor Relations Board for an election last year due to a significant number of signees quitting their jobs. (High turnover rates are typical at Amazon warehouses.) Organizers were issued court summonses by police, and Smalls has received "threatening" letters from Amazon, according to his lawyer Seth Goldstein.
In a significant achievement last month, the NLRB certified the union's petition to hold an election at the JFK8 warehouse. Smalls said the group submitted about 3,000 signatures to the board in December to meet the required 30% minimum. The union has also filed a petition for an election at the nearby LDJ5 warehouse. Energized by the advancement, organizers continue to add more recruits to the roster "every day," Smalls said. "They really respect the fact that we're so militant and just so bold to take risks … to actually disrupt a captive audience meeting. … We're all in high spirits right now." Spence said he was confident the NLRB would certify the petition "any day."
The Staten Island warehouse was among several Amazon facilities across the country pushing for union representation in hopes of better working conditions, higher pay and improved time-off policies. Employees described the warehouse work as physically grueling with long hours on their feet picking and packing products. Amazon has been notorious for emphasizing speed, to the point where workers said even bathroom breaks were limited.
At an Amazon warehouse in Bessemer, Alabama, a union election kicked off on Feb. 4 and will continue through March 25. This will be the organizers' second election attempt. The first effort failed last year when a majority of workers voted against forming a union. Most other Amazon unionization attempts haven't gone as far. Drives in Virginia, Chicago, Sacramento and Minnesota did not make it to the election stage.
While the Bessemer drive has the backing of the Retail, Wholesale and Department Store Union, the Staten Island coalition doesn't have the support of an established union.
The Amazon Labor Union organizers have established a near-constant presence at the Staten Island campus. In addition to regular pizza parties, they hand out hot food from a tent near the property. At the height of the preholiday crunch on Dec. 22, the group staged an employee walkout. And on Martin Luther King Jr. Day, they held a rally outside the grounds.
Among their proposed demands, the union said it would seek a $30 per hour minimum wage, up from $18.50 currently, according to Smalls. The group also said it would advocate for longer breaks, guaranteed time off and enhanced workplace safety, among other improvements.
The union has filed a slew of charges since May with the National Labor Relations Board against Amazon's alleged anti-union messaging, including an incident where a company consultant allegedly referred to the organizers as "thugs" in a discussion with other workers, according to documents filed with the board. On multiple occasions, management confiscated union literature from employees and removed flyers from break rooms and bathrooms, the documents stated.
In January, the board reprimanded Amazon regarding the behavior detailed by Goldstein and the union and ordered the company to conduct management training and post notices about employees' rights to organize. A hearing in the case was scheduled for April 5.
"The company repeatedly broke the law by threatening, surveilling, and interrogating their Staten Island warehouse workers who are engaged in a union organizing campaign," National Labor Relations Board Regional Director Kathy Drew King said in a statement. "The complaint seeks to stop and remedy this unlawful conduct to ensure that Amazon's employees can freely and fairly exercise their rights under the National Labor Relations Act."