New York State
The 2022 Law Power 100: New York's biggest legal developments
Here are a few of the cases of local and national importance that landed in the Empire State in the past year.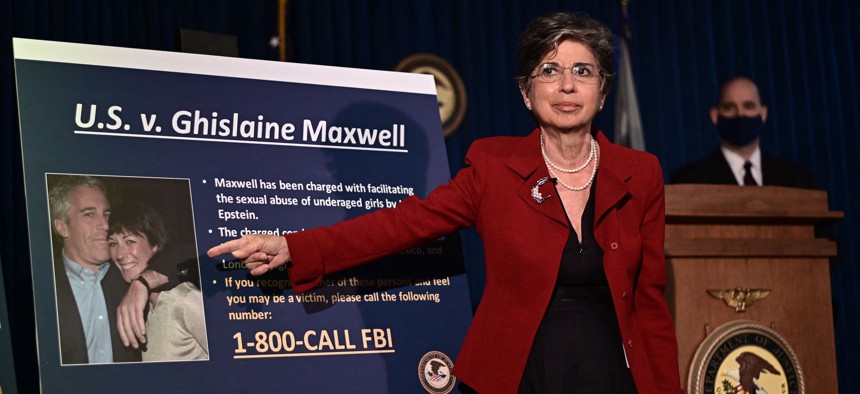 New York is where countless cases of national and global importance get decided. And the COVID-19 pandemic hasn't stopped that trend. Here are some of the most high-profile and notable legal developments that took place over the past year in the Big Apple, or with a major effect on the region.
Ghislaine Maxwell found guilty in sex trafficking case
Judge: U.S. District Court Judge Alison Nathan
Prosecutors: Assistant U.S. Attorneys Alex Rossmiller, Alison Moe and Maurene Comey
Defense: Jeffrey Pagliuca, Laura Menninger, Christian Everdell and Bobbi Sternheim 
Ghislaine Maxwell, a British socialite, was found guilty of luring and trafficking teenage girls to be sexually abused by deceased convicted sex offender and millionaire Jeffrey Epstein. Maxwell's defense team pushed for a retrial after a juror in the case revealed he was a suvivor of sexual abuse. A federal judge ordered a hearing to determine whether the juror lied during jury selection.
Presidential pardon helps Steve Bannon in fraud case
Judge: U.S. District Court Judge Analisa Torres
Prosecutors: Assistant U.S. Attorneys Nicolas Roos, Alison Moe and Robert Sobelman
Defense: Robert Costello
Once one of former President Donald Trump's top advisers, Steve Bannon secured a last-minute presidential pardon from his previous boss in January 2021. That pardon allowed Bannon to bypass a fraud case federal prosecutors had brought against him, which alleged that he and other organizers siphoned money from a private fundraising campaign claiming to build a wall on the U.S.-Mexico border.
Cuomo's nursing home deaths cover-up
Judge: Acting state Supreme Court Justice Kimberly A. O'Connor
Attorney for Petitioner: Cameron "Cam" MacDonald and Tyler Patterson 
Attorney for Respondent: Assistant Attorney General Melissa Latino
Former Gov. Andrew Cuomo resigned last year after the state attorney general's report found sexual harassment accusations against him to be credible. But it wasn't the only major scandal Cuomo faced in 2021. The governor and his administration faced criticisms that they obscured the number of COVID-19 deaths among nursing home residents during the pandemic. The Empire Center for Public Policy played a key role shedding light on the issue after filing a lawsuit that got the state Department of Health to release additional information on those deaths.
Purdue Pharma's bankruptcy deal
Judge: U.S. District Court Judge Colleen McMahon
Appellants: The Department of Justice's U.S. Trustee Program, California, Connecticut, Delaware, Maryland, Oregon, Rhode Island, Vermont, Washington and the District of Columbia
Last year, Purdue Pharma negotiated a settlement with state, local and tribal governments that would protect the company from opioid lawsuits in exchange for $4.5 billion in payments to address the opioid crisis. But eight states and other entities appealed the case, arguing that the Sackler family, who owned Purdue Pharma, should not be insulated from those opioid claims. U.S. District Court Judge Colleen McMahon rejected the settlement in December. By March, Purdue Pharma reached a new settlement with the holdout states.
New York's gun law in peril
Judges: U.S. Supreme Court
Attorney for Petitioner: Paul Clement
Attorney for Respondent: State Solicitor General Barbara Underwood
New York's gun law restricting licenses to carry handguns won't likely survive in the coming months, at least based on the questions asked by the conservative-leaning U.S. Supreme Court when they heard arguments for the case in November. The court's ruling will be expected in the coming months.
Rudy Giuliani loses his law license
Judges: State Supreme Court Justices Rolando Acosta, Dianne Renwick, Sallie Manzanet-Daniels, Judith Gische and Barbara Kapnick
Attorneys for Petitioner: Jorge Dopico and Kevin Doyle
Attorneys for Respondent: Barry Kamins and John Leventhal
An appeals court suspended Rudy Giuliani from practicing law in New York in June because the former New York City mayor repeatedly made false statements that the 2020 presidential election was stolen. It illustrated how far Giuliani – who had served as the U.S. attorney in Manhattan – has fallen from grace in recent years. And it's hardly the worst of his legal woes, as he faces a federal investigation into his dealings in Ukraine.