Campaigns & Elections
Going to the wrong polling place might not mark the end for your ballot
A dozen election commissioners back a bill in the Assembly to change when affidavit ballots get thrown out.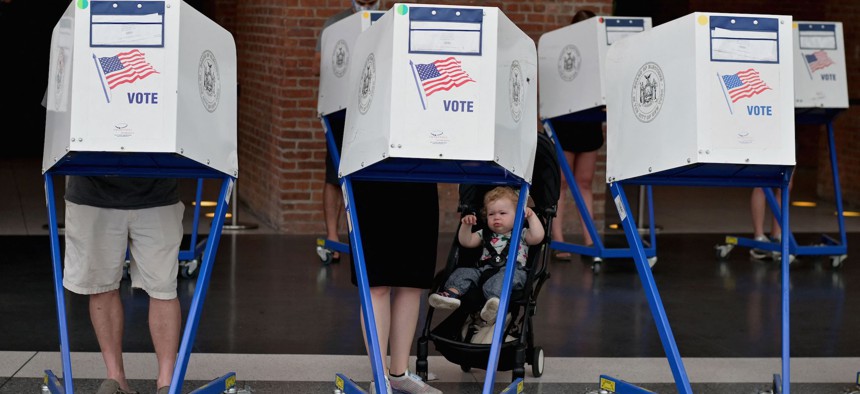 In the 2020 general election, New York election officials tossed some 13,800 affidavit ballots because voters showed up to the wrong polling place in their county, according to a dozen Board of Elections commissions from across the state in a new letter shared exclusively with City & State that was sent to leaders in the Assembly. The "wrong church, wrong pew" problem meant that if someone cast an affidavit ballot in the wrong polling place, their entire ballot was thrown out – including for races where their vote could have been counted. With a bill to change that already passed by the state Senate, the commissioners called on the Assembly to follow suit ahead of the next major elections this year.
Under current election law, someone who cast a vote in the wrong Assembly district but was still in the correct state Senate and congressional districts and also voted for statewide offices won't have any of their choices counted. According to the letter from the election commissioners, this represented the largest portion of disqualified affidavits, which was why they support the bill that would permit the valid votes to still count. "This proposal will improve due process and protect thousands of votes from registered, otherwise-eligible New Yorkers, improving the accuracy of election results and the public trust that all legitimate votes will be counted," they wrote in the letter.
Although the proposed legislation passed the state Senate in 2021 and again this year, it has yet to move in the Assembly. Bill sponsor Assembly Member Robert Carroll held an information session with his colleagues on Friday to discuss it, emerging afterward with confidence about its prospects. "This is a bill that is popular and it's got a lot of momentum about it," Carroll told City & State. It already has 43 co-sponsors, and he said that it gained the support of Assembly Member Latrice Walker, chair of the Election Law Committee, on Friday.
In a statement to City & State, Walker confirmed her support for the bill. "This is voter suppression," Walker said, noting that the vast majority of votes thrown out over the "wrong church" mistake came from Black and brown communities. "We need to count every vote. Every vote matters."
The overall percentage of total votes cast that these disqualified ballots represent in any given election was very small, but the 2020 race between Rep. Claudia Tenney and former Rep. Anthony Brindisi offered a poignant example of how a few votes can matter in a close race. Reportedly, election officials threw out 273 affidavit ballots in the 22nd Congressional District that voters cast in the wrong polling place. Although neither candidate will ever know what impact those votes may have had, it was more than the 109 votes that ultimately separated Tenney and Brindisi.
Dustin Czarny, the Democratic elections commissioner for Onondaga County, was one of the dozen commissioners who signed the letter and watched that election unfold from the neighboring district. "One of the most frustrating things that I have to do as an election commissioner is invalidate a ballot for any reason," Czarny told City & State, saying he would watch sometimes "in horror" at what was going on next door. "This remains one of the last areas where we can fix this, and come more in line with how other states deal with these ballots."
The 2022 election cycle promises to be even more consequential than 2020 with statewide offices on the ballot, in addition to newly redistricted congressional and state legislative seats. So the pressure to implement this reform has ratched up since the state Senate passed the bill last year. Carroll couldn't specify what was holding up the bill in his chamber, and he didn't offer a timeline of when he would like to see the legislation approved. "I'd rather get something right and be a little bit slower than get it wrong to be first," he said, though he added that he would like to see it passed "sooner rather than later." A spokesperson for Assembly Speaker Carl Heastie did not return a request for comment before publication time.
Powered By
NEXT STORY: The GOP convention and maskless schools