New York State
A 2022 referendum on the leadership of Nick Langworthy
The state GOP chair has repeatedly vowed to elect a Republican as New York governor despite the odds.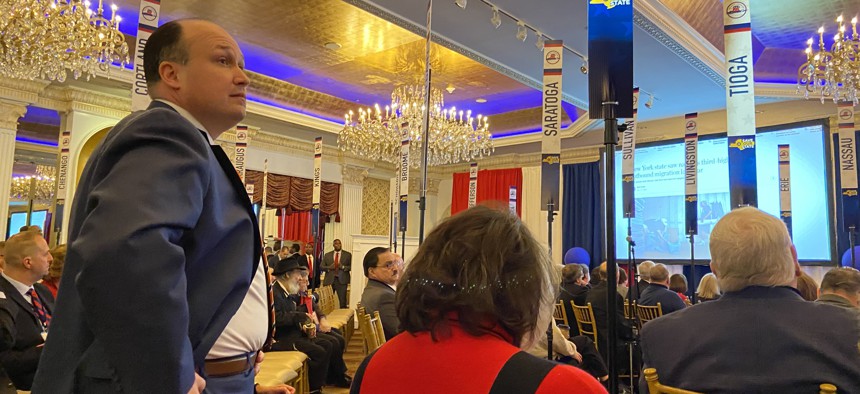 New York State Republican Committee Chair Nick Langworthy will not be on the ballot this year, but the 2022 election cycle represents a referendum on his leadership.
His party will not officially settle on a gubernatorial nominee until the June primary, but the GOP state convention highlights the putative GOP nominee – Rep. Lee Zeldin of Long Island – who could make or break Langworthy's ability to make good on a longstanding vow to elect a GOP governor this year. Failure at that effort could mean that Democrats, who currently have supermajorities in both chambers of the state Legislature, end up even more powerful next year than when Langworthy took over as chair in 2019. "I'm fighting to change New York, and I've said many times that we need to change governors in the state of New York to have that change," Langworthy told reporters Monday at the GOP state convention in Nassau County. 
Langworthy, a millennial from western New York, replaced the septuagenarian former Chair Edward Cox of Manhattan at a pivotal period in the history of the state party. Republicans have not won a statewide election in two decades and lost control of the state Senate in 2018, which established one-party rule by Democrats in Albany. "My mission and goal is to get us to the point where a Republican occupies the second floor of the state Capitol," Langworthy told reporters in May 2019 before officially taking over as party leader. He made similar comments in June 2019 and July 2019. 
Another chair might have explored different paths to reviving GOP power in Albany. Republicans could target the Democratic legislative supermajorities in the 150-seat Assembly, where the GOP gained seats in 2020, and the 63-seat state Senate. The race for governor though appears to be their only chance of electing someone who could really check Democratic power in Albany. Langworthy claimed while campaigning for the chairmanship that he had the energy and creativity to figure out how to do this in 2022 with the help of a new generation of party leaders he promised to recruit. 
GOP chances this November are likely to depend on Zeldin, the front-runner who is getting the support of the vast majority of delegates to the state convention. Winning at the convention means he will not have to gather signatures to get on the ballot in the June primary against opponents that include businessman Harry Wilson, former Westchester Executive Rob Astorino and Andrew Giuliani, whose father Rudy mingled with delegates at the convention on Tuesday morning. Langworthy expressed his hope last summer to avoid a contested primary by having Republicans rally behind Zeldin.
Recent polls show Zeldin remains unknown to the vast majority of New York voters and even many Republicans. That has created an opening for other candidates like Wilson, a millionaire who is expected to finance his own campaign. "I don't know about you, but I'm sick and tired of coming in second place," Assembly Member Chris Tague of the Capital Region told the convention Tuesday. He then leveraged some recent party history while urging delegates to back Wilson. "A few years ago, like many of you, I bucked leadership of this party to support my good friend Nick Langworthy to become our new state chairman (and) to stop accepting second place as a good enough effort every four years." 
Republicans are hoping that 2021 victories on Long Island can be a model for winning statewide this November. That requires overcoming disadvantages with party registration and fundraising while appealing to female and minority voters. That is no easy task for a party that has increasingly become known in recent years as the party of white men. Langworthy's rise as chair also reflected the strengthening grip of former President Donald Trump – who supported Langworthy's efforts to oust Cox in 2019 – over a state party associated in the past with a more genteel brand of GOP politics represented by Cox, son-and-law of former President Richard Nixon. With Zeldin seemingly on course to become the GOP nominee, Langworthy can now focus on a general election that will measure just how effective he has been as party chair. "I'm not worried about my own tenure in this job," he told City & State Monday. "I've always said that the minute I got to worry about keeping the job is the day that it's not worth having anymore."
Powered By
NEXT STORY: What makes New York vulnerable to Russian cyberattacks?