This Week's Headline
Budget talks and bail reform
Rounding up the week's political news.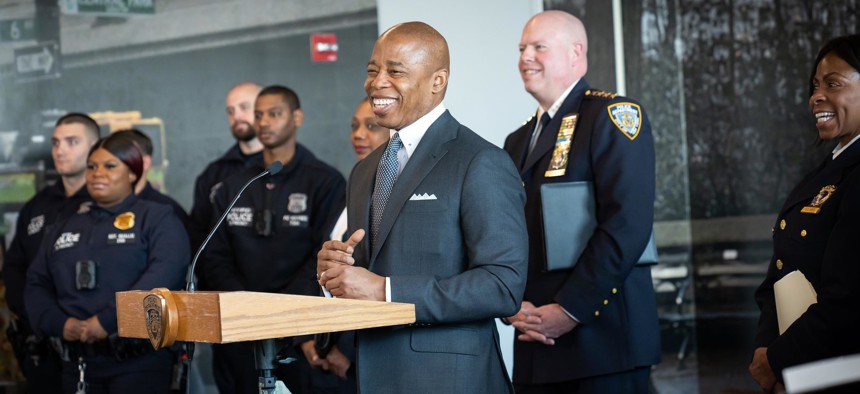 Not to be outdone by Gov. Kathy Hochul's anime-inspired viral TikTok from last year, New York City Mayor Eric Adams has decided to join the Gen Z friendly platform with a cordial "bing bong." It was only a matter of time before the first Big Apple mayor with swagger found his way to TikTok, where his algorithm will likely ensure he winds up on Health Tok with plenty of plant-based recipe videos and active lifestyle influencers for him to enjoy. 
NYPD's anti-crime unit is officially back
Making good on his campaign promise, New York City Mayor Eric Adams officially rolled out the revamped anti-crime unit of the NYPD, which his predecessor Bill de Blasio had disbanded due to its controversial history. The previous iteration consisted of plain clothes officers who were involved in a disproportionate number of deadly shootings. The new unit of uniformed officers will focus more specifically on guns as concerns over increasing crime rates and high-profile incidents grow. The deployment comes after a short delay, with the first wave getting sent to areas that have seen an increase in gun violence in recent years, with the rest of the roughly 500-member unit to be deployed as they complete their training.
State lawmakers respond to the governor's budget
Budget season is alive and well in Albany as state lawmakers passed their one-house nonbinding budget resolutions in response to Gov. Kathy Hochul's initial fiscal plan. Both the state Senate and the Assembly proposed budgets that differed in a number of key aspects compared to what came out of the Executive Chamber. They both include more spending despite the already high price tag of Hochul's plan thanks to a surplus from federal pandemic aid. Lawmakers also removed many of the governor's nonfiscal policy items, perhaps most notably a bill to legalize to-go cocktails, although they also dropped other big-ticket items like term limits for statewide elected officials with a promise to revisit the issues as separate items after the budget. Both chambers also proposed funding for universal child care as well as an extension of state-funded health care to undocumented New Yorkers, both of which Hochul did not include.
Hochul decides to take on bail reform
After repeatedly insisting that she would defer to the state Legislature on the matter, Hochul has changed course and has decided she would like to revisit the bail reform law from 2019 in order to make more crime bail eligible and give judges greater discretion. That includes allowing judges to set higher bail based on criminal history and making attacks against public transit workers bail eligible. Both state Senate Majority Leader Andrea Stewart-Cousins and Assembly Speaker Carl Heastie have said they have no appetite to make further changes to the law after some rollbacks in 2020and made clear they didn't intend to address the issue during session. However, Republicans have continued to blame a rise in crime on bail reform, pointing to individual cases and anecdotal evidence as proof that the reform has failed, despite insufficient data to gauge success one way or the other. Moderate Democrats have also begun criticizing Hochul and others, seeking modifications to the bail law. So Hochul has finally taken a position on the controversial issue, aligning herself with Adams, who has called on her to make changes. 
Cuomo underreported nursing home deaths: redux
As disgraced former Gov. Andrew Cuomo attempts to make a comeback, a new audit from state Comptroller Tom DiNapoli has brought fresh attention to one of the nonsexual harassment scandals that plagued him when he left office. The audit concluded that his administration and the state Department of Health under its command intentionally misled the public about the number of COVID-19 deaths that occured in nursing homes. This revelation is not new, but DiNapoli's report marks the third one from state officials that found Cuomo lied about the true toll of COVID-19 on nursing homes, refreshing the public's memory of malfeasance from the former governor at a time when he has decided to reenter the public sphere. The comptroller's office released the audit just two days before Cuomo spoke at a church in the Bronx, where he again made the case he was the victim of "cancel culture," pushed out of office by political enemies.