New York City
As neighborhood safety teams roll out, council members grill NYPD about community outreach
A wide-ranging City Council hearing scrutinized the new teams, homeless outreach on subways, and the NYPD's use of surveillance technology.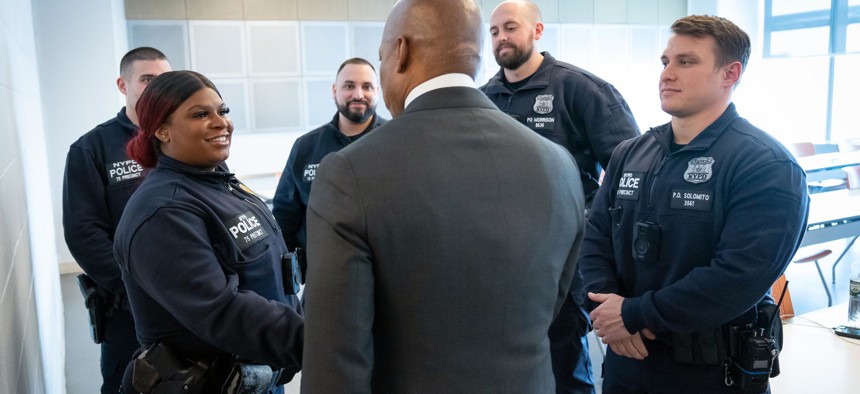 New York City's new anti-gun unit hit the streets earlier this week, but some council members said in a Friday hearing that they're rolling out without enough community input. The new Neighborhood Safety Teams are a reimagined version of the department's previous plainclothes anti-crime units – controversial squads that were involved in a disproportionate number of killings by police. The redesigned Neighborhood Safety Teams will have a particular focus on gun violence and officers will don a modified uniform that identifies them as police. 
As a key part of Mayor Eric Adams' plan to combat gun violence, the rollout of the new unit will be closely watched. But at a wide-ranging hearing on the New York City Police Department's budget on Friday, some City Council members expressed doubt about the new unit, arguing that there wasn't enough community engagement prior to launching the teams. 
Council Member Carmen De La Rosa, who represents neighborhoods in Upper Manhattan, asked the department's top brass about what kind of outreach was being done to address concerns and questions about the teams, and expressed surprise when NYPD Commissioner Keechant Sewell told her there had been "community involvement." "I am a council member and the previous Assembly member, and I had no idea about the community conversations around neighborhood safety teams," De La Rosa said. "When you all came to my community, where did you all go? Because I had no interaction, I had no notice. I had no idea that this was even happening in my community."
A different NYPD official later explained that the department engaged "hundreds" of community members in borough-based meetings leading up to the rollout, and added that there is a community notification process as teams launch in new precincts, including discussions between community members and the officers.
De La Rosa said that approach was "done backwards," arguing that outreach should have been more extensive before the teams launched, and should have been done at a more local level than borough-wide discussions. "The problems of lower Manhattan and midtown Manhattan are not the problems of Harlem in upper Manhattan. There should be dedicated community conversations about these teams … and also in-person, because not everyone in poor communities has access to a virtual platform," De La Rosa said. Later, Council Member Darlene Mealy added that she wasn't kept in the loop about outreach meetings either, saying that she only happened upon a meeting by accident as she was leaving her office one day. 
The questioning of the NYPD commissioners on the rollout of Neighborhood Safety Teams was one of several exchanges during Friday's hearing that seemed to leave council members wanting for information. When Council Member Tiffany Cabán asked for data on how many officers were dedicated to removing people from the subways – as part of the city and state's plan for outreach to people sheltering in the subway system  – she was told that it's the work of all transit officers to patrol the subway. Officials did note, however, that more than 1,000 additional cops are now patrolling the subway. The department did not provide a specific number when asked about the budget of these operations.
Cabán was also one of several council members to ask officials about the NYPD's use of surveillance technologies like facial recognition and the ShotSpotter gunshot detection system, which uses acoustic sensors to report sounds of gunshots to deploy police, but which has demonstrated flaws in misreporting gunshots. Adams has talked about expanding the use of technologies like facial recognition despite the fact that those systems have been shown to carry biases against people of color. Cabán asked for empirical evidence that facial recognition and ShotSpotter are proven tools for reducing crime, but officials did not provide any.
In response to a question from Council Member Alexa Avilés, a department official did provide some data on how ShotSpotter is used in the city. The department responded to about 14,000 ShotSpotter alerts last year, but an official noted on Friday that only about 20% of ShotSpotter calls are confirmed by either ballistics recovered, witness reports, an arrest or shooting incident. 
The NYPD has been required to disclose more information about the use of surveillance technologies than it did in the past after the council passed the Public Oversight of Surveillance Technology Act in 2020. Use policies on the NYPD's surveillance tools can be found online, but even these disclosures have been criticized by civil rights and privacy advocates for being too light on detail.
Council members will have another opportunity to press for details at an upcoming oversight hearing on the mayor's Blueprint to End Gun Violence.