Homelessness
Bureaucratic delays, mistakes block homeless families from finding shelter: report
The average monthly percentage of homeless families with children deemed eligible for shelter in New York City dipped to the lowest level since 2014 last year.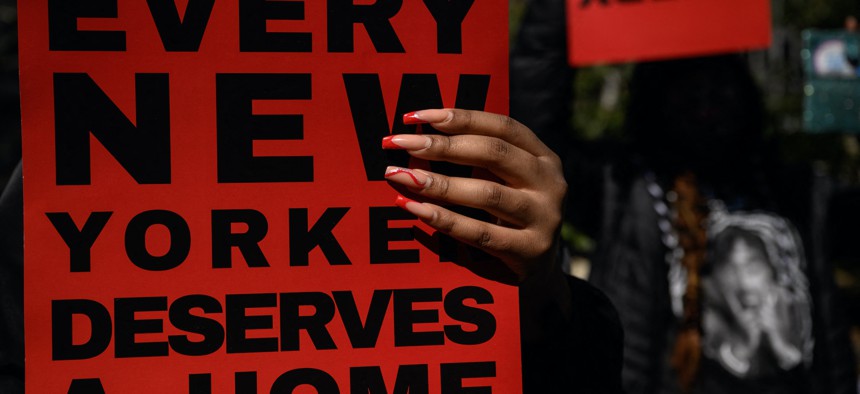 As the number of deaths among homeless New Yorkers climbed to record levels last year, shelter eligibility for unhoused families plunged – largely due to bureaucratic hurdles and mistakes by city workers, according to a new report. 
In the last six months of 2021, the number of homeless families with children eligible for shelter admission dipped to a monthly average of 23%, the lowest level since 2014,  the annual survey of the city's unhoused population released Tuesday found. The report by the Coalition for the Homeless also notes that during fiscal year 2021, which runs from July-June, the shelter eligibility rate for adult families also dipped to a record eight-year low of 23%.
"Many families are caught in a cycle of applying and reapplying for shelter when they are incorrectly found ineligible," the report states. "Homeless families are frequently denied shelter when city intake workers incorrectly determine that the family has other options, or fail to accept that a previous host (the 'primary tenant') refuses to permit the return of a homeless family."
Among families that were found eligible during the 2021 fiscal year, 30% of adult families and 13% of families with children had to submit six or more applications before they were approved, what the Coalition called "damning proof that they were incorrectly found ineligible on multiple prior applications."
The delays were caused, in part, by the onerous amount of paperwork families are required to provide the city's Department of Homeless services, per state administrative directives, the report says. Adult families must provide documentation of every place they have lived in the past year, and families with children must provide documentation covering the previous two years. Homeless single adults are not subject to the same eligibility process, according to the report. 
"This is particularly challenging for families who were doubled-up or unsheltered for some period after losing their home, and in fact, the vast majority of families are rejected for bureaucratic reasons related to a lack of required documentation that is simply unavailable or impossible for them to obtain," the Coalition wrote, noting that families are provided "conditional" shelter placements during the application process. "Repeated ineligibility determinations exacerbate stress and instability for homeless families encountering these obstacles."
Families with children make up the majority of DHS shelter residents – between 70% and 80% on an average night for the past 20 years, the report states. 
The report was released following a shocking number of incidents of violence involving homeless people, including the alleged killing of a homeless man in SoHo by a gunman who police said shot five unhoused individuals in New York and Washington between March 3 and 12, leaving two dead.
Last year marked the deadliest year on record for homeless New Yorkers, with 640 total deaths. The largest share, 237, came from drug-related fatalities. 
Mayor Eric Adams' office and the city's Department of Social Services did not respond to questions about how the city plans to remedy the shelter eligibility issues laid out in the report. 
Correction: A previous version of this article misstated the percentages of adult families and those with children who had to resubmit six or more shelter applications before they were approved.
Homelessness Case Studies
Powered By
NEXT STORY: Endorsing Keron Alleyne for Assembly, DSA is teaming up with the Barrons