New York City
City Council aides could see higher salaries in new budget
The governing body passed its own budget on Thursday with a 24% increase in funding.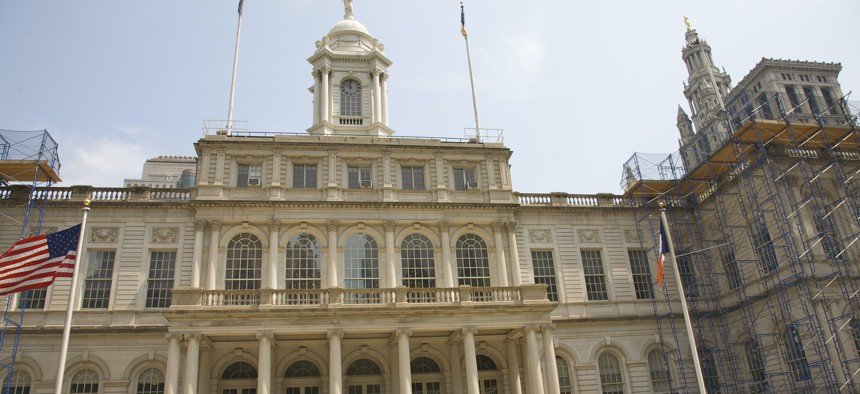 New York City officially has a nine-figure City Council. The city's legislative body voted on Thursday to increase its own operating budget to a nice even $100,000,000 – a 24% increase over the previous fiscal year. 
The boosted budget, which is set to be included in Mayor Eric Adams' executive budget, outlines increases in council members' individual budgets – a step that the Association of Legislative Employees, the union representing over 300 City Council staffers, said will open up funding for increasing aides' salaries. "I think this is a great, important step in the right direction," said Daniel Kroop, president of the ALE. "It's sort of the beginning for setting the framework for what we should achieve in upcoming contract bargaining," he added, noting that the council staffer union intends to send its "demand to bargain" letter to the speaker's office this month, kicking off the contract bargaining process.
The budget also includes increases in areas "other than personal services" – expenses unrelated to staffing, like information technology or office supplies. But asked about the council's increased budget at a press conference on Thursday, Council Speaker Adrienne Adams pointed to her intention to invest in the body's staff. "A major part of the increase in the budget for the next fiscal year that will begin on July 1st is connected to my commitment to invest in promoting staff leadership, providing raises to the hardworking public servants on the council staff that help council members represent their districts and oversee agencies, and are central to the council's operational health," Adams said. Overall the new budget lays out $33,193,900 for council members and their aides' salaries, with a little over $7.5 million allocated to the 51 members and the rest allocated to their aides. 
Since 2016, council members have made a base salary of $148,500. 
Adams did not go into detail about how the increase shook out, saying that "raises vary." Kroop said that it's essential that salary increases benefit low- and middle-income staff. "It's very important that we see salaries for current staffers increased rather than hiring additional staffers at low wages," he said.
Following years of employment complaints, including low pay, staffers who work for council members unionized last year.The upcoming fiscal year 2023 budget, due before July 1, will be the first one to pass with the union as a bargaining unit. 
The increase in available funds for members to pay their staff is in part facilitated by a change in how members' office rents are paid for. Rather than rent expenses coming from members' budgets, they will now be paid by the council centrally. "Previously, all members had the same budget. But because of real estate values across the city, costs differ, and some members had more funds available after paying rent than others, there was less than adequate ability to hire staff and take care of other things, to compensate staff appropriately," Adams said on Thursday. The new budget also includes an increase in funds for paying committee staff.
Though Adams said that the changes in the budget were decided upon by her and her senior staffers, Kroop said that the new budget represents a victory for the staff union. The contract bargaining process will address not just pay but things like overtime, grievance policies and benefits, he added. Adams has only been in office for a few months, but so far, Kroop is hopeful about the negotiations still to come. "We've been in regular communication with the speaker's office staff and representatives, and I'm pleased to say the relationship is improving," he said. "As the old speaker transitioned out, I think there was a sense that there wasn't much that he was well positioned to do," Kroop said, referring to former Speaker Corey Johnson, who was term-limited out at the end of 2021. "And I think the new speaker now has come in with a lot of authority."
The significant increase in the Council budget comes as Adams presented a preliminary budget that saw 3% budget cuts to most agencies in order to show fiscal discipline. The council, however, sets its own budget – something Speaker Adams made clear on Thursday. "We are separate but coequal with the mayor," she said. "So the mayor has his intentions… we certainly have other intentions."