News & Politics
Former CUNY bursar gets five years probation for stealing $500,000 from students
Under the terms of a plea deal, Joseph Boselli also must pay back the funds, which he had used on travel and luxury goods.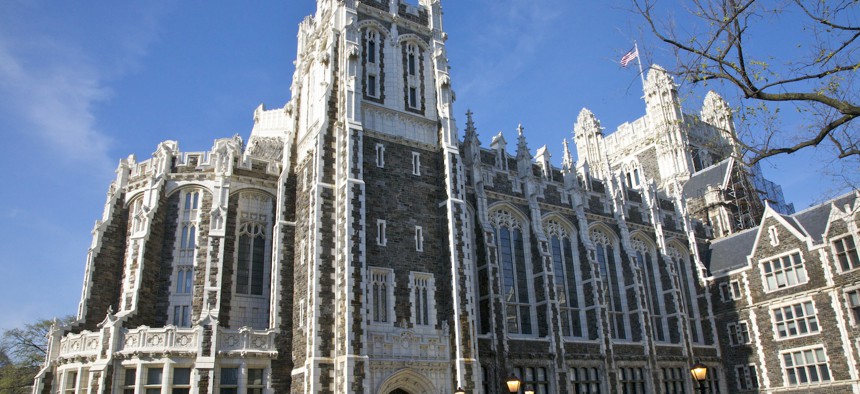 The former bursar at the City College of New York, Joseph Boselli, has admitted to stealing nearly $500,000 from students as part of a plea deal requiring him to serve five years of probation and pay back the stolen funds, according to court records.
Then-Manhattan District Attorney Cyrus Vance's office charged Boselli in October with pocketing the cash and spending it on travel and luxury goods, including a flight to Milan, hotel in Aruba and purchases at Gucci, the office said in a press release at the time. 
Boselli pleaded guilty to two counts of second degree grand larceny, one count of a scheme to defraud in the first degree and two counts of offering a false instrument for filing in the first degree, according to the plea deal.
He admitted to engaging in "a fraudulent scheme to steal over 900 checks," totalling $497,971.85, that were originally issued to over 700 current and former students of the Harlem college between August 2012 through November 2017. "Of that amount, I stole approximately $222,384.89 worth of checks issued by City College, approximately $101,527.79 worth of checks issued by (the City University of New York) and approximately $174,059.17 worth of checks issued by the City College Fund," the agreement states. Most of the money was intended for students who were owed money by the college, either because they received a scholarship, stipend or prepaid tuition and were later granted a loan, the DA's office said in October. 
Boselli endorsed many of the checks himself and deposited them into his personal bank accounts, he admitted in court records. He also failed to report the stolen money on his personal tax returns, the court documents show. Records state he owed $12,823 in unpaid state taxes, $25,646 in penalties and $4,130 in interest as of November.  
Manhattan Criminal Court Judge Laurie Peterson sentenced Boselli to five years of probation on March 2 and ordered him to pay the full restitution by March 1, 2027 in $3,583 monthly increments, court records show. 
Grand larceny in the second degree carries an indeterminate prison sentence of up to 15 years, and the maximum sentence for the remaining three charges is an indeterminate sentence of up to four years in prison. 
Manhattan District Attorney Alvin Bragg's office noted that Assistant District Attorney Jessica Olive requested a prison sentence of two to six years for the grand larceny charges and one to three years for the remaining charges, but Peterson had the "final say on the sentence."
"This sentence was issued over our recommendation," spokesperson Caitlyn Fowles said in an email. 
Boselli was promoted to bursar in October 2011 and placed on leave in 2017 when the state inspector general's office began investigating the missing money, The New York Post reported. Prior to becoming bursar, Boselli worked in CUNY's Internal Audit Division for 13 years.
Boselli's lawyer, Alain Massena, argued that "society is best served not by incarcerating Mr. Boselli, but by allowing Mr. Boselli to continue to work and pay off the balance of the restitution," Massena wrote in a post-pleading letter to Peterson in February, noting that Boselli had already paid back $300,000.
"The funds were withdrawn from Mr. Boselli's retirement fund and will severely impact his ability to care for his family as he approaches retirement eligibility."
Massena also wrote that "there was a whirlwind of personal tragedies that caused Mr. Boselli to depart from his strong moral center and commit the crimes for which he is charged," including the deaths of his sister and father, divorce and responsibility of caring for his elderly mother. 
When asked for comment on the plea deal, CUNY provided a statement it has made previously to media regarding the case: "City College and CUNY were pleased to cooperate with our colleagues in the New York County District's Attorney's Office and other law enforcement agencies with the investigation into the allegations against Mr. Boselli," a spokesperson said. "This case is an example of CUNY's continued commitment to identify and eradicate allegations of corruption, fraud, criminal activity, and conflicts of interest by promptly referring such instances to the appropriate authorities and cooperating fully with the investigations. We commend everyone at CUNY and in law enforcement for their hard work on this case."
Massena declined to comment.