New York City
Frank Carone has not been canceled (yet)
City Council members have been willing allies, tweeting meetings with Mayor Eric Adams' chief of staff.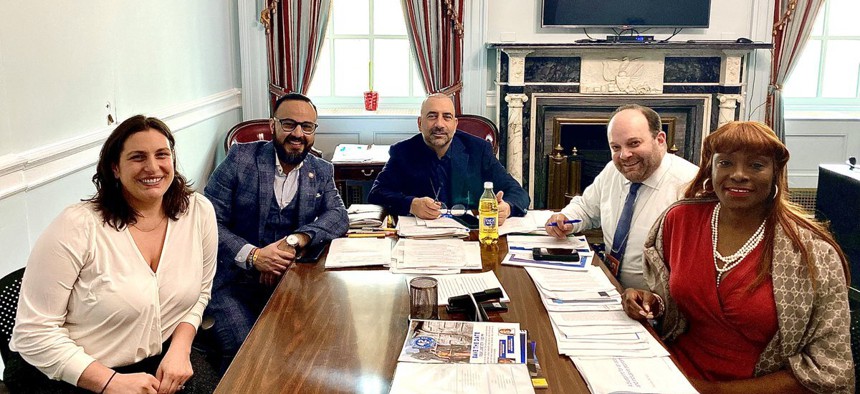 You can't blame Frank Carone, chief of staff to New York City Mayor Eric Adams, for thinking a lot about "cancel culture."
His boss, Adams, "doesn't pay attention to it," Carone told Ruby Cramer, in her extended profile of the new mayor out Friday in Politico. "He canceled it. We have totally canceled cancel culture."
You can't blame him, because Carone is the kind of guy who could have been "canceled," or made into a public pariah, at least in the world of city politics. 
After all, Adams brought in as his chief of staff a political fixer who represented one of the pettiest, least progressive political organizations in the city, the Brooklyn Dems. More than that, Carone has represented countless private clients with business before the city, while spreading his money with campaign donations to political players like former Mayor Bill de Blasio. Formerly an attorney with the firm Abrams Fensterman, Carone has lately been put in the hot seat for some of his private investments. One of his companies, CHC Surgical Center, has been sued at least four times for allegedly not paying its bills, the Daily News reported in January. Bloomberg reported in February that Carone had been subpoenaed in a federal civil racketeering lawsuit involving firms that he had invested in. Court records reported by the Daily News showed that Carone talked his no-fault insurance business with Zhan and Robert Petrosyants – after the brothers had faced charges for an illegal check-cashing scheme involving no-fault insurance claims. Carone later represented the brothers' restaurant when they faced sanctions from the State Liquor Authority, The City reported.
To be fair – despite the impression of him in some corners of Twitter as a The Godfather himself given a desk in City Hall, Carone has not personally been accused of breaking the law in any of the above cases, and has said that he divested from all of his outside businesses and put his assets in a blind trust before joining the Adams administration. Adams has been a client of his dating back nearly a decade, as well as a friend, and Carone is hardly the first person in politics who had private clients before going into public service. 
But Carone was so radioactive for a little while that even Eric Adams, defender of the politically unsavory, seemed to distance himself from Carone a bit. 
"What happened to his business agreements prior to being my chief of staff is really something that I am not accountable for," he told the press on Feb. 25. "What he does as my chief of staff, he will live up to the highest standard that I expect from all of my staff and employees."
Maybe wary of identity as someone who doesn't bow to cancel culture, Adams' team walked it back, saying that his statement distancing himself from Carone was not distancing himself from Carone. 
Adams "pointed out that there is nothing wrong with being friends with people who have made mistakes in their life, especially if those people have paid their debt to society," Communications Director Maxwell Young tweeted regarding Carone and the Petrosyants. "And just to repeat, the "link" is that they are friends."
But it's not just Adams who hasn't canceled Carone. The chief of staff has found many willing allies among City Council members, eager to show their ties to one of the new administration's power players. No fewer than seven council members have tweeted photos of their meetings with Carone over the last two weeks, most gushing with praise. 
Carone "graciously" met with Council Member Kalman Yeger – "Unscheduled, no fuss." Carone is "keeping (his) doors open for Council members", Council Member Ari Kagan said, and Council Member Kamillah Hanks encouraged her fellow members to "make an appointment; your district will thank you" – though an appointment shouldn't be needed, since she also praised his "open door policy." Ditto Council Member Lincoln Restler, who once tussled about Brooklyn politics with Carone as the leader of the New Kings Democrats, and is now praising Carone's "open door." Council Members Francisco Moya, James Gennaro and Julie Menin also met, and tweeted. Featured in many of these messages have been photos of Carone's desk, which have become a topic of chatter about City Hall watchers. It's overflowing with org charts, and papers stacked on papers ad infinitum, like a caricature of hard work. "It looked like a prop," joked one politico. 
Has Carone been asking for messages of support? Or are members simply eager to show that they're meeting with a member of the new mayor's inner circle?
"This was a 'we are doing our job' tweet," said Moya's chief of staff, Meghan Tadio, who also joined their meeting.
City Hall denied any coordination.
"Carone has widespread support and no need to make a show of it," Young wrote to City & State in an email. "He meets with elected officials because they have good ideas and are our partners in government and (while I don't want to put words in their mouth) I imagine they tweet nice things because Carone is thoughtful, listens, and is committed to getting things done."
One thing's clear: Carone has canceled cancel culture. For now. 
Powered By
NEXT STORY: New poll has rosy numbers for Cuomo