Heard Around Town
Hiram Monserrate is attempting another comeback
The former Queens politician, who was expelled from the state Senate in 2010, is running for an Assembly seat.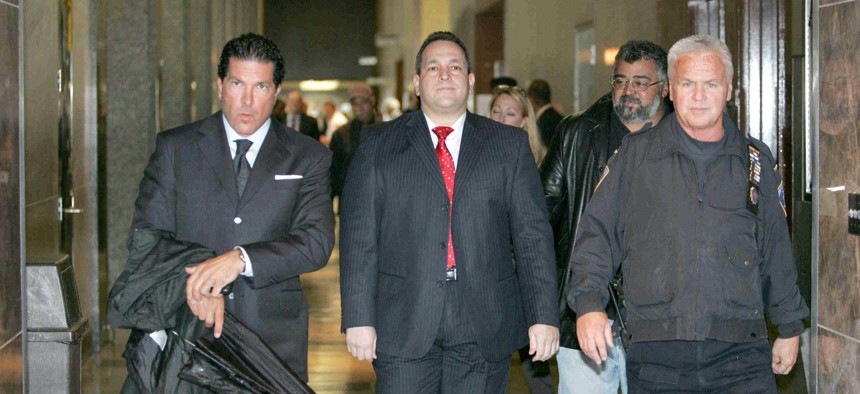 Tom Brady is coming back … and so is Hiram Monserrate. The former Queens state senator announced on Facebook that he's again taking on Assembly Member Jeffrion Aubry in yet another attempt to get back into legislative office. Monserrate, a former NYPD officer, was expelled from the state Senate in 2010 after being convicted on misdemeanor charges of assaulting his then-girlfriend. He later pleaded guilty in a corruption case. Monserrate has been active in Queens politics for the past few years, and he won elections for a Democratic district leader seat in 2018 and 2020. But he has had no success winning legislative office in at least five attempts, most recently failing to make the ballot for City Council last year due to a law tailor-made to keep him from running. And in the 2020 primary, he lost to Aubry 65% to 35%.  Folks in Queens have known for months that Monserrate was planning another run, Assembly Member Catalina Cruz said, but the Democratic Party establishment isn't happy. "If he loves the community as much as he says he does, then at some point he'll realize he's not what's best for it," she said.
Aubry's Assembly District 35, which covers much of East Elmhurst and part of Corona, remained largely the same after redistricting. Monserrate, like the majority of residents of the district, is Hispanic, while Black residents like Aubry make up just 11% of the district, according The Center for Urban Research at the CUNY Graduate Center's Redistricting & You webpage. But the population didn't change too much from two years ago when Aubry won. And consultant Lupé Todd-Medina, who worked on Aubry's campaign in 2020, didn't think this year's results would be any different. "Hiram has become a perennial candidate that clearly the majority of Queens residents continue to reject," she said. "It's time for Hiram to stop these frivolous campaigns and move on."
Monserrate reported $44,312 cash on hand as of January, while Aubry had $124,444.