New York State
MWBE spotlight: 2 firms making their mark
These up-and-comers are doing big business with government agencies.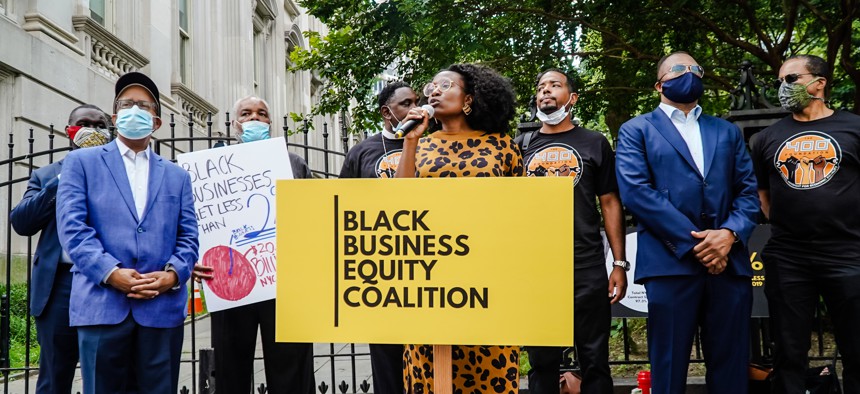 While some minority- and women-owned business enterprises have been around for many years and have made their mark along the way, some businesses are only beginning to take off a few years after being certified as an MWBE by the state.
Sentry Management Solutions, which offers management of nonemergency medical transportation, and R.F. Wilkins Consultants, a business development and managing firm, are relatively new to the world of MWBEs. Both are less than 10 years old, and they are achieving success at a brisk rate – despite the pandemic.
The past two years have not been easy for both businesses. R.F. Wilkins fought hard and didn't lay off any of its employees, while Sentry had to demand that the city provide COVID-19 vaccines to its drivers – like it did for taxi drivers. Fortunately, business is returning to both companies, and in a big way. Sentry has obtained a major contract with the Metropolitan Transportation Authority while R.F. Wilkins keeps expanding its clientele and business opportunities. Both MWBEs are stories of survival and innovation during one of the state's most turbulent times.
Sentry Management Solutions
Located in the Bronx, near Claremont Park, Sentry is an MWBE that obtained a major state contract despite being less than a decade old. Last year, Sentry was awarded a three-year, $162 million contract with the MTA to provide rides for the paratransit Access-A-Ride service. The award also included an option of two more years at a total of $125 million, bringing the grand total to $287 million.
Sentry began in 2016 when Steven Rivera, its founder and CEO, noticed a disconnect between transportation providers and health insurance plans transporting patients to and from hospitals and doctor visits. With that, Rivera created Sentry – named after the guardians in The Legend of Zelda video games. Working with local taxi companies to transport medical patients, Sentry has been able to make both the drivers and health insurance companies work together in reducing the costs for those patients. Some of the drivers even obtained Medicaid provider IDs, which boosted businesses for the local taxi companies, often minority owned, and kept them in business as Uber and Lyft became more popular.
Business began to boom in 2019, only to halt dramatically once the pandemic hit, particularly because patients turned to telehealth for their appointments. Business has slowly returned, but it is the $162 million MTA award that has "brought life back into the company," Rivera said. This is because Sentry now will work with local companies in driving senior citizens and people with disabilities not just to medical appointments, but to stores, banks and other places through Access-A-Ride.
"This is right up our alley," Rivera said. "We were shocked to make history. The key here in being successful is to lead the way for other MWBEs. This could bring positive outcomes to community businesses."
R.F. Wilkins Consultants
Many businesses start from scratch and become the go-to for government contracts in a short period of time. One of them is R.F. Wilkins Consultants, a business development and management firm. It began in 2011 when Francilia Wilkins Rahim, the company's CEO and founder, got her master's degree from St. John's University and began working with nonprofits, small businesses and government agencies in fundraising, project management and eventually, creating dashboards. She did this without any resources or funding from others, and she has been able to have her company work with big names such as Google, the Port Authority of New York and New Jersey, and Local Initiatives Support Corp.
"We never tapped into outside capital before late 2019," she said. "We got our first line of capital from Chase (to develop the technology side of their services). Right after, everything shut down. Everybody just froze."
Surviving through COVID-19 was daunting, but she made the decision to not fire anyone and then brainstormed with her employees on what they could do next. Concerned with what was happening in Black communities during the pandemic, R.F. Wilkins began working with the Black Business Collaborative and even created a Brownsville Collaborative that looked at health equity and fiscal equity for community members. All this was done pro bono. Paycheck Protection Program loans also helped the firm survive. 
Once the shutdown was lifted, major contracts flooded back and the future's looking good. R.F. Wilkins Consultants has been adding more staff and is planning a major economic development announcement with the city of New York, expected sometime in March. The project would support small businesses and MWBEs with its business model and operations.