New York City
Will Eric Adams be a political player in the June primaries?
The mayor has made three Assembly endorsements so far, but he might not care as much as de Blasio.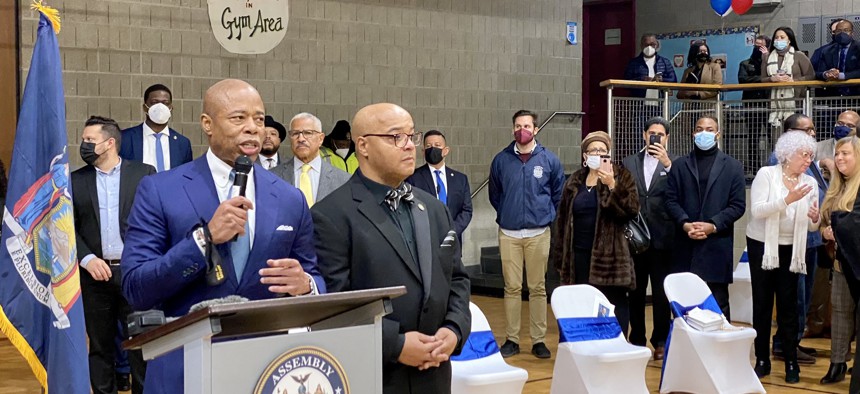 Eric Adams dipped his toe into electoral politics as mayor of New York City with three Assembly endorsements, and progressives have noticed a trend: He backed Nikki Lucas and Brian Cunningham of Brooklyn and Assembly Member Eddie Gibbs of East Harlem, who are each facing opponents endorsed by the Working Families Party.
"This speaks to the difference between movement politics and machine politics," WFP spokesperson Ravi Mangla told City & State. "We want candidates who will be responsive to their communities. Adams wants candidates who will be responsive to him."
And WFP-backed Wil López is fundraising off the fact that Adams endorsed his opponent, saying it means that Gibbs and Adams "want to return our city to the days of 'stop and frisk.'" Adams is popular right now in most parts of the city – and won Gibbs' district in the 2021 primary – but there's a strong anti-Adams faction out there, and they might donate. 
Adams will be an in-demand endorser this year, but insiders said, so far, he's not going out on a limb, and only supporting folks he knows and likes. Cunningham, who has the support of the Brooklyn Democratic Party, which is close to Adams, wouldn't get into specifics about how the endorsement came about. But Gibbs' team said the Assembly member and the mayor talk often, and that Adams offered up the endorsement himself. And despite opponents' assertions, it's not like Adams' picks are all centrists. Cunningham has some progressive support and was the WFP's candidate the last time he ran for office (while Adams endorsed his 2017 opponent, incumbent Council Member Mathieu Eugene). Cunningham said Adams' support of him over Jelanie DeShong, who was endorsed by the WFP, "was more of a validation of work that people have done in communities before the election cycle."
Lucas' commanding special election win over WFP candidate Keron Alleyne must have felt good for Adams after his political team's failure to crown their preferred candidate for City Council speaker. But there's a lot of primary season left, and observers were eager to see how involved Adams gets in these races and others. And, crucially, whether there is money attached. Adams ally (and Cuomo platformer) the Rev. Alfred Cockfield founded the Striving for a Better New York PAC and raised $1.2 million through January with the mayor's help. Cockfield downplayed Adams' influence, saying endorsements were up to the board.
"We sent questionnaires out; we're waiting for responses. Once we get those, we make a decision and cut a check," he told City & State. But the PAC makes no secret of supporting the mayor's agenda, and campaign insiders expect the PAC could be taking cues from Adams' endorsements.
Adams isn't the political animal that his predecessor was, and while that may cost him influence, it could also save him some headaches. Former Mayor Bill de Blasio went all-in on flipping the state Senate to Democratic control in his first year in office, but his fundraising efforts earned him a corruption investigation. Sources close to Adams don't expect him to get too deeply involved in this year's primaries – though at least one more endorsement may be coming soon, as a close aide to Adams, Hercules Reid, is running for Assembly Member N. Nick Perry's soon-to-be-vacated seat. As he was getting into his car after an unrelated event Wednesday, City & State asked Adams if more endorsements were coming. "Focus," he said with a laugh, "focus."