New York State
5 things to know about Amazon and New York's fraught history
The online retail behemoth and the Empire State had clashed long before workers voted to unionize at a Staten Island Amazon facility on Friday.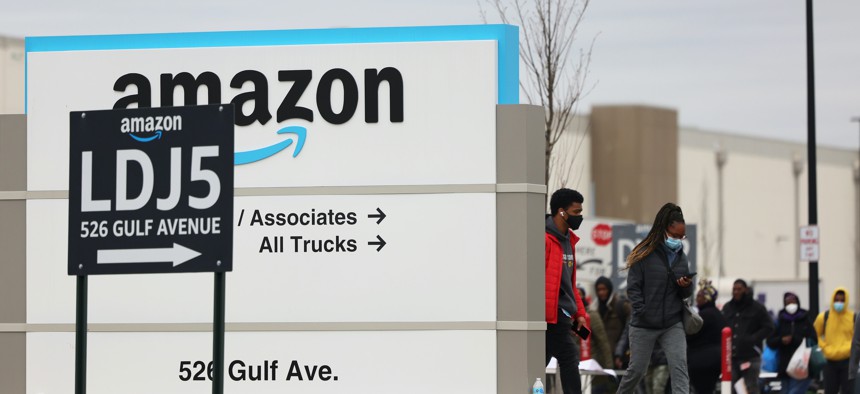 Amazon's fraught history in New York didn't begin with – and likely won't end with – the historic vote to unionize the company's JFK8 warehouse on Staten Island. On Friday, a second warehouse in the borough known as LDJ5 completed a vote on whether or not to unionize. The counting of ballots will begin tomorrow.
Organized by the worker-led Amazon Labor Union, thousands of workers at JFK8 voted to unionize in early April, becoming the first U.S. Amazon warehouse to do so. The Amazon Labor Union is hoping for a repeat victory at LDJ5 this week. "We're not going to get overly confident, we know that (Amazon is) still union busting every day," ALU President Chris Smalls told City & State last month. "So we're just staying grounded, and we're going to continue to build this union."
The history between the online retail behemoth and New York extends further back than just the unionization votes this spring. Here are five times that Amazon and New York lawmakers and workers had public conflicts with one another. 
Amazon tried, and failed, to get a headquarters in Queens.
In 2018, Amazon announced that HQ2, its second headquarters, was planned to be split between two locations: Arlington, Virginia and Long Island City in Queens. Almost immediately after the announcement from CEO Jeff Bezos, many New York politicians and unions made their opposition known. 
Poor working conditions, tax breaks and the threat of displacement were among the reasons given by New York organizations and politicians who were against the move to Queens. Between pressure from progressive lawmakers including then-freshman Rep. Alexandria Ocasio-Cortez and the Retail, Wholesale and Department Store Union, it was too much to overcome in the public eye, and Amazon pulled their plans to build HQ2 in Long Island City in favor of just developing in Virginia.
Unionization talks got underway on Staten Island just months after JFK8 opened in 2018.
JKF8, the warehouse stationed on Staten Island, was already starting the process of forming a union prior to the announcement about HQ2 in Long Island City. The Retail, Wholesale and Department Store Union was in talks with some workers who were organizing at the facility. But with the massive amount of media attention that came with the HQ2 announcement, that unionization effort fizzled.
Attorney General Letitia James investigated the firing of now-union leader Christian Smalls from Amazon.
Smalls was fired in 2020 for protesting against Amazon policies and working conditions. The company said he violated their COVID-19 policy.  He said he was just one of many reports of employees facing retaliation from the company for protesting against some of their policies and work conditions. His firing sparked an investigation from James, who began interviewing workers at centers across the state to try and look into complaints of retaliation. Smalls is now best known for organizing the independent workers union at JFK8, the Amazon Labor Union, and was protesting for some of the same changes that the ALU lists as a part of their demands now. James was specifically interested in learning about the company's allegedly relaxed social distancing policies that were endangering employees like Smalls while they worked in close proximity to one another in an enclosed warehouse during the pandemic.
James' investigation led to a lawsuit – which came after Amazon sued New York state. 
New York state sued Amazon in February 2021 for allegedly providing poor protection against the COVID-19 pandemic and its spread in their warehouses in the state. But, before James filed the suit, Amazon preemptively filed one of their own, arguing that workplace safety and conditions were not a matter of state law but rather federal, attempting to render James' forthcoming lawsuit moot. Amazon tried moving the case to a Brooklyn federal court, but a judge ruled against their bid to do so. James would be able to bring the case back to a New York state court. This motion came in July of 2021 and was the most recent movement in the case.
ALU prevailed in their unionization effort, making JFK8 the first center to unionize in New York and the country.
After over a year of striking, arrests and organizing, the ALU won their bid to unionize on Staten Island by a final tally of 2654 to 2131. It was a huge victory for labor efforts at fulfillment centers across the state and country, and an even bigger one for Smalls who started ALU in response to the poor work conditions he and other workers faced during the pandemic. Smalls, seen in a photo posted after the vote by reporter Lauren Kaori Gurley, said to a crowd of photographers and workers, "We want to thank Jeff Bezos for going to space because while he was up there we were organizing a union." 
While Amazon will likely seek ways to contest the results of the vote like suing the National Labor Relations Board, the JFK8 vote marked another victory notched by organizers and activists aiming to check Amazon's power.