New York State
Calls grow for Brian Benjamin's resignation following arrest
The lieutenant governor turned himself in on Tuesday and was later indicted on five counts related to a campaign finance bribery scheme.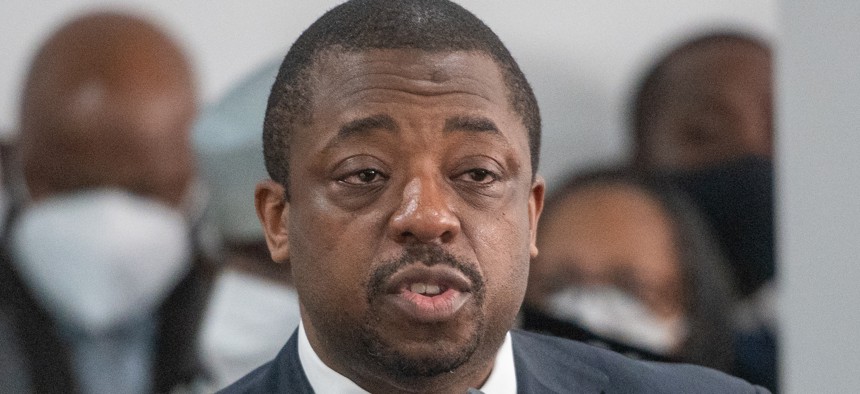 A bipartisan coalition of New York lawmakers called on Lt. Gov. Brian Benjamin to resign Tuesday following his arrest on federal bribery charges related to a campaign finance conspiracy.
Benjamin turned himself in on Tuesday morning and appeared in court later in the afternoon, where he was arraigned on five separate charges related to a scheme in which he allegedly traded a state grant for campaign contributions from a Harlem real estate developer. Benjamin pleaded not guilty to all five counts and refused to take questions from reporters when exiting the courthouse. 
In the hours after his arrest, a growing cohort of electeds called for him to step down from his post:
State Senate Republican Leader Rob Ortt: "Lieutenant Governor Brian Benjamin's arrest today on federal corruption charges is another stain on New York State Government, and calls into question Governor Hochul's judgment. Over the past few days and weeks, Kathy Hochul and the Majorities in Albany have reinforced their support for Brian Benjamin despite news of federal investigations. Governor Hochul said herself this morning that she's 'changed the culture of Albany.' Unfortunately, it looks like business as usual in our state Capitol. Kathy Hochul and Senate Democrats might tolerate this corruption, but New Yorkers don't and neither do I. I'm calling on Governor Hochul and Senate Democrats to stop hiding from the truth and join me in demanding Brian Benjamin's resignation."
State Assembly Republican Leader William Barclay: "The news regarding the arrest of Lt. Gov. Brian Benjamin is very disappointing for the people of New York state. Albany has a persistent and pervasive corruption problem and today's federal indictment is a disturbing indication that problem is still a major obstacle hampering the People's Business. He must resign immediately. The people of New York have seen enough of this. Multiple investigations, arrests and repeated scandals eventually drove Andrew Cuomo out of office in disgrace. Today we see that not much has changed with a new administration. While the legal process plays out, we must endeavor to move past this distraction and get back to doing the important work of our state government."
Republican Rep. Elise Stefanik: "The arrest of Governor Hochul's handpicked Lieutenant Governor puts on display once again the corrupt cesspool of Albany. Lieutenant Governor Benjamin's charges of bribery and campaign finance fraud prove he has put his own interests above those of New York . . . Benjamin should resign from office, and Governor Hochul must also be held accountable to New Yorkers."
Democratic Assembly Member Carrie Woerner: "There is no place in public service for these actions.  I am calling on Lieutenant Governor Brian Benjamin to resign immediately," she tweeted. "The residents of the 113th Assembly District demand representatives they can be proud of."
Democratic Assembly Member Judy Griffin: "It is paramount that the residents of New York State need to trust in the protection, transparency, and honesty of our government. The federal charges against our State's Lieutenant Governor, Brian A. Benjamin, are galling and his alleged actions as a State Senator, City Comptroller candidate, and in his current role are all unacceptable . . . When the public's trust is broken – as I believe it has been here – an elected official must step aside for the good of the public and the people they are sworn to serve and protect . . . I call on Lieutenant Governor Brian Benjamin to resign and let New York move forward."
Democratic State Sen. Rachel May: "I am very sad to hear this news, but I firmly believe we need accountability at all levels of government. These allegations, if true, are inconsistent with the spirit of public service, and I believe that LG Benjamin should resign," she tweeted. 
Republican Assembly Member Doug Smith: "I don't call on people to resign – if you have an employee that is stealing from you, you FIRE THEM – you don't ask them to leave politely. It's time to impeach the Lt. Gov. Not holding my breath," he tweeted.
Republican State Sen. George Borrello: "I think he should step down because as Lieutenant Governor, he is the president of the state Senate and the presiding officer, in which he has taken a very active role. I can't see how he can lead the Senate while answering these charges without it turning the final weeks of the legislative session into a shambles. He deserves his day in court, but these allegations are very troubling."
Republican State Sen. James Tedisco: "Lt. Governor Benjamin must resign immediately because he's under a cloud of criminality and we can't have another distraction like we had in the past year with Governor Hochul's mentor, the disgraced Andrew Cuomo. This arrest also raises serious questions about Governor Hochul's judgment and her vetting process, because so far, it's been amateur hour on the Second Floor since she took over."
Republican State Sen. Peter Oberacker: "The charges filed against the lieutenant governor, if true, represent a severe violation of the public's trust. Anyone who uses their elected office for personal gain, rather than working for the people, must be held fully accountable. I have already expressed frustration with the lack of transparency exhibited by Governor Hochul and her administration and this arrest leads to even greater concerns. It is now up to the courts to examine the evidence and decide guilt or innocence. In the interim, and in light of the seriousness of these charges, I believe Brian Benjamin needs to step down and certainly should not preside over senate proceedings."