New York State
There aren't any good options for getting Brian Benjamin off the primary ballot
Gov. Kathy Hochul chose him, and despite his recent indictment, she's sort of stuck with him now.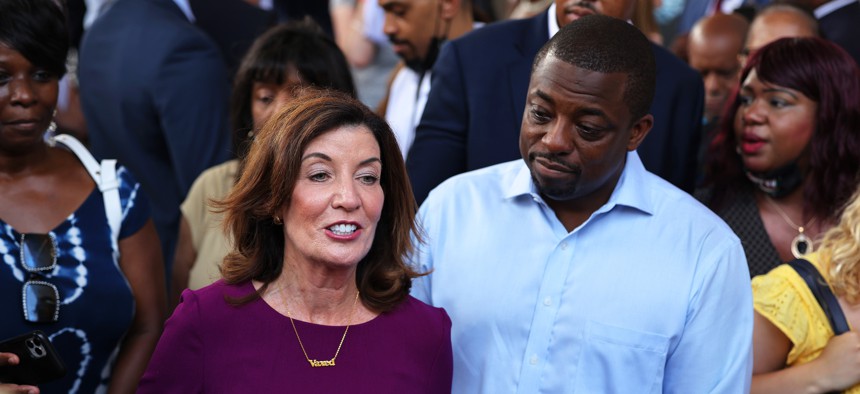 Last week, Gov. Kathy Hochul reaffirmed her commitment to Lt. Gov. Brian Benjamin as her running mate in the wake of campaign finance scandals emerging around him, even saying she had "the utmost confidence" in her No. 2. Now, Benjamin has been arrested, and she's stuck with him on the ballot. 
In the primary, gubernatorial candidates and lieutenant governor candidates run separately. In the general election, the winners of those two primaries join together on the same ticket.  
Thanks to New York's rather archaic election laws, it's difficult to get off the ballot once you have made it on – even if you don't want to run anymore. Now that federal prosecutors have indicted Benjamin on bribery and corruption charges, Hochul and the state Democratic Party may want to get him off the ballot for the upcoming June Democratic primary. Their options, however, are extremely limited under the law. 
Interestingly, a new criminal conviction does not always mean that your name will come off the ballot, even if you wind up in prison. Election lawyer Sarah Steiner used former Rep. Mario Biaggi as an example. "He was convicted of bribery by a jury, and they tried to get him off the ballot," Steiner said of Biaggi's 1988 conviction. "And the Board of Elections said 'Nope sorry, he has to stay on the ballot, there's no rule to remove him at this point.'" The best option then was to hope for a loss. The rules haven't changed since then, so even if Benjamin got convicted before June, his name would stay on the ballot. In Benjamin's case, a felony conviction related to his oath of office before June would remove him from the ballot thanks to slightly different rules for state legislators, though the likelihood of such a speedy trial is low.
Generally speaking, the only way to get off the ballot is if someone dies, they move out of state or they get nominated for another position.
Moving out of New York
Moving out of state may seem like an easy enough solution. And in a different situation, a candidate probably could swing a temporary change in residency. However, the likelihood of that happening now is incredibly low given Benjamin's new indictment. "What makes you think that the court and the judge are going to say, 'Sure you person we just indicted, we'll let you move out of state?'" Steiner questioned. So that's two options gone for the Hochul and the state Democratic Party to remove Benjamin from the primary. 
Nomination to another office
That leaves nomination for another office, something possible if by no means easy to accomplish. Such tactics are common among third parties in New York. For example, the Working Families Party has opened up its general election ballot line after its first-choice candidate loses the Democratic primary. Generally, that losing candidate gets nominated for a Supreme Court judgeship, something that happens after the primary at a judicial convention and has no residency requirements. In the case that person is not a lawyer, like with Cynthia Nixon and Jumaane Williams in 2018 when they ran for governor and lieutenant governor on the Working Families Party line, they were nominated instead to run in their local Assembly and Senate districts respectively. The party had already installed placeholders in those races who were lawyers it then nominated to judgeships, creating vacancies the party needed to fill in those districts. 
The process in 2018 was convoluted and required significant preplanning by the WFP, preplanning that Democrats have not done to account for Benjamin. Benjamin is not a lawyer, so the party cannot simply nominate him for a Supreme Court seat – not that nominating an indicted politician to a judgeship would reflect positively on the party overall. That means that another legislative candidate in Manhattan would have to give up their race by getting nominated for a judgeship or moving out of state in order to free up a line for Benjamin. Since this is a redistricting year, anyone in Manhattan would do since requirements on running only in one's own district are lifted as new lines are drawn. The chances of that happening remain unlikely, since someone would either have to give up their seat or their shot at winning it.
Petitioning for a different race 
"The most likely of all the unlikely scenarios," as Steiner put it, would see Benjamin petitioning his way onto the ballot for a different race on a new third party line. Independent petitioning hasn't yet started, so Benjamin has the time to do this. What he likely lacks, however, is the money and resources required to gather signatures. The process is both costly and time-intensive, and Benjamin likely won't have much support in petitioning for a seat he doesn't want to win. Still, the option remains the most plausible if Democrats truly wanted to get him off the lieutenant governor line on the ballot. 
Making do with whoever ends up winning the LG primary
Steiner suggested that Hochul's best bet is to rescind her endorsement of Benjamin, since the candidates don't run on a ticket in the primary, and back one of the other two lieutenant governor candidates running in the primary. While Benjamin would still technically be in the race, Hochul and the Democratic Party apparatus could shift their campaign efforts to either Diana Reyna or Ana Maria Archila, both of whom currently campaign with Hochul's two primary challengers. In the case of the primary, Hochul has little recourse other than this. An independent candidate of her choice wouldn't work either because if Hochul wins the Democratic primary, she then joins a ticket with whoever wins the lieutenant governor primary.
A spokesperson for the state Board of Elections confirmed that it is too late for Benjamin to simply decline the Democratic designation. Although those who petitioned their way onto the ballot had until April 11 to do so, Benjamin received the party's blessing in February, so the opportunity for him to proactively decline has long since passed. However, John Conklin, the BOE spokesperson, said it was "unclear" if an independent run for a different office could get Benjamin off the ballot.
Long story short, if Hochul regrets standing by Benjamin now, her best bet is to hope that he simply loses his primary.
With reporting by Zach Williams.
Correction: This article has been updated to reflect the fact that a felony criminal conviction would lead to a state legislative candidate's removal from the ballot.
Powered By
NEXT STORY: New York City will double up on subway police amid search for shooter