New York State
COVID-19 is back in City Hall and the Capitol, but that hasn't changed the public health strategy
Elected leaders continue to tout the vaccine and boosters as New York's primary COVID-19 strategy, resisting new restrictions.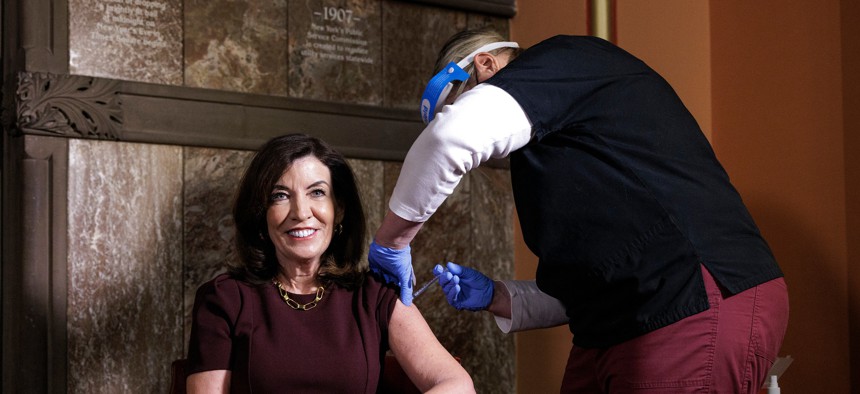 Despite multiple recent coronavirus infections in high places, things are progressing as usual in New York's halls of power. At City Hall, New York City Council Speaker Adrienne Adams and Council Member Justin Brannan have confirmed positive cases, and at the state Capitol, Gov. Kathy Hochul's spokesperson confirmed that several aides close to the governor have the infection as well. 
The state Department of Health is advising people to resume indoor mask wearing in Central New York where infection rates in three counties now rank among the highest in the nation. Cases are ticking upward in other areas of the state as well, but elected officials have yet to call for any significant tightening of public health restrictions. "Our best weapon against this virus is the vaccine," Hochul said in an April 1 press release listing new cases in all but one of the state's 62 counties. 
Several thousand people have been testing positive for the coronavirus in recent days as the Omicron sub-variant BA.2 overtakes other strains in the Empire State, according to state data. Daily deaths are hovering at about 10 with approximately 800 people hospitalized statewide. "COVID is still with us," state Health Commissioner Dr. Mary Bassett said in an April 2 press release announcing eligibility rules for vaccine booster shots. A public health state of emergency remains in place through April 15 with more than 100 infected people admitted to hospitals each day.
The current numbers reflect a big reduction in cases since the beginning of the year when new infections had reached record highs and daily deaths exceeded 100. Hochul faced criticism at the time from political rivals like Rep. Thomas Suozzi who said she was delegating too much public health decision-making to local governments, especially compared to how ex-Gov. Andrew Cuomo once ran things. New York City Mayor Eric Adams has faced criticism in recent weeks for keeping a school mask mandate in place for children under age five. 
Public health experts say there are a few ways to limit the spread of the virus without reinstating sweeping public health restrictions if and when infection rates approach past highs again. More booster shots, masking in some circumstances, post-infection therapy drugs and targeted measures to help the immunocompromised are a few examples of how policymakers can keep COVID-19 in check moving forward, experts told The New York Times. 
About 3 out of 4 New Yorkers are fully vaccinated against the coronavirus, among the highest rates in the country, according to the Mayo Clinic. Chances are the worst of the pandemic is behind the Empire State, but recent infections in City Hall, the state Capitol and beyond underscore how the coronavirus is as commonplace as it has ever been more than two years after the pandemic began. 
"We're still not through this," Hochul said of the pandemic while getting her second booster shot at the Capitol on Monday. "We're doing the best we can with the resources we have and encouraging people to take this still seriously."