This Week's Headline
LG drama, a budget drop and gerrymanders with sticking power
Rounding up the week's political news.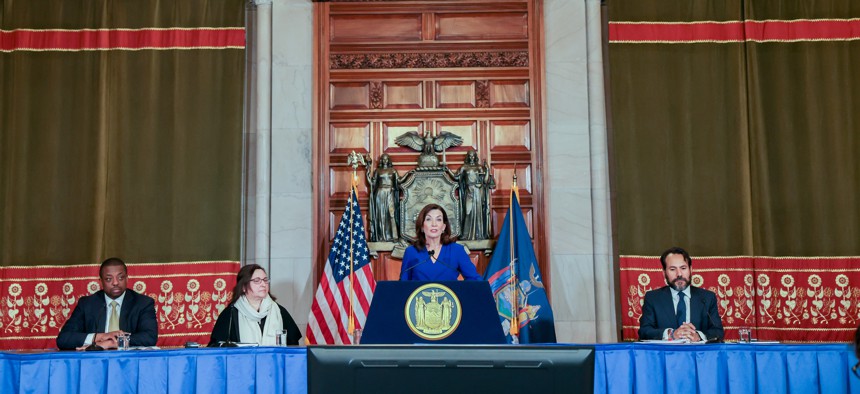 It was a week late and the state needed a short-term extender, but lawmakers and the governor finally came to an agreement on a state budget. The record $220 billion spending plan includes changes to bail and discovery reform, one of the most contentious issues during negotiations this year. It includes making more gun crimes bail eligible and a provision to address repeat offenders. The budget also legalized to-go cocktails for three years, expanded state-funded health care to undocumented New Yorkers over age 65, included a multibillion-dollar bond act for climate action, a suspension of the gas tax and $5 billion to expand child care over the next three years. But don't be fooled, plenty of other news happened this week too.
Benjamin addresses subpoenas
Lt. Gov. Brian Benjamin has expertly avoided the press since news first broke of subpoenas he faces relating to his 2021 campaign for New York City comptroller and his awarding of state grants while he served in the state Senate. But after a week of radio silence and no public schedules, Benjamin offered his first on-the-record comments about the reporting after getting caught in a hallway in the Capitol. Reading from a prewritten statement he was carrying, Benjamin admitted that he did not inform Gov. Kathy Hochul of the investigation into his comptroller campaign, despite knowing about it when she recruited him to serve with her. However, he denied any wrongdoing and said he has been cooperating with investigators.
Primary petitioning ends
As a court case to determine the legality of New York's newly drawn district lines continues to play out, the deadline for candidates running for statewide and legislative positions to file petitions has come and gone. On the Democratic side in the race for governor, New York City Public Advocate Jumaane Williams said he and his running mate Ana Maria Archila delivered 40,000 signatures to get onto the ballot in June. Rep. Tom Suozzi, who is running with former New York City Council Member Diana Reyna, reported filing over 40,000 signatures as well. Notably, former Gov. Andrew Cuomo did not file petitions, so he officially won't appear in the Democratic primary. Hochul and Benjamin already had the Democratic designations and did not need to petition their way onto the ballot. On the Republican side of the gubernatorial race, former New York City Mayor Andrew Giuliani, Rob Astorino and Harry Wilson each filed enough signatures to get on the ballot and challenge Rep. Lee Zeldin, who received the GOP designation, in June. 
Democrats get their gerrymanders for now
New maps for the U.S. House and state Legislature will remain in place despite ongoing litigation concerning their legality under the state Constitution. An appellate judge on Friday extended a lower court's stay on a decision from a Steuben County judge who ruled that new lines approved by Albany Democrats weeks ago violated a state Constitution provision against gerrymandering. State lawmakers would have had to draw new maps with just weeks to go until the June primaries had the stay not remained in place. Wannabe legislators at the state and federal levels can now rejoice that they have some certainty about where they need to campaign while Democrats got one more reason to hope that they can flip a few GOP congressional seats this fall as part of their wider efforts to retain control of the House in what will likely be a tough election cycle for Team Blue. 
New York City crime up
The Big Apple ain't shining like she used to, and the grass is looking greener elsewhere as far as 6 in 10 residents of the five boroughs are concerned, according to a new poll. Rising crime appears to be playing a role following years of record lows, and some recent data suggests the situation might be getting even worse. The New York City Police Department claims repeat offenders are the people driving a 44% increase in crime during the first months of 2022 compared to a year ago. Murders are down by 9%, which hardly matches the picture of crime run amok as portrayed by the political right. But the cops say rapes are up alongside thefts, robberies and more. New York City Mayor Eric Adams is promising to do something about these disturbing trends, so obviously everything is going to be perfect soon.