News & Politics
Lt. Gov. Brian Benjamin resigns following federal indictment
The Harlem Democrat pleaded not guilty Tuesday to multiple corruption charges related to his 2021 campaign for New York City comptroller.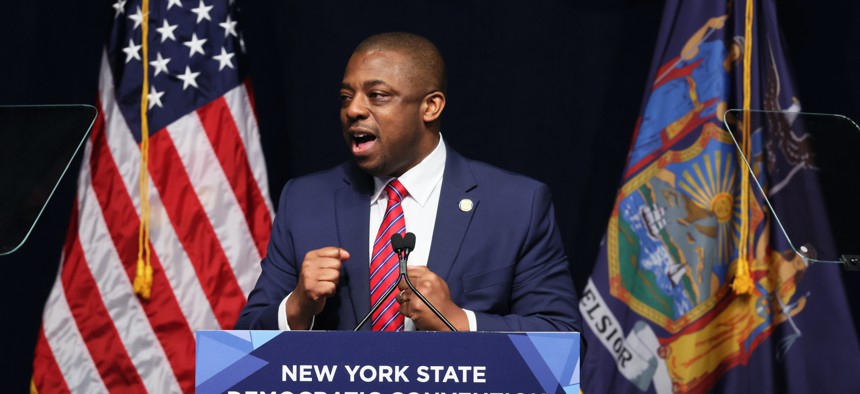 Lt. Gov. Brian Benjamin has resigned, effective immediately, as he battles federal corruption charges. He will also suspend his campaign for another term in office.
A growing list of state legislators had called on him to step down after federal prosecutors formally charged him with multiple counts related to a bribery conspiracy involving the securing of a state grant for a nonprofit organization in exchange for campaign donations. He pleaded not guilty on all charges on April 12 and could face prison time if convicted on all counts. 
"I have accepted Brian Benjamin's resignation effective immediately. While the legal process plays out, it is clear to both of us that he cannot continue to serve as Lieutenant Governor. New Yorkers deserve absolute confidence in their government, and I will continue working every day to deliver for them," Gov. Kathy Hochul said in a statement. 
His downfall comes after a sudden rise to statewide office last fall when then-Lt. Gov. Kathy Hochul picked him as her replacement after she succeeded the disgraced Andrew Cuomo as governor. The selection was widely seen at the time as part of a broader effort by the new governor to build support with Black voters downstate while she ran for a full term in office this year. 
Media reports before and after the Benjamin appointment have highlighted a series of accusations of unethical behavior regarding campaign fundraising and spending by Benjamin in recent years – though he had never been criminally charged with anything until April 12. Hochul has denied any knowledge of illegal behavior involving Benjamin, who has admitted he never told her about subpoenas issued by Manhattan prosecutors prior to his appointment as lieutenant governor. 
State Senate Majority Leader Andrea Stewart-Cousins is now acting lieutenant governor, although Hochul could appoint another lieutenant governor to fill out the remainder of Benjamin's term which ends in January. A spokesperson for the governor did not respond to a request for comment Tuesday evening about whether the governor would select a replacement for Benjamin.
The now-former lieutenant governor will suspend his campaign for a full term, his attorneys announced Tuesday evening "He will focus his energies on explaining in court why his actions were laudable – not criminal," reads a statement. "He looks forward to when this case is finished so he can rededicate himself to public service."
Although the resignation leaves Benjamin's seat open for the second time in less than a year, it has no impact on his place on the Democratic primary ballot. Democrats and Hochul have few available options to remove his name, including if Benjamin moves out of state or if he gets nominated for a different office. Little precedent exists on whether Democrats could even replace him on the ballot if they manage to remove him, but the deadline to fill vacancies has already passed. Candidates for governor and lieutenant governor do not run as a ticket in the primary, so voters could choose to support a lieutenant governor candidate other than Benjamin along with Hochul.
Hochul has yet to speak publicly about Benjamin's arrest beyond a few words with reporters after a morning appearance in Brooklyn about a deadly attack on a subway train by a suspect who remained at large. The governor's office has scheduled a Wednesday interview on The Brian Lehrer Show on WNYC where she will presumably comment on the resignation of the man she personally selected as her own replacement when she became governor last year following the downfall of scandal-plagued ex-Gov. Andrew Cuomo. 
This is a developing story.
Powered By
NEXT STORY: Brian Benjamin's ethical controversies