Homelessness
New York City workers keep throwing out homeless people's belongings
The Sanitation Department said 'one man's trash is another man's treasure,' but homeless advocates called the policy garbage.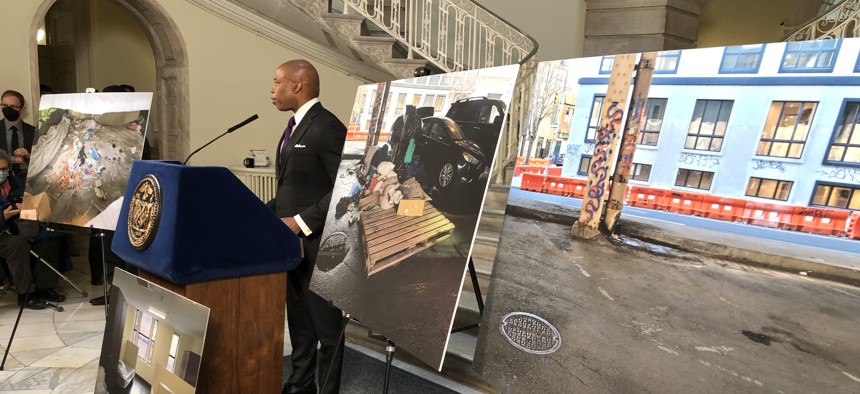 New York City workers have been throwing out homeless people's personal belongings in the latest round of sweeps, advocates for unhoused people said – despite New York City Mayor Eric Adams and city Sanitation Department officials' assurances that they weren't doing that. 
Adams announced the city was sweeping homeless encampments in March as part of an effort to clean up the streets and get people moved into shelters. Adams touted the addition of 350 new "safe haven" beds in congregate settings, but as of Wednesday just five people had accepted a bed out of more than 200 encampments targeted.
Last week, videos emerged of sanitation trucks at these sweeps, and footage shot by photojournalist Karla Cote showed sanitation workers crushing mattresses and wooden furniture in the back of trucks while workers picked up what appeared to be tennis rackets and a picture frame. There was also a tweeted complaint about a boombox, a speaker and a gold watch belonging to homeless individuals being thrown out in a sweep.
The mayor said Wednesday that parts of built-up shelters were getting tossed in the trash, but that personal items were being saved for later retrieval. "If something simple as they have a bag full of bottles that they collect and they're getting five cents each from them, we're not going to discard that. … That's their property," Adams said. A mayoral spokesperson clarified that some items were taken to police precincts for storage, and the owners were given a voucher – like a coat check ticket – to pick it up when they're ready.
But advocates said city workers weren't being as judicious as Adams claimed.
"We routinely see them throwing out people's belongings," said Helen Strom, benefits and homeless advocacy director at the Safety Net Project, a direct services provider where employees have observed many sweeps firsthand. "That's certainly what we've seen for the past several years, and that's the same thing we've seen in the past couple of weeks."
In March, Strom said city workers in Queens trashed the table that a homeless street vendor used for work and said the belongings of people who were sleeping under the Brooklyn-Queens Expressway were crushed in a sanitation truck without their permission.
And the idea of vouchers? Strom said that only happens when the NYPD also arrests a homeless individual. "Apart from that, every other time we've seen them do this, they do not voucher and hold people's stuff," she said.
Asked about the vouchers, the Sanitation Department referred City & State to the mayor's office, where a spokesperson said it was happening. Asked for more details, the NYPD press office just sent a link to procedure 218-01 in the patrol guide, outlining the process for invoicing property.
Whether it's smaller belongings or tents and blankets, city workers shouldn't be throwing out anything, said Jacquelyn Simone, policy director at Coalition for the Homeless. "The larger issue is sending police and sanitation workers to break up what little protection people often have from the elements and what little safety they might have is not the right policy," she said, adding that the city should be providing more safe shelter options with private rooms and housing instead.
The city has been trashing people's belongings in sweeps long before Adams took office. "New York City has a big reputation of throwing out everybody's personal stuff like birth certificates, social security cards," said Marcus Moore, an activist with homeless advocacy group Picture the Homeless in a video posted to Twitter. "A lot of people right now that's on the street, the only thing they have right now is their personal possessions."
In 2017, Picture the Homeless and the New York Civil Liberties Union reached a legal settlement with the NYPD after city workers kicked three homeless New Yorkers to wake them up and threw their belongings in a trash compactor. In 2020, NY1 reported that sanitation workers tossed out someone's walker.
Some New York City Council members were concerned about this practice continuing even before the Adams administration started its sweeps. At a March 4 preliminary budget hearing, Council Member Nantasha Williams of Queens asked Sanitation Department leaders about discarding homeless New Yorkers' belongings, and Commissioner Edward Grayson said it can be "very ambiguous at times" determining what should be thrown out and what should not be. "It is the complete epitome of the adage 'one man's trash is another man's treasure,'" Grayson said. "Where the passersby, and the residents of the impacted areas, they're complaining about what looks to be garbage to them. And yet when you get to the location, someone is standing there saying 'that's mine. That's my whole life.'"
He tried to emphasize that sanitation workers were being deliberate about what got thrown out. "We don't go in like stormtroopers and just take stuff," Grayson said. But he admitted that often, things do get thrown out. "It's never intentional when we take someone's belongings. Unless of course they're there and it has been determined that that is actually garbage, or unsafe, etc.," he said.
Where's the line between garbage and personal belongings? A mayoral spokesperson said sanitation workers follow city Sanitation Code, and Adams provided a shorthand at the press conference Wednesday. "If you have something that's soiled with human waste, something that is rubbish, (sanitation workers are) making the right decision," he said. "Let's be clear here. You have a right to sleep on the street. You don't have the right to build a miniature house."
The law is with the mayor – but Christopher Dunn, legal director of the NYCLU, said city workers shouldn't be throwing out tents and mattresses, even if staying in them on the street breaks the law. "The fact that it's soiled or not is irrelevant," he told City & State. City workers can take tents away, "but they can't throw (them) away. That's property they would have to voucher and allow you to retrieve."
Adams and leaders in his administration have insisted the homeless sweeps were a humanitarian measure, "giving people the dignity they deserve," by encouraging them to sleep in city shelters, rather than on the street.
But Strom, from the Safety Net Project, wasn't buying it. Throwing out people's possessions makes it harder for city outreach workers to build trust with people living on the street. And if they don't immediately accept shelter – like the vast majority of New Yorkers targeted in homeless sweeps – then they're put in an even more dangerous situation. "If someone is surviving in the elements and you're getting rid of their blankets and their tent and you already know they don't feel safe in the shelter," she said, "getting rid of their tents and their blankets is getting rid of their ability to survive."