New York City
NYC fires back at Florida's 'Don't Say Gay' bill with billboard counter attack
Mayor Eric Adams said the city was running billboards across the Sunshine State denouncing the controversial bill signed into law last week by Florida Gov. Ron DeSantis.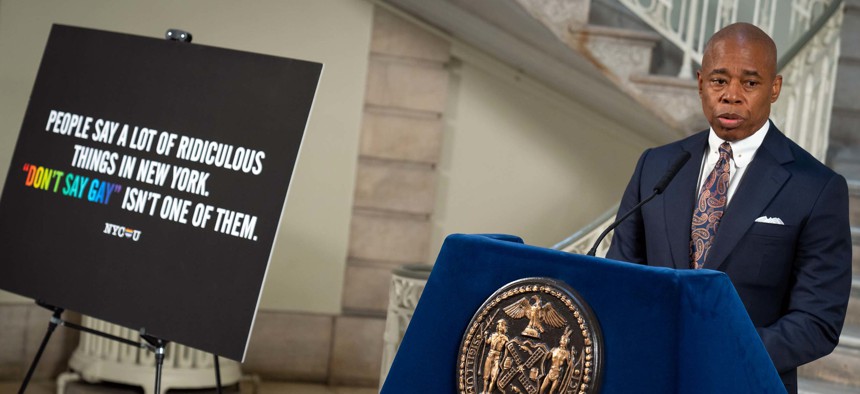 New York City Mayor Eric Adams on Monday announced "the city of Stonewall" will sponsor advertisements taking aim at a Florida law banning schools from teaching about sexual orientation and gender identity.
The move is a sign of solidarity with the LGBTQ community and comes after Adams sparked growing criticism by hiring three pastors with a history of homophobic statements to work in his administration. It also takes aim at a recent ad campaign launched by Florida Gov. Ron DeSantis and featuring New Yorkers who have moved to Florida.
"This political showmanship of attempting to demonize a particular group or community is unacceptable. And we are going to loudly show our support and say to those who are living in Florida, 'listen, we want you here in New York. We want you right here in New York City,'" Adams said at a press conference on Monday, alongside advocates and members of the City Council's LGBTQ Caucus.
Five unique billboards – funded via donations and launched in partnership with communications, advertising and branding firms including the WPP company, VMLY&R, GroupM, BCW Global, and H+K Strategies – are expected to debut Monday and continue for the next eight weeks in Fort Lauderdale, Jacksonville, Orlando, Tampa and West Palm Beach.
"People say a lot of ridiculous things in New York. 'Don't Say Gay' isn't one of them," one of the artwork reads. 
"Loud. Proud. Still Allowed," another states. 
LGBTQ advocates lauded the mayor's announcement, but urged City Hall to take additional steps to promote inclusion.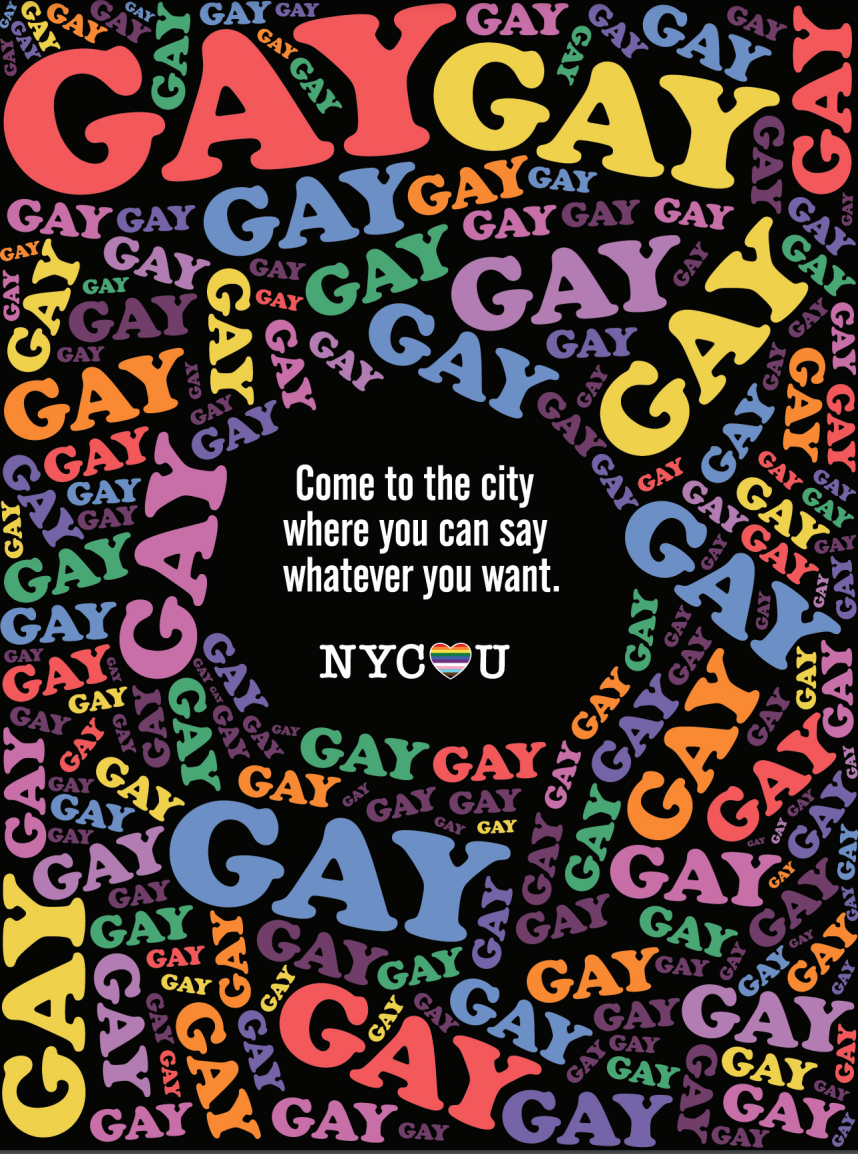 "No matter what you do, Mr. Mayor, I'm going to suggest more," Allen Roskoff, president of the Jim Owles Liberal Democratic Club, said during Monday's press conference. "We have a lot of work to do. I know what it meant to grow up and be isolated and not respected and in fear of telling anyone that I was gay, and that still exists in our schools."
Roskoff called on schools to hang the ads during Gay Pride month in June, put up banners at the front of school buildings in celebration of Pride month, host educational assemblies about the history of Pride, and incorporate LGBTQ issues into curriculum.
Previously, in response to the controversial hirings, Roskoff and LGBTQ leaders demanded Adams create an office of LGBTQ affairs – something Adams has yet to do and refused to address when asked for an update on the possible formation of the office during Monday's press conference.
"Of course, we are very disappointed and outraged over the appointments, but we decided to move on and work with the mayor who we believe made a big mistake in making those appointments, but there's a lot we can do together," Roskoff said Monday, while also noting "the mayor's history on behalf of the LGBTQ community." (Adams gave a passionate speech in support of gay marraige while serving as a State Senator in 2009).
The Florida legislation, titled "Parental Rights in Education" and signed into law by DeSantis on March 28, bars instruction on gender identity and sexual orientation for children in kindergarten through third grade. City Hall is just the latest entity to take DeSantis to task over the bill, which ignited swift and far-reaching criticism, including from one of Florida's major economic drivers: The Walt Disney Company. For conservatives, the "anti-woke" move helps raise the Trump darling's national profile as DeSantis is seen as a potential contender for the GOP nomination for president in 2024. 
Adams, too, has catapulted to the national spotlight during his short time in office, namely for his approach to criminal justice and policing that is seen as a way to lure back moderates who have been dismayed by the progressive movement and its so-called anti-police rhetoric. 
Adams' Monday announcement follows a statement issued last week slamming the "Don't Say Gay" bill when it was approved by DeSantis.
"The extremist culture war targeting our LGBTQ+ community is hateful and harmful. Florida's 'Don't Say Gay' bill is the latest shameful measure," he said. "To the families living in fear of this state-sponsored discrimination: You're welcome in New York City. Our arms and hearts are wide open, embracing every child of every identity. Always."