News & Politics
NYC receives first opioid settlement distribution from Big Pharma
The city will receive $256 million total from the $1.5 billion in settlements that state Attorney General Tish James's office reached with drug manufacturers.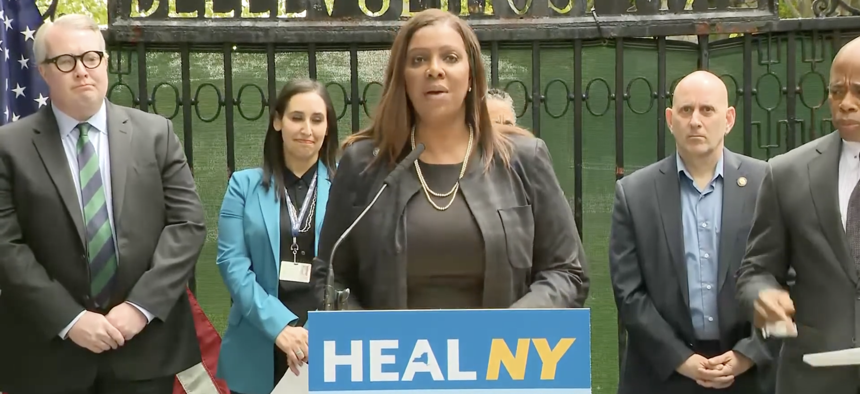 New York City will receive $11.5 million this week for opioid treatment and prevention services, officials announced Thursday, the first payment to the city from the $1.5 billion in settlements the state has reached with drug companies. The money is part of $256 million the city will receive from the settlements reached thus far, including $89.9 million this year.
"These funds will have an immediate impact on our communities and for individuals on the ground who are struggling with drug addiction," state Attorney General Letitia James said while making the announcement, alongside Mayor Eric Adams, outside of Bellevue Hospital in Manhattan. "This is the result of … my office's litigation against Big Pharma for the devastation and destruction that they've caused, not only in New York but all across this nation."
All 62 counties in the state will receive funding from the settlement, which stems from a 2019 lawsuit filed by James' office against the founders of Purdue Pharma, the Sackler family, along with manufacturers and distributors of prescription opioids that have fueled the epidemic. The money is required to go toward prevention and addiction services, pursuant to a state law passed in June last year.
The money will be used for inpatient and outpatient treatment and counseling services and to distribute Naloxone overdose reversal medication, sold under the brand name Narcan, to law enforcement officers, in addition to educational outreach about the dangers of opioids, fentanyl and prescription misuse. 
"There's no dollar amount that can make up for what we've already lost," James said, noting that 2020 was the deadliest year on record for drug overdoses in the U.S."No amount of money can make up for the loss of loved ones, children, parents, for individuals that have had to pray over and hold funerals all throughout the state of New York. And we need to prevent drug companies from this deception in the future and to hold them accountable."
In the first six months of 2021, more than 1,200 New York City residents died from drug overdoses, according to data released earlier this month by the New York City Department of Health. In 2020, the Bronx and Staten Island had the highest rates of opioid deaths per 100,000 residents, with 48 and 37, respectively, according to health department data. "Every four hours, a person dies of an overdose in New York City," New York City Health Commissioner Ashwin Vasan said Thursday. 
"The trauma and forced isolation of the pandemic has only served to further exacerbate this crisis. And more recently, the increased presence of fentanyl, an extremely powerful and dangerous opioid in our drug supply has accelerated the overdose epidemic here in New York and nationwide," Vasan added.
Staten Island Councilman Joe Borelli, in a text message to City & State, called the settlement distribution "a good development," and took aim at the city's safe injection sites, the first of which opened in Manhattan in November, sparking opposition from Borelli and other GOP members. "This is a good development, and my only concern is that the money will not be used for prevention, and instead spent on harm reduction measures and safe injection sites that will do nothing to treat people with addiction. The money should stay entirely within the realm of treating those suffering with addiction," Borelli wrote, though Thursday's announcement did not mention any additional injection sites.