News & Politics
Redistricting chaos and Trump legal developments
Rounding up the week's political news.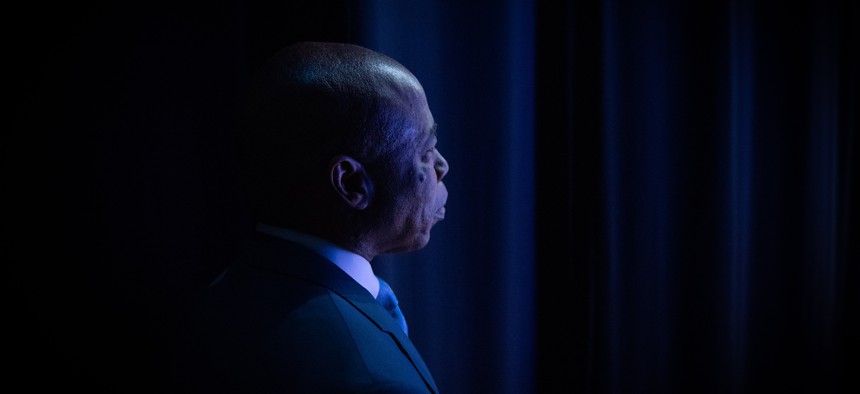 You know it's been a week when the implosion of an ill-advised third party proposed by the state Democratic Party quickly became old news. With an assurance from the Working Families Party that it won't play spoiler in November, state Democratic Party Chair Jay Jacobs announced he would abandon a plan to get Gov. Kathy Hochul onto another ballot line he dubbed the Fair Deal Party. But this particular embarrassing chapter for the state party quickly got eclipsed by a much bigger story of Democratic tomfoolery, this one with national implications. For more on that and the rest of the week's news, keep reading. 
New York is districtless
The state's top court weighed in on the ongoing fight over recently redrawn legislative lines and ultimately decided to uphold a lower court's decision that they violate the state constitution. With the Court of Appeals ruling, New York's congressional and state Senate lines will have to be redrawn, with the primaries for the seats postponed until later in the summer. The Assembly lines will stay in place – at least for now if no one files a new complaint – simply because the Assembly lines weren't mentioned in the original lawsuit. While the court tossed the state Senate lines on the grounds the Legislature didn't have the right to draw them, it also concluded the Democrats had gerrymandered the congressional lines. The decision from the Court of Appeals throws New York's political calendar – and candidates' campaigns – into disarray. A special master appointed by the courts must draw new maps by May 16, which must be approved by May 20. The Court of Appeals left it up to the state Board of Elections to determine the best course of action with the delayed primaries, while the Legislature must pass a bill formally moving back the primary date for at least the state Senate and Congress. As of now, all other primaries this year are expected to remain on June 28.
Adams' first budget
New York City Mayor Eric Adams presented his first executive budget, a $99.7 billion spending plan laid out in his State of the City address. It included a $5 billion new investment in the city's crumbling public housing, additional cash previously promised for the Summer Rising youth program and an expansion of the Earned Income Tax Credit. Adams' broader speech as he laid out his vision for the city also honored the victims of various tragedies that occured in his short time in office. He once again spoke about his plans for gun violence and subway safety, highlighted his plan to expand the city's Gifted and Talented programs and praised recent unionization efforts by Amazon workers on Staten Island. He also took the time to speak to his critics, offering investments that spoke directly to the criticisms that he has received. Adams made use of city coffers flush with cash to both invest in his own priorities while offering olive branches to those who may not always agree with him. He even offered more funding for shelter beds, a priority for City Council Speaker Adrienne Adams, than the council itself requested.
Hochul's lagging poll numbers
With an election around the corner, a new poll shows that Gov. Kathy Hochul perhaps isn't doing as well as she might have hoped at this point in the year. Fresh polling from Siena College showed that Hochul's job approval rating hit a new low, dropping to 36% from 43% about a month ago. A majority of voters in the state also gave her low scores on her handling of crime and economic issues, although her overall favorability (whether voters categorized her as "favorable" or "unfavorable") only went down 1 percentage point since the last poll. A potential saving grace for Hochul were reactions to changes to the state's bail law, which she pushed to have included in the budget. Voters overall viewed the changes favorably.
Mixed bag for Trump in New York
Former President Donald Trump got some bad news, and some potential good news, about ongoing investigations into him and his business dealings in New York. In bad news for him, a judge held Trump in contempt of court for failing to turn over requested documents to state Attorney General Letitia James. She had sought the decision from the court, which it granted, and Trump now has to pay $10,000 each day he doesn't fork over the subpoenaed documents. But the ex-president may be in luck with a different investigation, this one conducted by the Manhattan district attorney. After internal disarray with the probe made its way into the public eye, a grand jury indictment has become increasingly unlikely – and Trump could wind up free of any charges in that jurisdiction. So overall, a mixed bag for the former New Yorker.