Budget
Everything you need to know about New York City Mayor Eric Adams' $99.7 billion budget
Adams debuted his budget proposal during his first State of the City address on Tuesday.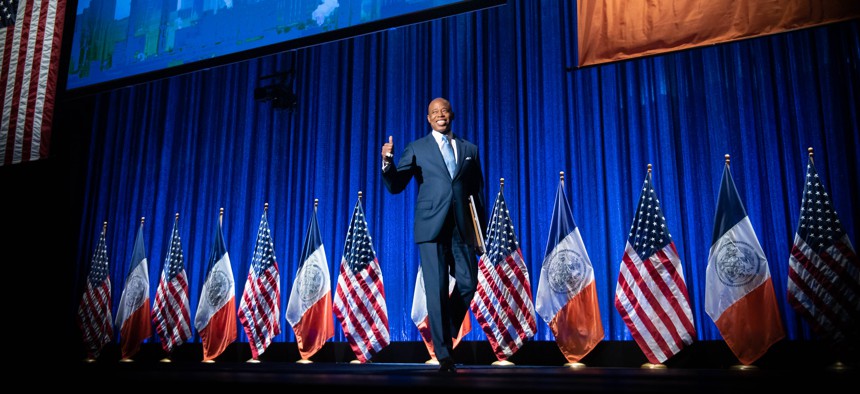 New York City Mayor Eric Adams laid out his $99.7 billion executive budget proposal in his first "State of The City" address on Tuesday in which he celebrated the city's resilience amid the COVID-19 pandemic and a wave of shocking crimes. The speech, given at Brooklyn's Kings Theatre, focused on his policy agendas for public safety, economic recovery from the pandemic, youth and family services and a slate of infrastructure investments. 
The address began with commentary from religious leaders, followed by a cinematic video of Adams speaking about his background and referencing his signature phrase: "Get Stuff Done." The mayor then took a lap around the stage to Frank Sinatra's "New York, New York," holding a thumbs up. Before taking the podium, he set down a portrait of his late mother, who he referenced several times during the speech.
"I feel sorry for people who live in a small town and don't live in New York," he said in his opening line. 
Here's what you need to know from the address:
1. Economic recovery
Adams began the speech commemorating the 40,000 New Yorkers who died of COVID-19, thanking essential workers and highlighting the end of the pandemic's darkest days.
"After two years, we are ready to be together again – reunited and it feels so good," he said, adding that "we are still in a time of profound concern."
Equating the era to the years following the Great Depression, Adams said he is inspired by former President Franklin D. Roosevelt and the "courage and compassion" he exemplified. "FDR understood that the people needed an honest reckoning of the problems and bold plans to solve them," he said.
Among the economic initiatives Adams laid out was his pledge to expand the Earned Income Tax Credit with a $250 million investment from the city. He also highlighted an estimated $200 million boost to the city's reserve fund, which would bring the total to $6.3 billion in fiscal year 2023. 
In addition, the executive budget includes more than $140 million for new capital investments at Hunts Point Produce Market in the Bronx, among "70 concrete initiatives we have laid out for our city's economic recovery," Adams said.
2. 2022 tragedies
"In our first 100 days, crime and tragedy took far too many lives in our city," he said, commemorating the subway-shoving death of Michelle Go, the 17 New Yorkers who died at the Jan. 9 fire in the Bronx, the killing of 19-year-old Kristal Bayron-Nieves at a Burger King in Harlem, the shooting of an 11-month-old in the Bronx, and the deaths of New York City Police Department officers Jason Rivera and Wilbert Mora in the Bronx in January.
3. Public safety
Adams highlighted his previously announced "Blueprint to End Gun Violence," and "Subway Safety Plan," the latter of which would be coupled with new investments for homeless and mental health services under his proposed budget. 
Dubbed the "B-HEARD" initiative, an acronym for Behavioral Health Emergency Assistance Response Division, Adams proposed $55 million to deploy additional mental health professionals in certain areas of the city to respond to people experiencing mental health crises, "instead of law enforcement."
The budget also includes $171 million to add 1,400 new Safe Haven and stabilization beds, which offer wrap-around services to homeless individuals, by mid-2023.
4. Workforce and business development
Adams proposed a slate of partnerships with tech- and science-based industries, including funding for the expansion of a life sciences and health care hub in Manhattan's Kips Bay neighborhood, along with a new facility for "cutting-edge research, workforce training and new startups" on First Avenue. The latter is in partnership with Taconic Partners, DivcoWest and New York University. "Together, these two projects will nearly double lab space in Kips Bay and further establish it as the hub for life sciences in our city," he said. 
In another job-creation effort, Adams proposed "new funding to expand ferry capacity at Yankee Pier, "so that more New Yorkers can access the 7,000 jobs and educational opportunities we are creating on Governors Island."
Applauding the recent unionization of an Amazon warehouse on Staten Island, Adams said "New York City is the largest union town in America, and just a few weeks ago, this union town got even bigger – thanks to our brothers Chris Smalls and Derrick Palmer, who successfully led the effort to unionize the Amazon warehouse on Staten Island." Adams then asked Smalls and Palmer to stand, as the audience applauded.
5. Child care
Adams previewed a plan for expanding child care that he said would be announced in the coming weeks. He laid out a new program for full-time subsidized child care that would reduce the weekly $55 average rate that families of four earning under $55,000 pay to $10 a week. The program will hinge on reduced tax rates that will go into effect in June and are expected to add 17,000 additional child care seats, Adams said.
6. Housing
Adams' budget proposal includes a $5 billion investment in improvements to New York City Housing Authority buildings, along with other affordable housing initiatives, what he called "the biggest housing investment in generations."
The announcement was a preview to a blueprint for housing and homelessness that Adams said he will debut in the coming weeks. 
7. Schools
Adams touted previously announced plans to increase funding for the city's Summer Rising youth program that offers students job training and extracurricular programming when school is not in session. He also highlighted the expansion of summer youth employment programs and his plans to expand the city's Gifted and Talented program. 
Additionally, Adams proposed a $7.4 million investment in dyslexia screening sites and literacy programs over the next three years, along with $11.2 million for bilingual education programs. He is also seeking a $33 million investment in a career pathways program beginning next school year that would "focus on high-growth sectors like health care and technology."
8. Transportation, streets and parks
"This budget includes more than $900 million to create safer, greener, and cleaner streets across the city and to make sure they are more accessible to seniors and those living with disabilities," Adams said. The money would be used to build additional bus and delivery lanes, he said. 
In addition, Adams proposed a $500 million investment in parks and open spaces, including the planting of 20,000 new trees and increased trash pickup.
Adams also pointed to ongoing transportation projects, including a $75 million investment to expand the MTA's "Fair Fares" program for discounted rides and 1,000 intersection improvement projects.