News & Politics
Syracuse police had other options for dealing with 8-year-old accused of stealing. They didn't use them.
Options included talking to the child, calling his parents and giving consideration to his size, age and the fact he was crying, according to legal experts.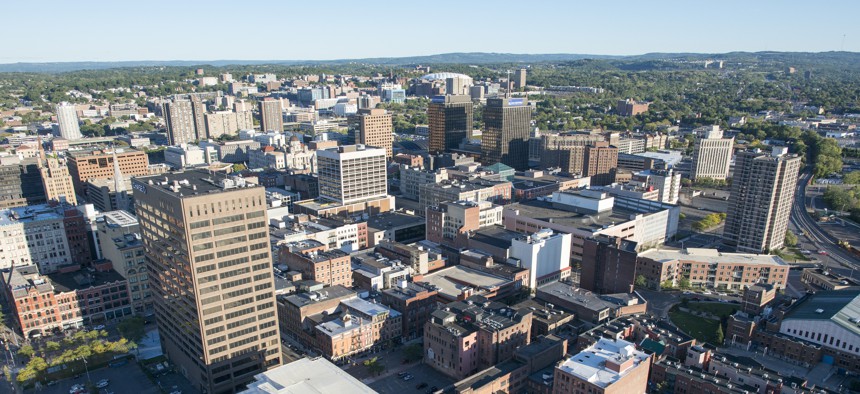 A troubling video of Syracuse police detaining an 8-year-old child accused of stealing a bag of Doritos has sparked national backlash, and concern from Gov. Kathy Hochul, who on Wednesday called the incident "heart wrenching." The video has raised questions about whether officers acted appropriately in both their handling of the boy – who is seen hysterically crying as he's dragged into the back of a police vehicle – and the outraged bystander who caught the incident on camera. To many, the image of white police officers forcibly loading the Black child into a police car as onlookers fervently protest has become yet another example of the types of incidents that fuel deep-seated distrust in law enforcement in Black communities.
"Many of us are parents, and you can't help but imagine the fear in that child as he had to endure that experience," Hochul said Wednesday, three days after the video was posted to Facebook, racking up more than 50,000 views on the platform and 5 million-plus on Twitter, along with responses from concerned lawmakers and civil rights lawyers. "Building the trust back between the community and the police is so important," Hochul said, speaking at an unrelated press conference in Syracuse. "We have more work to do, and I know that the (Syracuse) mayor is working closely with the police department to get to the bottom of everything, but also make sure that we do protect our children, and that they're handled in a different way when it comes to encounters with law enforcement."
The Syracuse Police Department, along with Mayor Ben Walsh's office have said they are investigating the incident.
Attorney Jeffrey Bloom, a partner at the law firm Gair Gair Conason, which represented the family of Amadou Diallo, an unarmed African immigrant who was shot 19 times in 1999 by New York City Police Department officers as he reached for his wallet, called the incident "outrageous" and said it proliferates distrust between the police and the Black community "at a time when we're trying to have young people gain the trust of the police department."
In the 4-minute video shot by bystander Kenneth Jackson, one of the officers involved in the incident attempted to justify the interaction by comparing the alleged theft of a bag of chips to burglary. "He's stealing stuff. If he breaks into your house and steals stuff, how do you think . . ." the unidentified officer said, before Jackson cut him off.
"Think of the racism of that – an 8-year-old kid steals chips, but because he's a Black kid, we're going to worry that maybe he'll just come to your house and burglarize?" Bloom said.
New York City-based civil rights lawyer Brett Klein, who has handled hundreds of federal police misconduct cases, called the video "disturbing" and said police escalated the situation. He also noted that what happened prior to Jackson's recording is important context the public has not seen, including whether the child attempted to run away.
"It just seemed like they ratcheted up the situation, which was harmful to the kid, harmful to the community, harmful to the department in a way that was just needless under the circumstances," he said.
The father of the child, Anthony Weah, initially said police were respectful when they brought his son home, according to reports, but once Weah saw the video, he told Syracuse.com that he planned to file a complaint over the incident. Because the child was not formally arrested or charged, Bloom said the legal grounds for doing so were uncertain. "He's got some hurdles to overcome. Because his child was not arrested, the cause of action for false arrest is not there," Bloom said.
Both Bloom and Klein, without knowing what happened prior to the interaction captured on video, noted a better solution would have been to speak to the boy, explain what he did wrong, and possibly call his father to the scene. 
"They could have spoken to him. They could have called the parents. They could have worked something out given his size, his obviously very young age, how sad he was," Klein said.
Former NYPD Detective Sergeant and Department of Correction Assistant Commissioner Keith Taylor, who now works as an adjunct assistant professor at John Jay College of Criminal Justice, was hesitant to criticize police for detaining the child, in part, because police reportedly said the alleged theft was part of a pattern. However, Taylor said the officers' interactions with the bystanders appear to be a clearer breach of protocol.  
"We don't have the full story, but from what we can see, it looks like the officers were irate, and they were responding out of that emotional response. Antagonistic, I think, both parties were to each other," Taylor said. "One of the things that I think is always important is for officers, when they're dealing with the general public, is to have their best face showing, to have the proper courtesy, professionalism, respect . . . and not not act in a way that can be perceived as not best representing the agency they're working for."
Taylor added that typical protocol when conducting an arrest of a person who falls into a special category, such as a child, pregnant or elderly person, would be to wait for a supervisor to come to the scene. According to the NYPD Patrol Guide, arresting officers "must call the Juvenile Desk prior to beginning the arrest process to ensure that any intelligence regarding the juvenile is obtained before the decision whether to release the juvenile to a parent/guardian or adult relative is made."
The Syracuse Police Department did not respond to questions from City & State about the incident. In a statement released Tuesday, the department said officers' body-worn cameras were under review. "There is some misinformation involving this case. The juvenile suspected of larceny was not placed in handcuffs. He was placed in the rear of a patrol unit where he was directly brought home. Officers met with the child's father and no charges were filed," the statement said.
Klein, however, said the video evidence shows the child was clearly not free to leave. "This is a problem, a disconnect with police departments that I see every day for the last two and a half decades of doing this," he said. "As soon as the police touch you and take you, and you're not clear to leave, that is an imprisonment or a seizure under the Fourth Amendment, and so they did detain him, they did imprison him."