This Week's Headline
Abortion funds proposed and primaries come into focus
Rounding up the week's political news.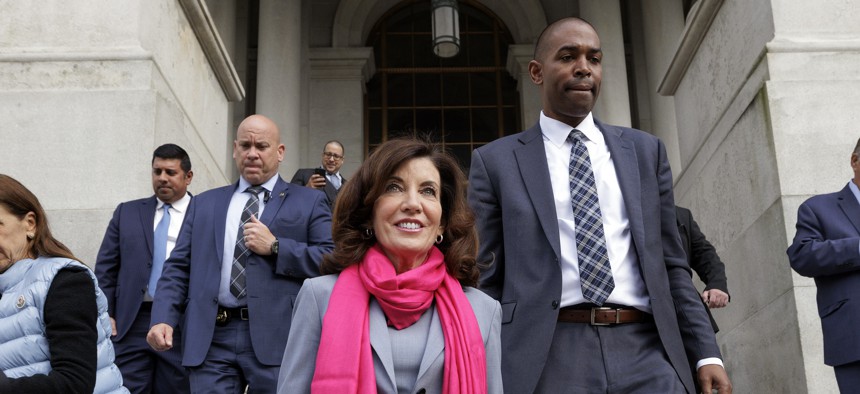 New York is many things, but predictable is not one of them. Who had the mayor citing ghosts as a reason not to live in Gracie Mansion on their 2022 bingo card? How about an Assembly member getting his car stolen out of the Capitol garage because he left his keys in there? Sure, neither are a budget coyote or the arrest of an Albany reporter for using his phone, but hauntings and joy rides certainly aren't par for the course when it comes to New York politics. For the rest of the week's less kooky news, keep reading.
Abortion funds in New York
Gov. Kathy Hochul announced a new $35 million fund to help abortion services providers increase access to the procedure in the wake of a leaked draft U.S. Supreme Court decision overturning Roe v. Wade. Of that cash, $25 million is for the providers to help them expand their operations and cover costs for those lacking insurance. The rest will go toward increasing and improving security at those facilities with an anticipation that they may become greater targets for anti-abortion protesters. The announcement from the governor came just a day after state Attorney General Letitia James offered her support for legislation that would create a similar program to help provide additional funding to abortion providers meant to also help people coming from out of state seeking abortion care. New York is expected to see a large influx if the court officially overturns the right to an abortion, allowing many states to immediately implement total or near total bans on the procedure. 
Primaries finally coming into focus
Although many New Yorkers still don't know what districts they will vote in for congressional and state Senate primaries, confusion over redistricting and election dates is finally beginning to get cleared up. A federal judge officially gave permission to the state Board of Elections to move the primaries for Congress to Aug. 23, providing a waiver in this instance for a previous ruling that required New York to hold those primaries in June. Not long after that, a state Supreme Court judge upheld the Assembly district lines in the face of two new challenges, citing the lateness in bringing the challenges as the primary reason that the lines, as well as the June 28 primary day, will remain in place. So, the two election days and the contests taking place on them have been all but settled – and candidates now even have a new schedule for petitioning to get on the ballot for the later date. Luckily for those the state Board of Elections already certified, candidates who already petitioned and received approval don't have to do it all over again. 
Adams targets ghost guns
New York City Mayor Eric Adams went on the offensive against ghost guns as crime in the city continues to go up. He called on the federal government to do more to crack down on the untraceable weapons that people can assemble at home, while at the same time offering up a defense of city cops as they tackle issues of gun violence. That defense came about the same time that the Civilian Complaint Review Board announced that it had substantiated over 100 more claims of police misconduct during the summer 2020 protests against police brutality. Adams maintained that final disciplinary decisions should remain in the hands of the police commissioner or the mayor. On the issue of ghost guns, Adams also specifically called out the company Polymer80, which manufactures ghost guns and makes the majority of those that police in the city have found at crime scenes.
Tom Reed resigns
In a surprising move, Rep. Tom Reed resigned from his position to accept a private sector job. He had already announced that he would not seek reelection in November following allegations of sexual misconduct. But his early exit creates a vacancy that will require a special election to fill. Joe Sempolinski, a former staffer and chair of the Steuben County GOP, immediately announced his intent to run in that special election. He had already been running in the race to replace Reed in November. Former state Sen. Catharine Young's name has also been in the mix to potentially run in the special election.