News & Politics
Biden visits Buffalo after mass shooting to comfort a grief-stricken city
The president called the attack "domestic terrorism" in a speech and met with the families of the victims.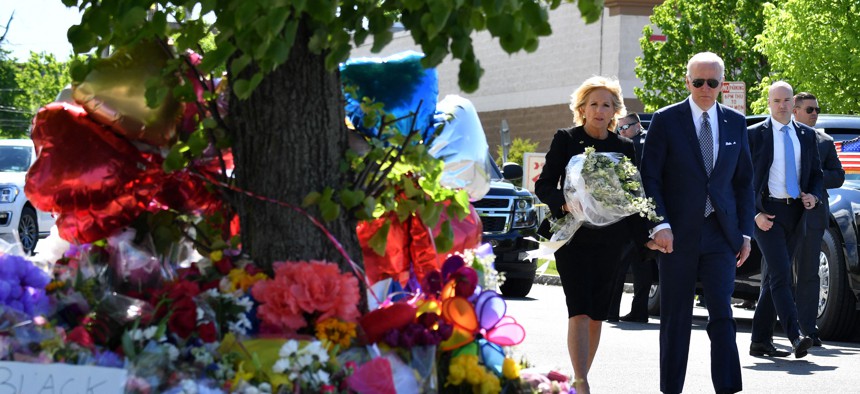 President Joe Biden visited Buffalo on Tuesday, stopping to lay flowers at a vigil outside the Tops supermarket where 13 people were shot, 10 fatally, in a racist attack Saturday, before he offered remarks at a nearby community center.
Biden came to a city racked with grief. Crowds of people gathered in each location to pay their respects to the dead, seek comfort and call for change. Biden spent time with family members of those killed before delivering his speech, offering support to the community while condemning the actions of the shooting suspect, 18-year-old Payton Gendron, and calling for more to be done to prevent mass shootings, specifically racist killings, from happening.
"What happened here, it's simple, straightforward: terrorism, terrorism, domestic terrorism," Biden said. "Violence inflicted in the service of hate in the vicious thirst for power that defines one group of people being inherently inferior to any other group."
Biden offered no specific policy plans, but pointed to social media and some mainstream media personalities as conduits for dangerous ideas like the "great replacement theory" that was a consistent theme throughout online posts from accounts linked to the suspect.
He also mentioned the alleged shooter's body armor – a security guard shot him in the chest, but it did not penetrate the bulletproof vest he was wearing – and the "weapons of war," an apparent reference to the AR-15 reportedly used to carry out the attack, as issues that needed to be addressed.
"This venom, this violence, cannot be the story of our time," Biden said. "We cannot allow that to happen."
For Assembly Majority Leader Crystal Peoples-Stokes, the president's visit helped put the community on a path to healing. She recounted Biden talking warmly with victims' family members and picking up and holding a young child while he spoke to them.
"I think it brings people hope and will be encouraging to them," Peoples-Stokes said.
A lifelong East Side resident, Peoples-Stokes was devastated when she first heard reports of the attack. The Jefferson Avenue grocery store is in the heart of the Assembly district she has represented for 19 years. She said she hopes this tragedy may cause legislators on the state and federal levels to reexamine some of the laws regulating specific types of guns and other military-grade equipment like body armor, noting that the shooter even wore a military helmet while carrying out the attack.
"I think we need to question how people get access to these types of things," Peoples-Stokes said. "Because if they get access to it, they're getting it for a reason. The reason is usually going to be like what happened to my people on Jefferson."
Outside the community center after Biden's speech, Buffalo Common Council President Darius Pridgen said Biden's presence in the city meant a lot to the community.
"We know that tragedies happen all across the United States, but they saw the gravity of this and knew the importance of being here in Buffalo," Pridgen said. "That means a lot."
Pridgen, who is a military veteran, echoed some of the ideas raised by Peoples-Stokes, saying that the types of weaponry and body armor used in the attack only belong in the hands of trained professionals.
"That's where it should be used, on the battlefield," he said.
Standing just beyond the police tape surrounding the Tops parking lot, Robert Scott chatted with people gathered around the site. The supermarket, which he shops at frequently, created a safe place in the community, he said.
Saturday's events have changed that forever.
"It seems like there are no more safe places for us," he said.
Scott, who is Black, said he tries not to break people into different racial groups, but that the reported motivations of the suspect made it hard to avoid thinking of those divisions.
"I don't really like to separate people out like that," Scott said. "But this was targeted."
Justin Sondel is a freelance reporter in Buffalo.
Powered By
NEXT STORY: 'Real good energy:' Eric Adams leaves Albany optimistic about mayoral control