Campaigns & Elections
Dan Goldman, former House impeachment counsel, considering a run for Congress in open seat
Bill de Blasio is eyeing the now-open NY-10 seat, among other high profile names.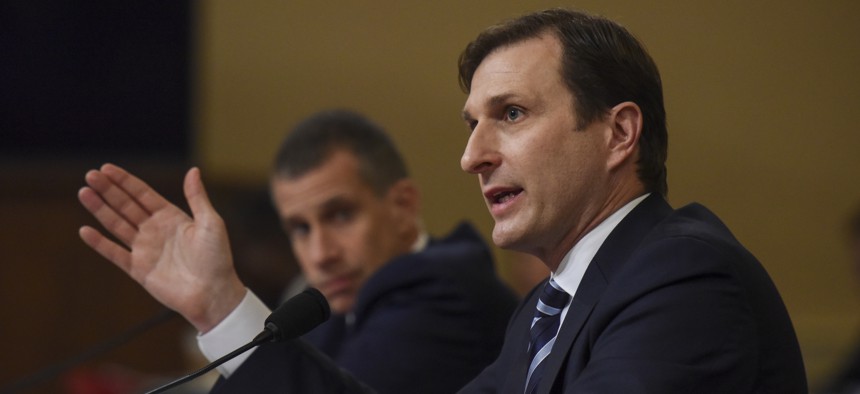 Daniel Goldman, who was the House Democrats' lead counsel on the first impeachment of President Donald Trump, is now considering a run for Congress in an open seat spanning Lower Manhattan and neighborhoods in western Brooklyn. 
Two sources with knowledge of Goldman's plans said he was "seriously looking at" a run for the 10th Congressional district in New York City. A court appointed special master released draft district maps on Monday, and final maps are due Friday. Rep. Jerry Nadler currently represents much of what could become NY-10. But Nadler has said he plans to run for reelection in the district he lives in, the 12th, which could mean a primary election against fellow 30-year House veteran Rep. Carolyn Maloney, who also lives in the 12th, and currently represents the majority of the newly drafted district.
That would leave the 10th district open, which has caused a scramble as high profile politicians hope to seize the opportunity of a rare Congressional seat without an incumbent, in some of the most vote rich areas of the city. 
This could be a second chance for Goldman. He announced a run for state attorney general in November 2021, and raised nearly $1.5 million in just one month, with one million of that coming in the first 24 hours. But Goldman, like every other Democratic hopeful for the race, suspended his campaign after state Attorney General Letitia James announced she would be running for reelection after all, rather than governor. 
Goldman is 46-years-old and lives in Tribeca, in Manhattan. He became a cult hero of the anti-Trump "resistence" for his role in the impeachment, and his continuing role as an MSNBC legal analyst, where he regularly slams national Republicans. 
If Goldman runs, he could be entering a very difficult race in a potentially crowded field, with a handful of established elected officials eyeing the seat. Former New York City Mayor Bill de Blasio announced Wednesday afternoon that he was forming an exploratory committee to consider a run for the seat. City & State also reported Tuesday that former New York City Comptroller Scott Stringer, who ran for mayor in 2021, is taking calls discussing a run, as is New York City Council Member Carlina Rivera. Assembly Member Yuh-Line Niou, a progressive favorite from Manhattan, said Wednesday she was "seriously considering" a run, and state Sen. Brad Hoylman, who won most of Lower Manhattan in his unsuccessful 2021 bid for Manhattan borough president, said he planned to run as well, pending  a change in the district lines. State Sen. Simcha Felder and Assembly Members Robert Carroll and Jo Anne Simon, all from Brooklyn, are also considering jumping in. Brian Robinson, an entrepreneur running on a moderate platform, was already planning to challenge Nadler in a primary. He now says he plans to run in the new NY-10. 
As drafted, the new 10th district has a majority white population, and includes significant Asian-American and Hasidic Jewish populations. It stretches from Manhattan below roughly 14th Street to Brooklyn neighborhoods including Brooklyn Heights, Park Slope, Kensington and Borough Park. 
So many people are now considering that somebody announcing they're not running is newsworthy. City Comptroller Brad Lander, who did very well in the district in his 2021 primary, said Wednesday he wouldn't seek the seat. And Rep. Nydia Velázquez told City & State Tuesday that, should the draft district lines remain the same, she plans to run in the 7th district. Velázquez's home is not in that district, but the map as drafted includes many of the Brooklyn and Queens constituents she has represented for years.
Asked who she would support in the 10th district, Velázquez said she has talked to a lot of people, including Rivera. While she lives slightly outside the district as drafted, she represents some of its neighborhoods currently, and may be the only Hispanic candidate seriously considering a run. "I said to her see how many people are running from Brooklyn," Velázquez said. "But if she decides to run, I would highly consider (supporting her)."
Redistricting has caused headaches for countless incumbents and Congressional hopefuls across the state, as they decide where, and if, to run. "It's insane," Velázquez said.