Politics
Draft congressional maps cause headaches for Democrats
A Nadler-Maloney matchup and a potential face-off between Bowman and Jones are just a couple of the party's many problems.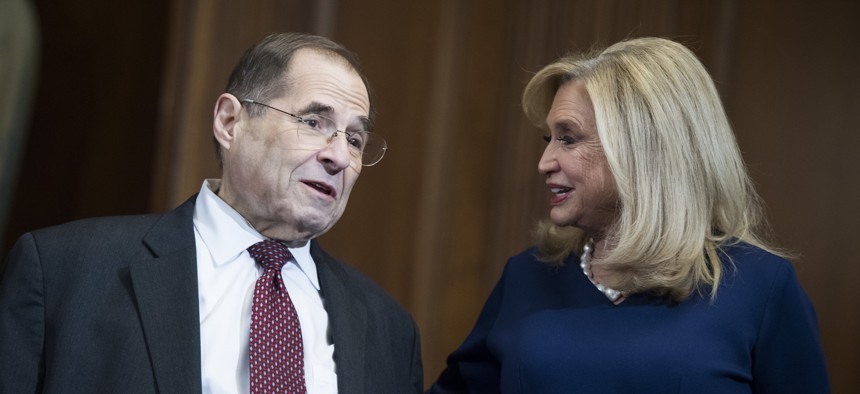 For the past 30 years, Rep. Jerry Nadler has represented the Upper West Side of Manhattan, and Rep. Carolyn Maloney, the Upper East Side. The Democratic septuagenarians have become veritable avatars for their respective neighborhoods as they rose through the ranks.
But that long run could come to an end this year, as the draft congressional maps drawn by the court-appointed special master placed Nadler and Maloney's homes in the same district. Nadler immediately criticized the district lines – but said he planned to run in the 12th Congressional District. Maloney also tweeted that she plans to run in the 12th District, potentially setting up an Aug. 23 Democratic primary between two titans of New York politics.
And that's just one of the shocking political developments arising from the maps released Monday, which sent everyone scrambling – incumbents and congressional hopefuls alike. Where should they run? Should they run at all? Is the district winnable?
"I've been on so many calls today where we're saying what the fuck are we doing," one political consultant on a House race told City & State, asking for anonymity to speak freely about ongoing conversations
And there are still so many unanswered questions, just hours after the maps were released. After all, the congressional map is still a draft, and while most observers don't expect major changes to happen, the final maps are not due until Friday.
In the meantime, here are a few candidates and races to watch with the redrawn lines.
Nadler vs. Maloney in Manhattan
It's a bona fide East Side/West Side showdown with new district lines that have Reps. Jerry Nadler and Carolyn Maloney competing for the same seat. The new 12th District spans the Upper West and East Sides and includes all of midtown Manhattan, down to roughly 14th Street. National Democrats and much of the donor class likely aren't happy about this, and they may try to discourage the matchup of two longtime leaders, who would have been expected to retire in a cycle or two anyway. But many New York politicos are spoiling for a fight. On that note, insiders seem to think Nadler would have the upper hand in this race but he isn't as battle-tested as Maloney, who faced tough primary races against Suraj Patel in 2018 and 2020.
Patel was planning to take on Maloney for the third straight cycle, but as of Monday he – as well as the Justice Democrats-backed Rana Abdelhamid – were both taking a wait-and-see approach and assessing their new options. "We are reviewing all of the details of these new maps, but it's important to note that these maps are not final," Abdelhamid campaign spokesperson Natalia Latif wrote to City & State in an email. "There is a public comment period open until Friday and we will wait until that time before making any further decisions."
The Jerry-mander is no more
If Nadler runs in the new 12th District, then the new 10th District would be an open seat, since no incumbent lives within its bounds. Like a wider and shorter version of the old "Jerry-mandered" district, the new version includes all of lower Manhattan below roughly 14th Street and a large swath of Brooklyn stretching from Brooklyn Heights through Park Slope down to Borough Park. State Sen. Brad Hoylman, who currently represents just a northern sliver of that district, has announced his interest in the seat. As has Assembly Member Robert Carroll, whose Brooklyn district is almost entirely within the new 10th District. Those two may be the only ones to make it formal, but speculation is rampant for who else could run. An incomplete list of names politicos are speculating about: former Mayor Bill de Blasio, former Comptroller Scott Stringer, current Comptroller Brad Lander, Assembly Member Yuh-Line Niou, City Council Members Shahana Hanif and Lincoln Restler and former City Council candidate Brandon West. Among them, Stringer declined to comment, and Hanif laughed and said she's focused on the job she's got. West said he's waiting to see how the field shakes out.
Long Island, land of open seats
Looking at the newly proposed congressional lines on Long Island, there's an absence of the particularly wonky, five-county district Democrats had originally drawn that crossed Long Island Sound from Suffolk County to Westchester County. The biggest question mark is whether Democratic state Sen. Alessandra Biaggi, who lives in Westchester County, will keep up her campaign for the new 3rd District. Leading Long Islanders in that primary include Robert Zimmerman and Melanie D'Arrigo, both of whom released statements saying they're still running in the 3rd District. Much of that district is currently held by Rep. Tom Suozzi, who is running for governor instead. (The shaken-up election calendar would technically give him a chance to run for his seat again if he acted quickly, but Suozzi's team has insisted he is running for governor and only governor.) And Democrats have to be careful – the new seat is very much in play for Republican George Devolder-Santos, who also ran in 2020.
There are other open seats too, with Republican Rep. Lee Zeldin leaving the 1st District to run for governor and Democratic Rep. Kathleen Rice also not seeking reelection in the 4th District. Under lines drawn by Democrats, the seat Zeldin is vacating would have likely flipped blue, but in the special master map it retains its classic right-leaning swing status. The biggest change there is regarding Jackie Gordon, the Democratic nominee who lost to Rep. Andrew Garbarino in the 2nd District in 2020. Gordon was planning to run for the open seat in the 1st District under the initial lines. But with the new draft maps, Gordon tweeted that she would be running in the district where she lives – setting up a potential rematch with Garbarino in the 2nd District.
Residential challenges
To put it simply from the draft maps: Rep. Hakeem Jeffries now lives in Rep. Yvette Clarke's district. Nadler and Maloney both live in an amalgamation of their former districts. Rep. Grace Meng lives in what once was Suozzi's district. Rep. Nydia Velázquez lives in Rep. Nicole Malliotakis' district – though she actually didn't live in her own district before either. Rep. Sean Patrick Maloney lives in Rep. Mondaire Jones' district, but Jones lives in Rep. Jamaal Bowman's district. Oh and they're all Democrats.
Members of Congress in New York don't legally have to live in the districts they represent, so this isn't as much of a problem as it might seem, at first. The districts currently represented by Jeffries, Clarke and Meng were not changed too radically, and the most likely scenario is that they simply run in those districts again, and win. Ditto Velázquez, whose district has changed quite a bit, but the heavily Hispanic, presumably progressive leaning 7th District houses many of her current constituents, and it seems like a natural fit for her. But things aren't as clear when you look north of the city.
Hudson Valley rundown
Forget the Multiverse of Madness, New Yorkers need to deal with Hudson Valley of Madness, as candidates find themselves shifting around to new seats, and others look to take advantage of districts that may soon need new legislators. Maloney saw his district split and immediately declared his intention to run for the 17th Congressional District as opposed to the 18th District, which he currently represents. The draft lines placed his Cold Spring home barely in the new 17th District, while that district's current representative, Jones, finds his new home of White Plains solidly drawn into the new 16th District. What's it all mean? If the freshman Jones wants to stay in Congress, he'll likely have to choose between challenging Maloney, the Democratic Congressional Campaign Committee chair, or fellow freshman lawmaker – and leftist "Squad" member Bowman. Jones was reportedly quite unhappy with Maloney encroaching on his district … but taking on Bowman seems like an easier race, and in fact Jones would be expected to have the upper hand in this new district. Plus, it's a safely Democratic district, and the winner wouldn't have to worry much about a general election. Bowman and Jones are both Black though, and Jeffries has all but called the draft maps racist for pitting New York's Black members against each other. This is one area to watch and see if things change in the final maps on Friday. And even after that, it wouldn't be a surprise if Jeffries or an ally filed a lawsuit.
Looking elsewhere, Maloney's decision opens up the 18th Congressional District, which would no longer have an incumbent. Ulster County Executive Pat Ryan, who had previously hinted that he would run for the 19th District that Rep. Antonio Delgado will vacate to become lieutenant governor, announced he would instead run for the new 18th District, where he would reside under the new map. State Sen. James Skoufis also said he was considering a possible run for the same seat now that it is open. But Republican Dutchess County Executive Marc Molinaro said he would continue running for Delgado's old seat, despite the fact that the new lines entirely exclude Dutchess County from that district. Voters in the region will still have to vote in a special election to replace Delgado this year under the current congressional lines, and with Ryan running in a different district, Democrats will need to find someone new to challenge Molinaro both in the special and in the November general election.