News & Politics
Exclusive: Chipotle workers file for HERO Act safety committees
A worker and union leaders allege the first attempt to invoke the law went ignored.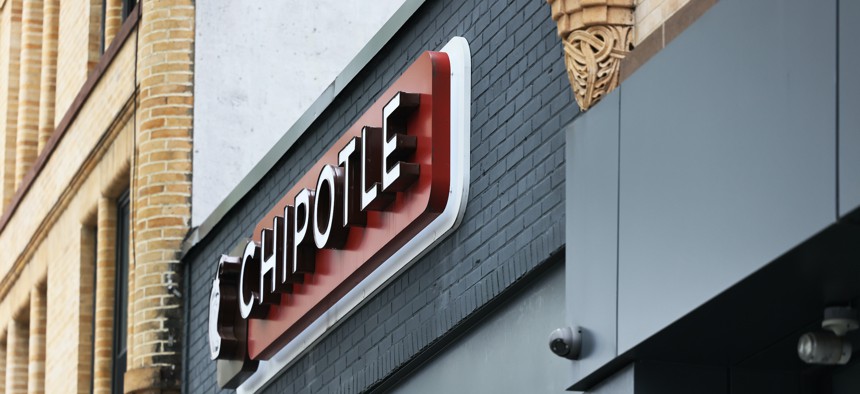 Workers from at least two different Chipotles are putting the New York HERO Act to one of its first major tests, requesting the formation of workplace safety committees as the law permits. But they say they've faced resistance in their first attempt, and are bracing for more resistance as other locations are expected to make similar requests. 
Workers at 269 Amsterdam Ave. in Manhattan became the first location to attempt to form a workplace safety committee back in January. A total of 14 workers there signed onto a petition asking for the safety committee, which would provide workers with a more concrete way to address and improve unsafe working conditions. Alyssa Roman, a 21-year old who had been working full time while also attending school, led the effort to gather signatures for the petition. She described several unsafe working conditions that she and her coworkers experienced, like the lack of a security guard despite the fact that someone had shattered the glass in the front of the store last year. "I had to come in the next day and clean all the glass myself, no gloves, no nothing," Roman told City & State. She said that the sanitizer used to clean the dishes caused her to break out in hives as well, but that her manager did not permit her to use gloves to protect her skin.
In December, Roman said she tested positive for COVID-19 – the pandemic had originally been the impetus for the HERO Act, meant to offer protections for essential workers who could not work remotely. She said that her doctor told her to stay home for 10 days. "And they were forcing me to come back in a matter of five days after I got the positive test – they were like, 'Just wear two masks,'" Roman said. The Centers for Disease Control and prevention decreased the recommended quarantine time for asymptomatic people to five days in late December last year.
The labor union 32BJ, which is helping in trying to unionize Chipotle workers, informed Roman of her rights under the HERO Act, leading her to begin advocating for a workplace safety committee to address concerns like hers. On Jan. 20, the workers submitted their petition and gave managers five days to respond and facilitate the committee's creation, as is required by the law. But at the end of that period, they received no response. Months later, and after Roman filed a human resources complaint about the matter, the Amsterdam Avenue location still has no safety committee. Roman also transferred to a different location in hopes of better conditions, but described a number of safety issues since making the move. 
A spokesperson for Chipotle told City & State the company did not receive a workplace safety committee request under the HERO Act at the Amsterdam Avenue location, nor at any other New York location. "At Chipotle, the health and safety of our employees is our top priority. Our policy is to fully comply with all laws and regulations, and we take these allegations very seriously," Laurie Schalow, chief corporate affairs officer at Chipotle, said in a statement. "We encourage our employees to contact us immediately, including through an anonymous 800 number, with any concerns so we can investigate and respond quickly to make things right."
Leaders with 32BJ took issue with Chiptole's claim that no employees had asked for a safety committee. Candis Tall, the union's political director, said 32BJ submitted a complaint on March 29 after the Amsterdam Avenue location did not implement the committee. "32BJ SEIU stands with Chipotle workers in their efforts to improve health and safety conditions on the job," Tall said in a statement. "A delegation of workers delivered the petition, and a strike and protest took place at the store over this issue."
Workers at 501 Fashion Ave. in Manhattan submitted a petition with 14 signatures on Monday to create a workplace safety committee. The effort there was led by John Larkin, a 34-year-old resident of the Bronx. He said that in his store, equipment is regularly broken and has led to injury. Larking said that a broken handle on the rice cooker led him to burn himself on two different occasions. "After that, I spoke to some of the employees and said, 'Hey, this is unacceptable, we need things to be safe inside the store,'" Larkin told City & State. "And they agreed with me."
Roman said that after she filed the petition, she faced retaliation in the form of cutting her hours. "After I started working with the union, my hours went from 35 hours, to 32 hours, to 25 hours, to 20 hours, to 15 hours," Roman, who is now pregnant and working a second job in order to provide for her future child, said. Larkin said he is preparing for potential retaliation in response to organizing the petition, but that it's something he is willing to endure. "It will change things moving forward for future workers and workers that (are) currently inside the story," he said. "If I have to be a sacrifice piece, then so be it I guess."
State Sen. Michael Gianaris, the original sponsor of the HERO Act, denounced any attempt not to adhere to the law. "The HERO Act is a critically important law designed to protect workers and every employer is expected to comply with it," Gianaris said in a text to City & State. "Those who do not should face the full consequences for their illegal actions." Under the law, employers can face an increasing schedule of fines for not implementing a workplace safety committee after employees request one, according to Gianaris. However, the Department of Labor said that it has no specific jurisdiction under the HERO Act to address lack of compliance with the workplace safety committee provision. A spokesperson for the department did not respond to a follow-up question about the disparity between their response and what Gianaris had said.
This is not the first time that Chipotle has attracted negative attention in New York over alleged poor treatment of employees. In April last year, New York City sued the company for $150 million over its scheduling practices, claiming that Chipotle flouted laws that govern workweeks for employees. The city previously sued in 2019 over the same issue albeit for a much smaller $1 million sum. The scheduling issues have prompted protests at various Chipotle locations in the city in recent years as organizers continue unionization efforts for workers.